"We wanted to make it as big as possible because we really want people to see the images as if they were fine photographs, almost as if we were shifting from cinema to photography."
―Executive Editor J. W. Rinzler
Star Wars: Frames is a book set featuring individual frames selected by George Lucas himself from all six Star Wars films, and was initially released as a limited edition of 1,138 copies personally signed by Lucas on January 8, 2011. It was later re-released as a more affordable, two-volume hardcover set on October 29, 2013.
The ultimate limited edition, Star Wars: Frames brings together master filmmaker George Lucas' personal shot-by-shot selections from all six Star Wars films into a six-volume, luxurious hardcover set. Limited to only 1,138 copies and presented in a sumptuous art deco-inspired wooden case, each volume of Star Wars: Frames showcases a single movie from the live-action Star Wars Saga. Every limited edition set is numbered and contains a special tipped-in certificate personally signed by George Lucas!
For collectors and Star Wars aficionados, this history-making, extremely exclusive package will live on as a grand project devoted to the art and craftsmanship of a cinematic phenomenon. Star Wars: Frames presents an essentially photographic, and yet filmic, look at the cinema of George Lucas — in glorious widescreen, presented as never before on large-format pages, over 1,400 images printed with the highest production values available to bookmaking.
"Cinematography is not about technology," said Lucas. "It's about lighting, it's about composition, it's about taste. In the end, it's about understanding your craft."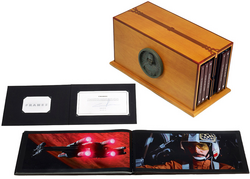 On Friday, September 9, 2005, George Lucas began frames selection with Mike Blanchard and J. W. Rinzler in an editorial suite at Skywalker Ranch. Sessions generally took place two to three times a month, until Friday, July 11, 2008. More than two years were then required to solve all of the production challenges presented by the project's exacting requirements. Star Wars: Frames is the result of several interrelated disciplines, as practiced by experts in their fields, all working in the service of one of the masterpieces of cinema.
After George Lucas finished work on Star Wars: Episode III Revenge of the Sith, he wanted to look back on the Star Wars saga with an entirely new point of view: isolating stills, or frames, from each of the six Star Wars films, focusing on them intensely as works of photography and design, and reproducing them in a book. For two years Lucas went through more than 150,000 frames per film, editing more than 1 million frames down to the 1,416 images that now comprise Star Wars: Frames, a testament to the hard work, craftsmanship, and dedication evident in every frame of every film. Star Wars: Frames brings together Lucas's personal shot-by-shot selections into a lavishly designed two-volume hardcover set—one volume for the Original Trilogy and one volume for the Prequel Trilogy. For collectors and fans, Star Wars: Frames is the ultimate look on this grand project devoted to a cinematic phenomenon—and the ultimate Star Wars collector's tome.
Community content is available under
CC-BY-SA
unless otherwise noted.