Wiki Targeted (Entertainment)
Play Sound
"On a remote outpost planet, new adventures await..."
―Construction sign at Disney's Hollywood Studios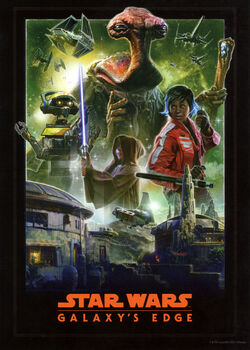 Star Wars: Galaxy's Edge is a themed land developed by The Walt Disney Company. It is set in an outpost on the planet Batuu. The events portrayed there take place between the films The Last Jedi and The Rise of Skywalker. John Williams composed new music for Galaxy's Edge.
It opened in phases in parks in the United States, with all of the land except for the Rise of the Resistance attraction opened on May 31, 2019 at Disneyland, and on August 29, 2019 at Disney's Hollywood Studios at Walt Disney World. Rise of the Resistance opened December 5, 2019 at the latter, and January 17, 2020 at the former. A smaller version of the land will also open sometime after 2021 at Walt Disney Studios Park in Disneyland Paris Resort.
"I've never done anything to this magnitude before. When I work on a film, it's usually a two or three year process. This was a six year process. On top of that, we had to build this land so immersively, that it was at a level I've never experienced."
―Doug Chiang
In total, Galaxy's Edge took over six years from concept to final unveiling.[1] Disney CEO Robert Iger first announced it at the D23 Expo on August 15, 2015 that the company would be building a Star Wars–themed land in Disneyland Park at the Disneyland Resort in Anaheim, California and in Disney's Hollywood Studios at the Walt Disney World Resort in Orlando, Florida. The announcement stated that these lands would be fourteen acres, making them the largest single land expansions in company history. During the Q1 FY17 Earnings call for The Walt Disney Company on February 7, 2017, Iger announced that the new lands would open in the year 2019.[2]
According to J. Daniel Jenkins, a former Disney Imagineer who helped design Galaxy's Edge, an early concept for the park would have set it in select locations from Episodes I–VI. This evolved into the original planet Batuu once Iger viewed the first footage from The Force Awakens and became confident in the prospects of the sequel trilogy.[3] Fellow Imagineer Scott Trowbridge explained the reasoning: "The answer really is we know those places and we know those stories that happen there and we know that we're not in them. Black Spire Outpost is an opportunity that's designed from the very get go to be a place that invites exploration and discovery. A place that invites us to become a character in the world of Star Wars. And to the extent that we want to, to participate in the stories of Star Wars."[4] At one point, the Imagineers also considered building two entirely different Star Wars lands instead of two of the same concept.[5]
During the "Star Wars and Disney Parks: A Galaxy in the Making" panel at Celebration Orlando, Imagineer Asa Kalama stated that what they were building would be canonical.[6] It was later revealed to take place after The Last Jedi through promotional material for the book series Flight of the Falcon.[7] During development, the attraction had as many as 1,100 Disney employees working on the project. By early 2019, this had dropped to 600.[8]
In the lead-up to the annual D23 Expo, the Disney Parks Blog unveiled a logo for the event "Walt Disney Parks and Resorts: A Galaxy of Stories," which would debut on July 14–16.[9] The event gave guests a glimpse of the locations, starships, creatures, and droids that would populate the outpost that would act as a setting for the park, and unveiled a detailed model for the 14-acre theme park that would debut in 2019, alongside artwork and media showcasing its development.[10] On December 16, 2017, during the parks' Galactic Nights event, more information about the ride and its development process was unveiled to the public via Lucasfilm vice president Doug Chiang as well as Imagineers Chris Beatty, Robin Reardon, and Scott Trowbridge. In particular, it was revealed via construction photos that development had recently "topped out" after the highest construction point was in place. It was also revealed that, among other things, there would be a toy shop with concept art unveiled, with Beatty explaining that the inspiration for its design was from marketplaces in Morocco, and that, fitting with its design inspiration, all the wares are handmade arts and crafts similar to those found in Moroccan marketplaces. In addition, the water fountains would have a unique design. (He later revealed that the overall look of the park was inspired by Petrified Forest National Park.[11]) Much of the production work was handled by the same Pinewood Studios artists who worked on the films.[12]
Chiang also revealed that they were building X-wing models for the theme park and differentiated them from the movie models. Some concept art also showcased the Millennium Falcon portion of the attraction, including an entirely new location composed of overgrowth in a sewer-like area. A set of trading cards were also unveiled to the public, which revealed some new details about the ride, in particular confirming that BB-8 and Kylo Ren would be present in the ride, as well as hinting at a droid character called "R3X" that was later revealed to be RX-24 from the original Star Tours ride. The same cards also had map pieces that revealed some locations on Batuu, in particular the Surabat River Valley, Docking Bay 9, Merchant Row, and Black Spire Station, would be present in the ride and gave some details about the location and a translation key for an Aurebesh poem on the borders of some cards.[13] Some of the props designed for the land were subsequently used in other Star Wars media, including Star Wars Jedi: Fallen Order and The Mandalorian,[14]
On January 11, 2018, the Star Wars Launch Bay attraction at Disneyland included a piece of the full model of the upcoming attraction that was unveiled at D23, marking it the second Disney theme park to include part of the scale model, the first being Disney's Hollywood Studios.[15] A short preview video was released on May 22.[16] On May 24, 2019 the Disneyland website and mobile app updated park maps to include, and confirm, the layout of Galaxy's Edge. The Disney Parks Blog revealed new park guide books including the new land.[17]
John Williams composed a five-minute symphonic track for Galaxy's Edge. To prepare, Williams met with Disney Imagineers, who showed him art, models and an animatic. They also gave him descriptions of Black Spire Outpost, Smuggler's Run and Rise of the Resistance. William Ross conducted the piece, performed by the London Symphony Orchestra. Ross conducted an hour of music in total, which included the full piece, a two-minute version and various bits of music inspired by the piece.[18] The two-minute version was released online in November 2018,[19] while the full track was released in May 2019.[20] At the 62nd Annual Grammy Awards, the suite won Williams the Grammy Award for Best Instrumental Composition.[21]
Galaxy's Edge is set on Black Spire Outpost on Batuu, a planet on the edge of the Outer Rim Territories (just before Wild Space).[22] The time period is between the events of The Last Jedi and The Rise of Skywalker.[23][24] It was designed to feel like a real world, blending seamlessly into the park and having no obvious ride markers.[8] Guests encounter three types of cast members: First Order, Resistance and villagers.[25] Visitors are able to use an app called Star Wars: Datapad to aid in navigating the land;[26] features include "hacking" (to interact with door panels or droids), "scanning" (to inspect cargo), "translation" (to decode all the Aurebesh signs throughout the attraction), "tuning" (to listen in to secret communications), and "Outpost Control" (a game in which visitors choose First Order or Resistance).[27]
The park features two attractions: Millennium Falcon: Smuggler's Run (which puts guests behind the controls of the Millennium Falcon) and Star Wars: Rise of the Resistance (which throws guests into the middle of a battle between the First Order and the Resistance).[22] The official names for the attractions were announced November 17, 2018 at the Destination D event. The Target-exclusive Blu-ray for Solo: A Star Wars Story includes a featurette called "The Millennium Falcon: From Page to Park," which details how the Millennium Falcon ride was developed for Galaxy's Edge.
Oga's Cantina is a small dining establishment that serves Star Wars–themed food and drink.[8] Coca-Cola products are available at the attraction, with special in-universe Aurebesh designs.[28] Various shops throughout Galaxy's Edge sell in-universe items; in developing these vendors, Disney Imagineers visited Istanbul and Morocco, and looked at old concept art from the Lucasfilm Archives.[8] Visitors can choose to build their own lightsabers at Savi's Workshop, with the option to either make custom lightsabers or choose pre-established designs.[29]
Galaxy's Edge received extensive press coverage in February 2019, after select journalists were given a tour of the Disneyland version.[30][31][32][33] During this time, the cast members' costumes were unveiled.[34][35] On April 13, Galaxy's Edge featured in a panel at Celebration Chicago.[36] During the panel, Mark Hamill appeared via pre-recorded video to announce a Twitter sweepstakes to win a trip to the attraction.[37]
The land opened on May 31, 2019 at Disneyland.[38] This followed opening ceremonies on May 29, in which Disney CEO Bob Iger was accompanied by George Lucas, Mark Hamill, Harrison Ford and Billy Dee Williams, with Ford dedicating Millennium Falcon: Smuggler's Run to the late Peter Mayhew.[39] Initial attendance fell significantly below expectations, which Iger attributed to an increase of ticket and hotel prices, a fear of overcrowding, and the fact that Rise of the Resistance had yet to open.[40] Senior EVP and CFO Christine McCarthy also cited lower passholders attendance due to crowd control policies.[41] Several Galaxy's Edge-themed panels were held at Disney's D23 Expo on August 23.[42] The land opened on August 29, 2019 at Disney's Hollywood Studios at Walt Disney World.[43] As before, there was an opening ceremony on the previous day.[44]
From September 24-30, a plethora of Galaxy's Edge tie-ins aired on Disney's TV programming on ABC, Freeform, Disney Channel, and ESPN—including the two-hour special Star Wars: Galaxy's Edge – Adventure Awaits on September 29.[45] On November 28, ABC's Magical Holiday Celebration included Portugal. The Man performing at Galaxy's Edge—the first musical act to perform at the land.[46] The land was later covered in episodes of Disney+'s The Imagineer Story and One Day At Disney.[47][48]
Rise of the Resistance opened on December 5, 2019 at Disney World, accompanied by another press tour.[49] It opened on January 17, 2020 at Disneyland.[50] A smaller version of Galaxy's Edge will also open sometime after 2021 at Walt Disney Studios Park at Disneyland Paris Resort.[51]
In April 2019, Lucasfilm Ltd. launched a Galaxy's Edge publishing campaign, which included a Marvel comic series and the novels Galaxy's Edge: Black Spire, A Crash of Fate and Myths & Fables.[52] Galaxy's Edge has been featured in three episodes of Star Wars Galaxy of Adventures: "Millennium Falcon - Smugglers Run," "Black Spire Outpost," "Rise of the Resistance." A Galaxy's Edge-themed content pack was released for The Sims in September 2020.[53] The Art of Star Wars: Galaxy's Edge will be released in Spring 2021.[54] A Hasbro toy line was produced.[55] A LEGO set of the Intersystem Transport Ship will be also be released; A special code will allow you to use the ship in LEGO Star Wars: The Skywalker Saga.[56]
Originally, certain merchandise was meant to be sold exclusively inside Galaxy's Edge. However, due to a drop in attendance as a result of the COVID-19 pandemic, the Disney parks began releasing Galaxy's Edge merchandise outside of the land itself. [57] A variety of merchandise became available at Target stores beginning August 30, 2020.[58][59] That September, merchandise also became available at Disneyland's WonderGround Gallery and at Walt Disney World's Magic Kingdom Emporium,[57] as well as online at shopdisney.com.[60]
By type
Characters
Creatures
Droid models
Events
Locations
Organizations and titles
Sentient species
Vehicles and vessels
Weapons and technology
Miscellanea
Community content is available under
CC-BY-SA
unless otherwise noted.