Doctor Strange in The Multiverse o Madness - The Loop
Play Sound
Star Wars: Invasion was an ongoing monthly comic book series, written by Tom Taylor and illustrated by Colin Wilson. Published by Dark Horse Comics, this ongoing series is set in the New Jedi Order era and depicts the events of the Yuuzhan Vong War. Just like another ongoing series by Dark Horse—Star Wars: Legacy—it included various ties to the novels by Del Rey, while still remaining accessible to new readers. It launched with two online-only preview issues on StarWars.com in May and June 2009. The first printed issue was published on July 1, 2009.[1] It had previously run in alternating five-month story arcs with Dark Times, but a new issue hasn't been released since November of 2011,[2] and no further issues are planned.[3]
Story
[
]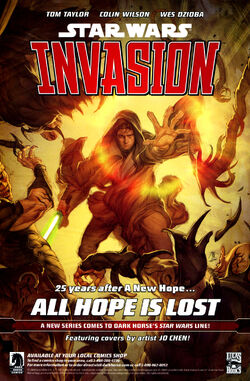 The series covers the story of the Yuuzhan Vong War by focusing on the Galfridian family, the royal family from the peaceful world of Artorias, one of the first to fall under the Yuuzhan Vong invasion, which resulted in its entire population being evacuated, enslaved, or killed. A young man named Finn Galfridian is set on the Jedi path by Luke Skywalker, while things for his sister Kaye Galfridian and the rest of the family "don't go so well." Many characters from The New Jedi Order series, such as Luke Skywalker, Jaina Solo and Jacen Solo are also featured in the series.[1]
Refugees and Rescues take place in between the novels Vector Prime and Onslaught, and Revelations takes place between Onslaught and Ruin.
Conception
[
]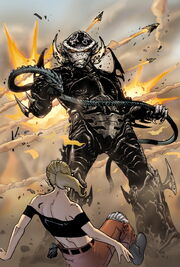 Colin Wilson, who had previously drawn Star Wars comics for Dark Horse, was working with Australian writer Tom Taylor on a comic book adaptation of his play The Example and suggested that Wilson contact Dark Horse editor Randy Stradley. Taylor was quickly accepted into the Dark Horse creative team and worked for some time on an unidentified Star Wars project which eventually got canceled before going on to Invasion. The series was first announced by Dark Horse Comics on February 7, 2009 during the New York Comic Con. The addition of another monthly series to an already significant number of Star Wars comic book series' was possible due to the large success of the Star Wars: Vector crossover published by Dark Horse in 2008.[1]
Main characters
[
]
Issues
[
]
Color code key:
Collected (TPB) issue
Released issue
Future issue
Story arc
Issue
Title
Publication date
Trade paperback
Refugees

Volume 1—Refugees
April 28, 2010
0
Refugees, Prologue
October 14, 2009
1
Refugees, Part 1
July 1, 2009
2
Refugees, Part 2
August 5, 2009
3
Refugees, Part 3
September 2, 2009
4
Refugees, Part 4
October 7, 2009
5
Refugees, Part 5
November 4, 2009
Rescues

Volume 2—Rescues
April 27, 2011
6
Rescues, Part 1
May 26, 2010
7
Rescues, Part 2
June 30, 2010
8
Rescues, Part 3
July 28, 2010
9
Rescues, Part 4
September 29, 2010
10
Rescues, Part 5
October 27, 2010
11
Rescues, Part 6
December 22, 2010
Revelations

Volume 3—Revelations
April 25, 2012
12
Revelations, Part 1
July 13, 2011
13
Revelations, Part 2
August 10, 2011
14
Revelations, Part 3
September 14, 2011
15
Revelations, Part 4
October 12, 2011
16
Revelations, Part 5
November 16, 2011
Notes and references
[
]
External links
[
]