Jurassic World: Dominion Dominates Fandom Wikis - The Loop
Play Sound
"My writing partner Corinna and I couldn't be more pleased about getting the chance tell stories set in the Legacy era, honoring and building on the great work that John and Jan did in the first volume. I hope you'll all give it a shot!"
―Gabriel Hardman
Star Wars: Legacy Volume 2, alternatively styled as Star Wars: Legacy Volume II or simply Star Wars: Legacy, is a comic series set in the Legacy era. It is a sequel to and shares a name with the original Star Wars: Legacy.[6] Written by Corinna Bechko and Gabriel Hardman, penciled by Hardman,[1] colored by Rachelle Rosenberg,[3] and published by Dark Horse Comics, it stars Ania Solo, a descendant of Han and Leia Organa Solo. The first issue was released in March 2013.[3] The series ended with issue #18, as Marvel Comics replaced Dark Horse as the publisher of Star Wars comics.
Plot summary
[
]
"A lot of the "Legacy" era has been about these larger-than-life Emperors and royalty—we're taking this down to much more of a ground level. Ania Solo is somebody that is not a part of that world, and she doesn't have a personal connection to it. She may have even turned her back on it."
"She's living in a backwater, Outer Rim system. She runs a junkyard and she doesn't have that many prospects, and that's where we start things. Our story takes off there."
―Gabriel Hardman and Corinna Bechko
According to series author Corinna Bechko, the second iteration of Star Wars: Legacy will be first and foremost an adventure tale.[7] It will star Ania Solo, a descendant of Han and Leia Organa Solo, and will take place in the aftermath of Star Wars: Legacy—War,[3] a comic miniseries which was set in the year 138 ABY.[8] As the series begins, Solo will be running a junkyard on a backwater, Outer Rim planet and living a life far removed from Emperors and royalty.[6] However, the first issue will see her come into possession of a lightsaber and an Imperial communications droid, and discover that she has been targeted for death,[3] thus being launched into an adventure unlike any she has seen before. The backwater world will serve as a microcosm for greater galactic affairs, and the story will eventually expand outward from it, showing the reader what's happening in the highest levels of galactic government.[6]
The first issue will open with a "giant lightsaber duel,"[9] and it will additionally feature the Imperial Knight Yalta Val—an agent of the Galactic Federation Triumvirate—running into trouble in the Outer Rim. Also within the pages will be the Mon Calamari refugee Sauk, a friend of Solo's who works at an ice mining facility and gets pulled into the adventure by Solo.[6] In the second issue, Solo will be pursued both by local police and by an Imperial Knight determined to kill in order to get the lightsaber back. She will be aided by formidable friends she has made as a black market salvage dealer,[10] and she will also end up in trouble with a renegade Sith.[7] The series may eventually include an appearance by Cade Skywalker, the protagonist of the previous incarnation of Star Wars: Legacy.[6] Although it will primarily visit new and underexplored planets, the galactic capital of Coruscant may be featured at some point as well.[7]
Development
[
]
"It's funny, but before we got this gig, I filled out a questionnaire and there was a question about the earliest movie I can recall that really influenced me—and I wrote down "Star Wars." That is absolutely true. To get this opportunity is an amazing, amazing honor."
―Corinna Bechko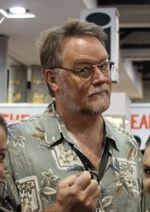 In August 2010, the fiftieth and final issue of the comic series Star Wars: Legacy was published by Dark Horse Comics.[11] The six-issue miniseries Star Wars: Legacy—War followed; published from December 2010 to May 2011, it allowed authors John Ostrander and Jan Duursema an opportunity to wrap up the story they had been telling.[8][12] Following War's conclusion, many comic retailers contacted Dark Horse's Vice President of Publishing Randy Stradley and asked about Legacy. Stradley figured that what they really sought was another monthly Star Wars comic, and he accordingly tired to persuade Ostrander and Duursema to go monthly with their new series, Star Wars: Dawn of the Jedi. However, both of them wanted Duursema to pencil every issue, which she would be unable to do twelve times a year, and they instead opted for Dark Horse's alternating miniseries format. Stradley then began to consider the idea of resurrecting Legacy.[13]
Not wanting to dilute fan enthusiasm towards the series by creating too many direct comparisons between the old and the new creative teams, Stradley chose not to pick up immediately where Legacy had previously left off. He also felt that Cade Skywalker had become too prominent a figure in galactic politics, which would limit his future character arc. Stradley then considered the idea of a member of the Solo family, and immediately pictured a Han Soloesque young woman whose ancestry had absolutely no bearing on her lot in life.[13] At the 2012 Emerald City Comicon, Stradley approached the comic author-and-artist pair Corinna Bechko and Gabriel Hardman and asked them if they would be interested in writing a Star Wars comic.[7] Both counted themselves as huge Star Wars fans, and the idea of a female protagonist also played a significant role in drawing them to the project.[6] The series was developed over the following months,[14] and the new incarnation of Legacy was announced by Comic Book Resources on December 3, 2012, with an expected publishing date of 2013. It will be written by both Bechko and Hardman, and additionally penciled by Hardman.[1]
Bechko and Hardman have both indicated via their twitter feeds how excited they are to be working on the project.[15][16][17] They have both been Star Wars fans since the release of the original Star Wars film in 1977, which they cite as a major influence on their work.[6] According to Hardman, they are both very invested in the world of Star Wars and very motivated to explore it.[7] Dark Horse letterer Michael Heisler has praised their work and asserted that they "know what they're doing."[18]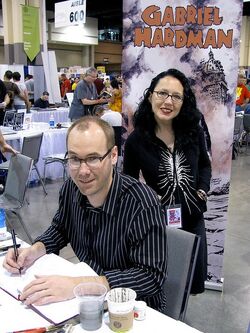 Although initially intimidated to work in the Legacy era on the heels of Ostrander and Duursema's series, which they described as "daunting," Bechko and Hardman are enjoying working in the era and being able to push the Star Wars saga forward.[7] Hardman has stated that they will be "honoring and building on" the work done by Ostrander and Duursema in the original Legacy,[19] but they have also stated that the series will be accessible to fans unfamiliar with Ostrander and Duursema's work.[6] Their goal is to strike a balance between following up on the events of the original Legacy and foregrounding their own story, with their ultimate aim being to make sure that it "feels like Star Wars."[7]
While conceiving their pitch for the series, Bechko and Hardman read and watched many of the inspirations for the original Star Wars films, including the Samurai films of Akiro Kurosawa. They hoped to get in touch with George Lucas's earliest influences and bring them into Legacy. They have had many discussions about how to keep the spirit of the original films alive in their work.[7] Drawing on Stradley's original idea of a female Solo protagonist, Bechko and Hardman developed the character of Ania Solo.[13] Bechko has described Ania Solo as a character who "doesn't take a lot of guff," but who is nevertheless not a traditional badass female. Hardman asserts that she has the potential to be "an inspiring but very down-to-Earth human sort of character, as well." Rather than write a genealogy textbook, the two aim to tell a big adventure story that will eventually answer fans' questions about Solo's lineage.[6]
Joining Bechko and Hardman will be Rachelle Rosenberg as a colorist and Dave Wilkins as a cover artist. The first issue, Prisoner of the Floating World, Part 1, will be released on March 20, 2013,[3] and it will then continue as a monthly, ongoing series,[4] with the second issue released on April 24[10] and the third on May 22.[20] Neither Bechko nor Hardman are worried about the implications that the upcoming Star Wars: Episode VII The Force Awakens will have on the Expanded Universe—their goal is to tell an exciting story that will work "no matter what," and they are reassured by the likelihood of Episode VII taking place decades before Legacy.[6] After being asked specifically about Legacy by many comic retailers, Stradley expects the series to sell very well.[13]
On February 6, some of Hardman's concept sketches for the series were exclusively released on Newsarama. Included were Ania Solo, Yalta Val, Yalta Val's shuttle, and a Sith apprentice (imposter).[21]
To promote Legacy's launch, Bechko and Hardman would be at a comic ship called Beach Ball Comics in Anaheim, California, on March 20th.[22] March 23 would have seen them and Dave Wilkins visit a shop called Collector's Paradise in Winnetka, California, where an exclusive variant cover of the series' first issue will be available to guests. The variant cover was drawn by Hardman[23] as an homage to the classic 1977 poster for the original Star Wars film.[24]
Media
[
]
Color code key:
Collected (TPB) issue
Released issue
Future issue
Story arc
Issue
Title
Publication date
Trade paperback
Epic Collection
Prisoner of the Floating World

Book 1—Prisoner of the Floating World
November 26, 2013[25]

Star Wars Legends Epic Collection: Legacy Vol. 4
March 15, 2022[26]
1
Prisoner of the Floating World, Part 1
March 20, 2013
2
Prisoner of the Floating World, Part 2
April 24, 2013
3
Prisoner of the Floating World, Part 3
May 22, 2013
4
Prisoner of the Floating World, Part 4
June 26, 2013
5
Prisoner of the Floating World, Part 5
July 24, 2013
Outcasts of the Broken Ring

Book 2—Outcasts of the Broken Ring
June 10, 2014[27]
6
Outcasts of the Broken Ring, Part 1
August 28, 2013
7
Outcasts of the Broken Ring, Part 2
September 25, 2013
8
Outcasts of the Broken Ring, Part 3
October 23, 2013
9
Outcasts of the Broken Ring, Part 4
November 27, 2013
10
Outcasts of the Broken Ring, Part 5
December 18, 2013
Wanted: Ania Solo

Book 3—Wanted: Ania Solo
August 26, 2014[28]
11
Wanted: Ania Solo, Part 1
January 22, 2014
12
Wanted: Ania Solo, Part 2
February 26, 2014
13
Wanted: Ania Solo, Part 3
March 26, 2014
14
Wanted: Ania Solo, Part 4
April 23, 2014
15
Wanted: Ania Solo, Part 5
May 28, 2014
Empire of One

Book 4—Empire of One
October 28, 2014[29]
16
Empire of One, Part 1
June 25, 2014
17
Empire of One, Part 2
July 23, 2014
18
Empire of One, Part 3
August 27, 2014
Sources
[
]
Notes and references
[
]
↑ 1.0 1.1 1.2 1.3 1.4 1.5 1.6 EXCLUSIVE: "Star Wars: Legacy" Returns In 2013. Comic Book Resources. Archived from the original on June 30, 2020.
↑ GabrielHardman: EXCLUSIVE: "Star Wars: Legacy" Returns In 2013 (2012-12-03). Comic Book Resources Forums. Comic Book Resources. (backup link not available)
↑ 3.0 3.1 3.2 3.3 3.4 3.5 Dark Horse Comics Solicitations for March, 2013. Comic Book Resources. Archived from the original on November 12, 2020.
↑ 4.0 4.1 Legacy returns... on Dark Horse Message Boards. Posted by Randy Stradley on 10:19 AM (backup link)
↑ Corinna Bechko (@CorinnaBechko) on Twitter: "Loved working on STAR WARS LEGACY for @DarkHorseComics with @gabrielhardman! Our run will end with #18, after two more arcs." (backup link)
↑ 6.0 6.1 6.2 6.3 6.4 6.5 6.6 6.7 6.8 6.9 Jeffrey Renaud: EXCLUSIVE: Hardman and Bechko Resurrect "Star Wars: Legacy". Comic Book Resources. Archived from the original on February 27, 2021.
↑ 7.0 7.1 7.2 7.3 7.4 7.5 7.6 7.7 Corinna Bechko and Gabriel Hardman talk Star Wars: Legacy: Prisoner of the Floating World (2013-02-02). The Geek of Oz. Archived from the original on March 5, 2021.
↑ Gabriel Hardman (@gabrielhardman) on Twitter: "@mattegagnon First sequence in issue #1: giant lightsaber duel." (backup link)
↑ 10.0 10.1 Star Wars: Legacy—Prisoner of the Floating World #2 on Dark Horse Comics' official website (backup link)
↑ 13.0 13.1 13.2 13.3 Jeffrey Renaud: Stradley Strategizes Dark Horse's "Star Wars" Empire. Comic Book Resources. Archived from the original on September 18, 2020.
↑ LEGACY is back! on the Jedi Council Forums (Literature board; posted by Randy_Stradley on December 3, 2012, 11:05 AM; accessed December 4, 2012) (backup link)
↑ Corinna Bechko (@CorinnaBechko) on Twitter: "@MarkBourne @gabrielhardman Thanks Mark! It's a real honor to be working on a @DarkHorseComics book like this!" (backup link)
↑ Corinna Bechko (@CorinnaBechko) on Twitter: "@WonderAli Thanks! Holy cats, but so excited to be working on this project. Just wait 'til you see @gabrielhardman 's art on it... AMAZING!" (backup link)
↑ Gabriel Hardman (@gabrielhardman) on Twitter: "I can't tell you how much fun it is to be writing (with Corinna) and drawing Star Wars." (backup link)
↑ Legacy returns... on Dark Horse Message Boards. Posted by Randy Stradley on 12:40 AM (backup link)
↑ LEGACY is back! on the Jedi Council Forums (Literature board; posted by Gabriel Hardman on December 3, 2012, 7:30 PM; accessed December 4, 2012) (backup link)
↑ Dark Horse Comics Solicitations for May, 2013. Comic Book Resources. Archived from the original on January 26, 2021.
↑ Hardman's SOLO Legacy Sketches in New STAR WARS Ongoing (2013-02-06). Newsarama. Archived from the original on February 6, 2013.
↑ Beach Ball Comics on Facebook: Star Wars: Legacy Launch with Bechko & Hardman! (February 12, 2013) (backup link)
↑ Edward Greenberg, Corinna Sara Bechko, Gabriel Hardman, Dave Wilkins on Facebook: OFFICIAL PHANTOM VARIANT Release Party for STAR WARS LEGACY #1 with Gabriel Hardman, Corinna Bechko, Dave Wilkins! (February 16, 2013) (backup link)
↑ Comparison of File:Legacyphantom.jpg to File:Star Wars Style A poster 1977.jpg
External links
[
]