Star Wars: Legacy Volume 4: Alliance is the fourth trade paperback of the Star Wars: Legacy comics to be published by Dark Horse Comics. It was published officially on December 17, 2008, though copies had been sent out to foreign retailers before that date.
Publisher's summary
[
]
The future of Star Wars continues here! The Sith again control the galaxy, but the remains of the Galactic Alliance fight on to restore justice...
Admiral Gar Stazi leads the Galactic Alliance in a risky heist against the Sith. If he succeeds, his army's resources will be greatly replenished -- but at what price of punishment from the Sith Emperor and his minions? Three sides of this tale are told: that of the Galactic Alliance; that of the forces still loyal to the deposed Emperor Roan Fel; and that of the new Sith Order. Immeasurable and unforeseen repercussions will come to all! Collecting issues #20-22 and 27 of the series.
Collected issues
[
]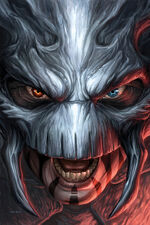 Notes and references
[
]
External links
[
]