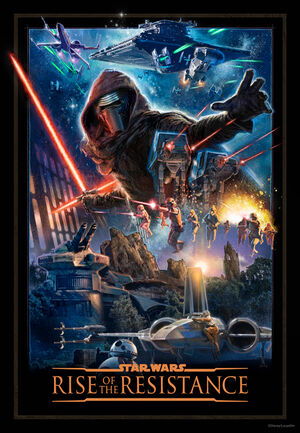 "Immersed in an epic battle between the dreaded First Order and the courage of the Resistance, what will you do?"
―Disneyland website
Star Wars: Rise of the Resistance is an attraction found at the Star Wars: Galaxy's Edge themed area of Disneyland, Disney's Hollywood Studios and Walt Disney Studios Park. It opened on December 5, 2019 at Walt Disney World and on January 17, 2020 at Disneyland.
Opening crawl
Edit
The crawl was part of information released to the media by Disney.[1]
"Star Wars: Rise of the Resistance is a massive, multi-platform, new attraction that is unlike anything you've ever experienced at Walt Disney World Resort… or anywhere else in the galaxy!"
―Walt Disney World website
The attraction is located in the area of Galaxy's Edge known as the ancient ruins on the outskirts of Black Spire Outpost, which includes a Resistance encampment. Its entrance is marked by a turret that leads guests — acting as new recruits[2] — to a path heading into ancient caves that house a Resistance control center where they are given a mission by BB-8 and a hologram of Rey. The briefing also includes Poe Dameron, Nien Nunb, and Mon Calamari Lieutenant Bek, all appearing on video screens. Guests then walk past ships including Dameron's X-wing fighter (which only resembles Black One[3]) and board a transport ship for the first portion of the ride.[4] On board, Bek speaks to guests as Nien Nunb pilots the ship, which is escorted by Dameron and other X-wings.
Dameron is forced to go for help when the transport and fighters are attacked by a First Order Star Destroyer which appears to capture the guests' ship and pull it inside a hangar bay filled with stormtroopers. The recruits then are brought into a cell where Kylo Ren and Armitage Hux discuss their interrogation. Then with help from Finn, disguised as a stormtrooper, the recruits board a hijacked First Order Fleet Transport (an eight-seat ride vehicle) piloted by an R5 unit to travel to an escape pod. As the transports flee through the ship, they encounter stormtroopers and AT-ATs. Resistance ships arrive and attack the destroyer while Ren chases after the recruits. He nearly captures them but a distracting explosion lets the fleet transports reach an escape pod. The pods then seem to drop out of the ship and fly through the space battle before landing back down on Batuu.[5]
Like all events portrayed in Galaxy's Edge, the ride takes place between The Last Jedi and The Rise of Skywalker.[6][7]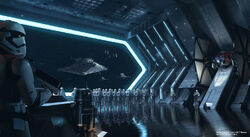 Before the official name of the ride was revealed at Destination D 2018,[8] it had internally been given the working name "Alcatraz." It was set to open with the rest of Galaxy's Edge in both parks in 2019, and shortly thereafter in Paris. However, it was announced on March 7 that its release had been deferred to a later date as part of the park's "Phase 2" release.[9] The Walt Disney World version opened on December 5, 2019,[10] accompanied by an opening ceremony that included life-sized X-wing drones.[11][12] In the first few days of the ride, many guests reported that that they were evacuated after the ride broke down.[13][14] The Disneyland version is set to opened on January 17, 2020.[15]
Appearances
Edit
Characters
Droid models
Events
Locations
Organizations and titles
Sentient species
Vehicles and vessels
Weapons and technology
Miscellanea
Bibliography
Edit
External links
Edit
Notes and references
Edit
↑ Timing for Opening of Star Wars: Rise of the Resistance Announced on the Disney Parks Blog (backup link)
↑ Matt Martin (@missingwords) on Twitter "New X-wing. Old paint job. Basically the same thing I do whenever I get a new car."
↑ Star Wars actors bring their characters to life in Disney theme parks' Rise of the Resistance ride
↑ FIRST LOOK inside Star Wars: Rise of the Resistance at Star Wars: Galaxy's Edge on the Attractions Magazine YouTube channel
↑ Breznican, Anthony (2019-02-27). How Disney theme parks made Galaxy's Edge part of the Star Wars storyline. Entertainment Weekly. ew.com. Retrieved on February 28, 2019.
↑ The DIS (@TheDIS) on Twitter "Rise of the Resistance will be the First Order/Resistance attraction in Galaxy's Edge!"
↑ Smith, Thomas (March 7, 2019). Star Wars: Galaxy's Edge to Open May 31 at Disneyland Resort, August 29 at Disney's Hollywood Studios. Disney Parks Blog. Retrieved on July 1, 2019.
↑ Fickley-Baker, Jennifer (December 3, 2019). #DisneyParksLIVE: Watch the Dedication of Star Wars: Rise of the Resistance.
↑ PHOTOS - Dedication ceremony for Star Wars: Rise of the Resistance. wdwmagic.com (December 05, 2019).
↑ "Mike" (November 22, 2019). Disney Testing X-Wing Drones to Fly Over Star Wars: Galaxy's Edge. blogmickey.com.
↑ PArker, Ryan (December 06, 2019). Disney Parks' New Grandiose 'Star Wars' Attraction Off to Rough Start. The Hollywood Reporter. hollywoodreporter.com.
↑ Figueroa, Jessica (December 06, 2019). Star Wars: Rise of the Resistance Experiencing Numerous Breakdowns; Boarding Groups Fully Distributed One Hour Prior to Park Open at Disney's Hollywood Studios. WDW Today. Archived from the original on December 6, 2019. Retrieved on December 6, 2019.
Community content is available under
CC-BY-SA
unless otherwise noted.