Line 34:
Line 34:
 

===Season I===

 

===Season I===

 

There will be at least twenty-six episodes, with the eleventh currently titled "[[Destroy Malevolence]]"<ref name="Chapter 11">[http://www.anthonydaniels.com/index.html The Official Anthony Daniels Web Site]</ref>.

 

There will be at least twenty-six episodes, with the eleventh currently titled "[[Destroy Malevolence]]"<ref name="Chapter 11">[http://www.anthonydaniels.com/index.html The Official Anthony Daniels Web Site]</ref>.

 
+

===Quotes===

−
 
−

==Memorable quotes

 
 

"In this war, a step ahead of us, Dooku always seems."Yoda to Chancellor Palpatine

 

"In this war, a step ahead of us, Dooku always seems."Yoda to Chancellor Palpatine

 
+
 

"Here they COOOOOOOOOOOME!"Unnamed Clone Trooper

 

"Here they COOOOOOOOOOOME!"Unnamed Clone Trooper

 
 
---
Revision as of 02:36, 3 June 2007
Star Wars: The Clone Wars is a 2008 3D CGI animated television series set in the Star Wars galaxy. Currently set to debut in 2008[3], it will be a 3-D expansion and continuation of the 2003 series of the same name. Currently, twenty-six episodes are confirmed to be released. Each episode will run around thirty minutes. At April 2005's Star Wars Celebration III, George Lucas stated that, "you know we are working on a 3-D continuation of the pilot series that was on the Cartoon Network, we probably won't start that project for another year".[4] Neither Genndy Tartakovsky (director of the original Clone Wars series) or Nelvana Ltd. (producer of all pre-Clone Wars animation) will be involved with the production.
The show will continue telling the stories which began in the original Star Wars: Clone Wars series, which Lucas refers to as the "pilot series." It is set, just like the 2-D version, during the 3-year time period in which the Clone Wars took place, between the events of Star Wars Episode II: Attack of the Clones and Star Wars Episode III: Revenge of the Sith. It is likely to focus on more of the stories and battles between the Republic, led by Supreme Chancellor Palpatine, and the Confederacy of Independent Systems, led by Count Dooku and General Grievous, except in a 3-D format.
Episodes
Season I
There will be at least twenty-six episodes, with the eleventh currently titled "Destroy Malevolence"[5].
Quotes
"In this war, a step ahead of us, Dooku always seems."Yoda to Chancellor Palpatine
"Here they COOOOOOOOOOOME!"Unnamed Clone Trooper
"Where is Skywalker?"Asajj Ventress to an unnamed Clone Trooper
"FIRE!!!!!!" General Grievous to an unamed droid marine
"Tragic are these losses, but prevent more, we must."Yoda
Credits
Voice cast
Crew
Directors:
Writers:
Producers:
Film editor:
Production management :
Second Unit Director or Assistant Director
Art department:
Sound department:
Visual effects:
Animation department:
Chris Kubch—Head of Lucasfilm Animation's Singapore location
Rob Coleman—Animation director/character animation supervisor
Mark Gelfuso .... layout artist
300 other digital artists
Editorial department:
Other crew:
Catherine Winder and Dave Filoni are scheduled to appear at Celebration IV on Sunday May 27, 2007 in the Celebration Theater (Room 408AB). Winder and Filoni are set to explain the origins of the series and the production process during the last two years. Rob Coleman and George Lucas have each suggested that footage from the show will be shown at the event.
Appearances
Characters
Creatures
Droid models
Events
Locations
Organizations and titles
Sapient species
Vehicles and vessels
Weapons and technology
Miscellanea
Behind the scenes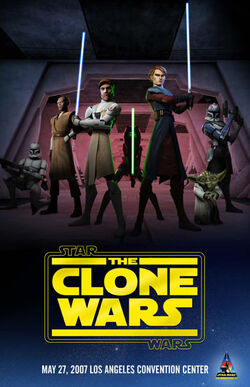 Development and production
At the July 12, 2005 Comic-Con, several announcements were made on the work on the series. As of July 15, 2005, preproduction had begun on the series, according to head of Lucasfilm fan relations, Steve Sansweet. Sansweet referred to the series as: "the next generation of the Star Wars saga, a cutting edge 30-minute, 3-D computer-animation series based on the Clone Wars that take place between Episode II ... and Episode III." Sansweet described the look of the new series as, "a melding of Asian anime with unique 3-D animation styling." According to another statement by Sansweet, "Over the next several years, Lucasfilm Animation will be hiring a total of about 300 digital artists and others in both California and Singapore locations to produce not only the series, but animated feature films in the years ahead." He says about the series, that, "To get the series underway, Lucasfilm Animation has hired key production and creative talent to lead the development of its first animation project." Steve Sansweet has said that "A large component of the future of Star Wars and Lucasfilm is digital animation." Gail Currey, who's the Vice President and General Manager of Lucasfilm Animation has stated that the early episodic treatments for the series are absolutely amazing, and that she can't wait to share this treat with Star Wars fans."[14]
The series will be realized as a 3-D computer animation project created by the new Lucasfilm Animation division in their Singapore and California locations. Sansweet described the style as "a melding of Asian anime with unique 3-D animation styling." Each episode will be 30-minutes long and follow an arcing, serial storyline to cover the period between Attack of the Clones and Revenge of the Sith.
On July 21st, 2006, at Comic-Con, Sansweet confirmed that the show was already in production, and that footage will be shown at Celebration IV. The series will be set late during the Clone Wars after Anakin Skywalker has achieved the rank of Jedi Knight. Sansweet explains: "We've been spending the last couple of years building from scratch two new state-of-the-art digital animation companies, one at Skywalker Ranch and one in Singapore," explained Sansweet. "The scripts for the first batch of shows have been completed, and Animation is hard at work on the first episodes." George Lucas is serving as creator and creative guide and Rob Coleman is supervising the character animation. Many familiar faces are slated to return, including Anakin, Obi-Wan, Yoda, Count Dooku, Palpatine, General Grievous and Asajj Ventress.
On February 15th, 2006, Steve Sansweet revealed in an interview that:
On release dates and production: We're doing it in two phases. The first is Star Wars animation, which is CG 3-dimensional animation, like a Toy Story, that takes place during the period of the Clone Wars that takes place between Episodes 2 and 3. And that we're setting for Fall of 2007. Preproduction is underway, we're doing animation test, people are working on initial scripts. So we're well under way on that. And George is very much taking hand and is very much part of the whole process. I know some people thought maybe he would just say, "hey, go do it," but George is Star Wars and he's always gonna be very closely involved in this.
On villains: I think it's possible that we're going to see villains that we already know, like Grievous. I think it's way to early to speculate what's going to happen in the TV show. I think George has an idea of what he wants to do, where he wants to go with it, what kinds of characters he wants in it, but that's something...he's working on the animation right now...that he'll explore later.
According to Randy Stradley, editor and author of Dark Horse Comics, he has met with Lucas Animation to discuss integrating the show with the Clone Wars comics; according to him, "I expect fans to be pleasantly surprised."[15]
Anthony Daniels confirmed that had has been contacted by Lucasfilm in regards to working on the show[16], and on the August 28 update of his site confirmed he had finished recording his scenes.
According to a video interview with Rob Coleman from Imagina 2007[17]
As of February 7th, 2007, 15 episodes were in various stages of production
One episode fully completed; another almost completed
Coleman is set to direct 5 of first 26 episodes
Coleman said "They're looking fabulous, they're looking great..." and "Our stuff is incredible compared to what's out there..."
Some licensees have viewed the footage and their reaction was very positive
Final assembly of shows is done at Skywalker Ranch
In February of 2007, Anthony Daniels revealed on his website [1] that the eleventh episode will be titled "Destroy Malevolence." However, the information was removed shortly thereafter.
At George Lucas' March 3 appearance at the 2007 William S. Paley Television Festival [18], Lucas revealed that the series is episodic, so it won't focus on the Skywalker story. Specifics mentioned were that there are "episodes with nothing but Clone Troopers" and an "episode just about Kit Fisto". He also revealed that there is still no television network set for the series
On the red carpet at the same event, Lucas revealed further information in a fan interview [19]; There will be a new Togruta Padawan character named Asoka. According to Lucas "There's a new character called Asoka, who's a young girl, padawan learner. It's her first assignment, she's very young…She's a little Shaak Ti." He also stated that there will be over 100 episodes, and an appearance by Boba Fett is possible
At Toy Fair 2007, fans were given their first look at the series' 3D animated Yoda.[20]
Music
According to musician Eric Rigler, he has been brought in to record Bulgarian-like music for the series. This includes a musical theme for each planet.[21] However, no official statement has been made on Rigler's involvement with the music. So far, the only official word on the music for the series comes from Steve Sansweet: "Of course we used John Williams music in The Clone Wars, the cartoons on Cartoon Network. I don't know if any specific decision on that has been made.[22]
Marketing and release
LucasArts announced they are working on a handheld video games based on the series. The system(s) it will appear on is unknown at this point.[23]
Lucasfilm released the first trailer for the series on StarWars.com on May 27, 2007.[24]
Notes and references
See also
External links
Community content is available under
CC-BY-SA
unless otherwise noted.