Star Wars: The Force Unleashed is a 2008 multimedia project created by LucasArts, in collaboration with Dark Horse Comics, Del Rey, LEGO, Hasbro, and Palace Press. It was originally slated for release in 2007, and billed as "the Expanded Universe multimedia event of 2007". However, problems in game development caused the project to be delayed until 2008. The project was created with the direct input and guidance of Star Wars creator George Lucas. Similar to Shadows of the Empire over a decade earlier and The Clone Wars a few years earlier, it features products across different lines, all covering the same story. This includes two games, a game guide, a novel, a graphic novel, a toy line, a reference book, a Miniatures set, and an RPG supplement.
A sequel to the video game, Star Wars: The Force Unleashed II, was announced during Spike's 2009 Video Game Awards. The video game, as well as an accompanying novel and graphic novel, were all released in October 2010.
Main story
The Force Unleashed features a young man by the name of Galen Marek (codenamed "Starkiller"), the secret Sith apprentice of Darth Vader. Marek is dispatched by Vader to eliminate several Jedi. His loyalties are tested, and he eventually turns against Vader. Marek helps form the Alliance to Restore the Republic, and then sacrifices himself in battle with Vader and Galactic Emperor Palpatine to allow his new friends and Rebel leaders to escape.
Project and story overview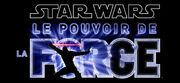 Appearances
Characters
Creatures
Droid models
Events
Locations
Organizations and titles
Sentient species
Vehicles and vessels
Weapons and technology
Miscellanea
Media
Novel
Video games
Comics
Toys
Roleplaying game
Miniatures game
Soundtrack
See also
External links
Notes and references
Community content is available under
CC-BY-SA
unless otherwise noted.