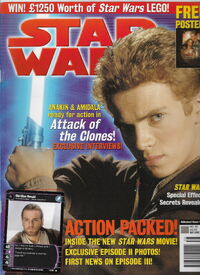 Star Wars Magazine UK 38 was the 38th issue of the Star Wars: The Official Magazine. There were two different covers for this issue. Is 66 pages long.
Feel the Force
At last... the wait is over! Attack of the Clones is here!
Episode II Update & Exclusive Episode II Photos
Pictures galore this month from Star Wars: Episode II Attack of the Clones, featuring all the action from the latest Star Wars movie and the first news on Episode III from producer Rick McCallum!
Natalie Portman: Forbidden Love
Star Wars: Episode I The Phantom Menace's teen queen is back. In Attack of the Clones, Portman is a Senator distracted by attraction... attraction to young Jedi Anakin Skywalker, a relationship which can only lead to trouble!
Hayden Christensen: Journey to the dark side
Episode II's Anakin Skywalker talks about wielding his lightsaber, kissing his co-star and his journey to the dark side!
Joel Edgerton: Lars Attacks
Just how does the Lars family connect to the Skywalkers? All is revealed in Attack of the Clones. Life-long Star Wars fan Joel Edgerton talks about becoming Luke Skywalker's future Uncle, Owen Lars...
New Hopes
Poster
Win! Attack of the Clones Lego
Win £1250 worth of brand new Star Wars LEGO!
Bookshelf: The Dark Side
Comics: Bounty Hunters
Behind the Magic: Rob Coleman
ILM Animation Director Rob Coleman begins a new series, looking at the special effects of Star Wars.
Star Wars Q&A
ComLink Letters
Your views on Vader versus Obi-Wan, the trailers for the new Star Wars movie and more!...
Next Issue
Even more Clones! And some classic Star Wars!
External links
Edit