Star Wars: X-Wing Rogue Squadron: In the Empire's Service collects issues 21 through 24 from the X-Wing: Rogue Squadron series of comics. It was released May 5, 1999.
Publisher's summary
Edit
Wedge Antilles is the premier X-wing pilot of the Rebel Alliance, and his Rogue Squadron is the most feared in the Rebel fleet. But the Empire has its top guns too -- the merciless Imperial 181st Fighter Division led by Baron Fel, the man who trained many of Rogue Squadron's best pilots. Wedge and the Rogues will get every opportunity to test that training when the 181 are dispatched to square accounts with Rogue Squadron, once and for all!
Appearances
Edit
Characters
Creatures
Droid models
Events
Locations
Organizations and titles
Sentient species
Vehicles and vessels
Weapons and technology
Miscellanea
Collected issues
Edit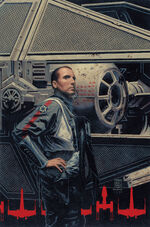 Community content is available under
CC-BY-SA
unless otherwise noted.