Jurassic World: Dominion Dominates Fandom Wikis - The Loop
Play Sound
Star Wars 14 is the fourteenth issue of the Legends comic book series Star Wars. It was written by Archie Goodwin, illustrated by Carmine Infantino, and first published on May 9, 1978 by Marvel Comics. The issue features the story "The Sound of Armageddon!," in which the battle on Drexel comes to an end.
Publisher's summary
[
]
Space pirates are using a sonic jammer to take down any and all ships, whether they're Rebel or Imperial!
Plot summary
[
]
On the water world of Drexel, Governor Quarg has used his sonic jammer to cause the Millennium Falcon to crash into the water near his giant city-ship. Han is believed dead, while Luke Skywalker, Chewbacca, and the droids are imprisoned inside of Quarg's galleon. Quarg has simultaneously been waging a war against the Dragon Lords who even now attack his ship, riding atop giant sea-dragons.
Quarg has now turned his sonic jammer towards an even greater prize—a stolen Imperial battlecruiser locked in Drexel's orbit. The pirate, Crimson Jack and his first mate, Jolli, attempt to break free of their ship's systems-lock, but find that they are trapped.
Han, meanwhile, is not dead at all. The Dragon Lords have rescued him and have taken him to a secret underground cave. The leader of the Dragon Lords tells Han that Quarg's sonic jammer is driving the sea serpents mad and slowly killing them. Han agrees to help if they agree to help him in return by salvaging the Millennium Falcon.
Governor Quarg has found Princess Leia hiding within the Millennium Falcon and chases her back onto the city-ship. Believing that Han is dead, Chewbacca goes berserk and breaks free of the prison. Luke has been forced into doing Quarg's dirty work until he reunites with Han who explains to him what the sonic jammer is doing to the dragons. Luke rescues Leia and knocks Quarg from the city-ship into the ocean, killing him, just as the jamming equipment is destroyed by the Falcon.
Development
[
]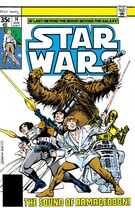 Star Wars 14 was written and edited by Archie Goodwin, penciled by Carmine Infantino, inked by Terry Austin, and colored by Janice Cohen, with lettering by Denise Wohl. Infantino and Austin also illustrated the cover art. The issue was first published by Marvel Comics on May 9, 1978,[1] and a digital edition was released on September 29, 2015.[2] The issue has also been collected in several trade paperbacks from both Marvel and Dark Horse Comics. In the Dark Horse trade paperback Star Wars Omnibus: A Long Time Ago.... Volume 1, the cover of Star Wars 14 is pictured with a solid white background, rather than the red vector field.[3]
Media
[
]
Editions
[
]
UPC 071486028178; May 9, 1978; Marvel Comics; First printing[1]
(No UPC); September 29, 2015; Marvel Comics; Digital edition[2]
Cover gallery
[
]
Appearances
[
]
By type
Characters
Creatures
Droid models
Events
Locations
Organizations and titles
Sentient species
Vehicles and vessels
Weapons and technology
Miscellanea
Collections
[
]
Notes and references
[
]
↑ 1.0 1.1 1.2 Star Wars (1977) #14 on Marvel Comics' official website (backup link) (First printing)
↑ 2.0 2.1 Star Wars (1977-1986) #14 on Marvel Comics' official website (backup link) (Digital edition)
External links
[
]