Star Wars is a video game released for the Nintendo Entertainment System in 1991. The head designer was Akila Redmer with Kalani Streicher as one of the developers. The object is to pilot a landspeeder around Tatooine, explore caves, assemble all the necessary characters, gather a lightsaber and shields for the Millennium Falcon, navigate through a meteor shower to the Death Star, battle stormtroopers, and destroy the Death Star. A very similar version of the game for the Nintendo's Game Boy was released in 1992.
Opening crawl
Edit
Plot and gameplay
Edit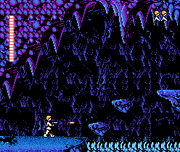 The plot of the game is mostly based on the story of Star Wars: Episode IV A New Hope, with changes to suit a video game. Characters have to fight their way from scene to scene. Luke Skywalker must rescue R2-D2 from a Jawa sandcrawler, which he ends up in after leaving to find Obi-Wan Kenobi. He also travels through a series of caves on Tatooine filled with dangerous creatures. It also does not show Obi-Wan being killed by Vader, although the guide in Nintendo Power does nonetheless reference Obi-Wan's death at the hands of Vader.
For the most part, the game is a typical side-scrolling platformer. Luke uses the lightsaber as his primary attack, and he can also use the Force to execute special maneuvers like floating, speeding, and stopping time, among others. When the characters are rescued, they will help Luke by providing hints and other actions that are important to progress through the game. Between planets, the game switches to a first-person shooter perspective as the Millennium Falcon is forced to fight a wave of TIE fighters that prevent the player's entrance to the next planet. The final level involves using the X-wing against the Death Star. The X-wing travels through a long corridor; at the end, proton torpedoes will be shot automatically in order to destroy the station. If the player fails to get to the end before time runs out, the Death Star will destroy Yavin 4, and the game will be over.
Each character has different attributes. Obi-Wan Kenobi can resurrect Han Solo or Princess Leia five times. R2-D2 can display a map of Death Star hallways.
The game is particularly difficult, since it gives only three lives and two continues. The Millennium Falcon can sustain three hits before being destroyed, although collecting Millennium Falcon shield items beforehand can expand its life gauge to allow for nine hits.
Sandcrawler
Mos Eisley #1
Mos Eisley #2
Death Star Hangar
Death Star Hallway #1
Death Star Hallway #2
Millennium Falcon Gunner
X-Wing
Death Star Trench
Appearances
Edit
Characters
Creatures
Droid models
Events
Locations
Organizations and titles
Sentient species
Vehicles and vessels
Weapons and technology
Miscellanea
External links
Edit
Community content is available under
CC-BY-SA
unless otherwise noted.