Doctor Strange in The Multiverse o Madness - The Loop
Play Sound
Twilight, Part 1 is the nineteenth issue in the Star Wars: Republic series of comics. It was published on June 28, 2000 by Dark Horse Comics.
Publisher's summary
[
]
Jedi Knight Quinlan Vos has lost his memory! And the Devaronian, Villie, is playing him for a bet—out of the frying pan and into the fire—as deadly swoops, false Jedi, and a gambler are all trying to kill Quin! Can he survive without the knowledge that he is a Jedi? Only if he can let go and act on instinct!
Plot summary
[
]
Quinlan Vos awakens, with no memory of who or where he is. Worse yet, he has woken up in the middle of a blazing fire! As a group of bounty hunters converge on him, with weapons drawn, he is saved by a strange Devaronian named Vilmarh Grahrk. The Devaronian explains to Quin that there is a bet going on when the Jedi will die, and many bounty hunters are trying to fix the result. Villie steals a speeder from a "friend," and the two head for Villie's hideout, the bounty hunters still coming in full force. Upon returning to his hideout, Villie reveals that he had actually made a bet on the Jedi's head, and intends to kill him. After Quin disarms his would-be killer, a pair of fake Jedi bust in. Quin shoots one, and quickly dispatches the other with his companion's lightsaber. After explaining that he has placed a new bet on the Jedi's survival, Villie and Quin head for the starport.
Appearances
[
]
By type
Characters
Droid models
Locations
Organizations and titles
Sentient species
Vehicles and vessels
Weapons and technology
Miscellanea
Collections
[
]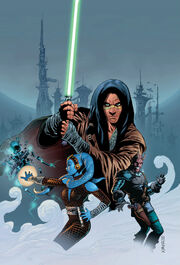 Notes and references
[
]