Outlander, Part 6 is the twelfth issue in the Star Wars: Republic series of comics. It was published on November 24, 1999 by Dark Horse Comics.
Ki and the Tusken settlement are under attack from a mob of citizens goaded on by Gardulla the Hutt. As if that weren't enough, Aurra Sing chooses that moment to appear and cause even more trouble. Epic battles, revealed secrets, and a hero falls. Timothy Truman, Rick Leonardi, and Mark Lipka make this an issue not to miss! Featuring a cover by Ken Kelly!
As Aurra Sing dispatches a Tusken scout party, Jabba the Hutt's plot to incite war comes to light. Just as he had hoped, the Tusken warriors begin their clash with Gardulla's mercenaries. Sharad Hett begins strategically deploying his Tusken warriors, just as Sing attacks Ki-Adi-Mundi and the younger Hett, sending them scattered onto the battlefield. Overwhelmed, Gardulla sounds a retreat. Unbeknownst to her, Sing has been working as a double agent for Jabba, who arrives just in time to reinforce her troops. Finally, Sing finds her target, and a lightsaber duel ensues, leaving Sharad Hett near death. Ki-Adi-Mundi arrives in time to chase off the assassin, and to hear Hett's last request, that he complete his son's training on Coruscant.
By type
Characters
Creatures
Events
Locations
Organizations and titles
Sentient species
Vehicles and vessels
Weapons and technology
Miscellanea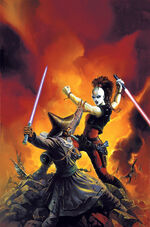 Community content is available under
CC-BY-SA
unless otherwise noted.