Emissaries to Malastare, Part 6 is the eighteenth issue in the Star Wars: Republic series of comics. It was published on May 24, 2000 by Dark Horse Comics.
Jedi Masters Mace Windu and Depa Billaba stumble across a savage pit-fighting ring in the depths of the Smugglers Moon. But the ringmasters are very determined to keep their audience happy, and what could be more exciting than rancors and vicious akk dogs against the galaxy's strongest Jedi? Don't miss the stunning conclusion to "Emissaries to Malastare!"
As the two Jedi try to fight off the vrblthers, they crash-land directly in the middle of the Circus Horrificus. As Master Windu attempts to reason with the Hutt proprietor of the arena, he releases the crazed akks on him. After Mace Windu's failed attempt to calm the beasts, a riot breaks out in the stands over bets made by Vilmarh Grahrk. The Jedi see their opportunity and attack the Hutt, and arrest the manager of the circus, with Republic reinforcements on the way.
By type
Characters
Creatures
Events
Locations
Organizations and titles
Sentient species
Vehicles and vessels
Weapons and technology
Miscellanea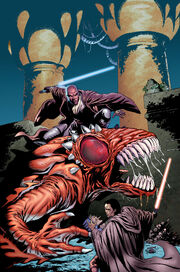 Community content is available under
CC-BY-SA
unless otherwise noted.