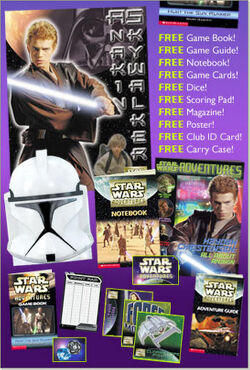 Star Wars Adventures was a series of novels, game books, and magazines published by Scholastic Inc. beginning in October 2002 after the release of Star Wars: Episode II Attack of the Clones. Episode II Adventures consisted of six all new stories written by Ryder Windham, followed by six reprinted stories from Episode I Adventures.
Children who enroll in the program at the special introductory price of $2.95 will receive a multi-piece starter kit containing: the all new Hunt the Sun Runner adventure novel by Ryder Windham and accompanying game book, a Game Guide and Game Notebook, 11 Game Cards and two dice, a Scoring Pad, the first installment of Star Wars Adventures Magazine, a Star Wars Adventures poster of Anakin Skywalker, an exclusive club ID card, and a carrying case shaped like a clone trooper helmet.
Community content is available under
CC-BY-SA
unless otherwise noted.