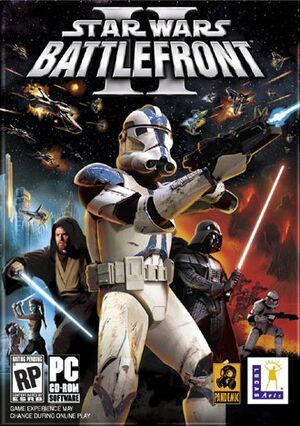 The Battlefront series is a series of video games set in the Star Wars galaxy. The game is a first person/third person shooter that allows players to take the role of soldiers in either of two opposing armies in different time periods of the Star Wars universe. The original two games were developed by Pandemic Studios while the rebooted series was developed by EA Digital Illusions CE.
Classic BattlefrontEdit
BattlefrontEdit
Battlefront IIEdit
Rebooted BattlefrontEdit
Battlefront (2015)Edit
Battlefront II (2017)Edit
Spin-offs
Edit
Star Wars: Battlefront Renegade SquadronEdit
Star Wars Battlefront: Elite SquadronEdit
Star Wars Battlefront: Mobile SquadronsEdit
Canceled games
Edit
Battlefront IIIEdit
A third Battlefront game was originally thought to be in development by developer Free Radical whom neither confirmed nor denied it. They originally stated that they were developing a new Star Wars game for LucasArts, and speculation continued that it would come out on 7th generation platforms Xbox 360 and PlayStation 3, however, obviously, this never did happen.
In late 2008, Free Radical went into administration, and LucasArts revoked the contract. Leaked footage of Battlefront III appeared on the internet for a short while, as did renders from the game. Not long after, Pandemic Studios, original creators of the series, posted a short brief for "Project X" on their site. Fans believed this to be Battlefront III, but a spokesperson rebuked the claim.
LucasArts eventually stopped funding the project, and after Free Radical posted and then refused to remove a company video making fun of LucasArts in early 2009, ties were cut between the two. The game went into limbo temporarily, before LucasArts' creative lead/creative director Adam Orth teamed with developer Slant Six, together creating a new vision for a Battlefront sequel. The idea at the time was to make Battlefront III downloadable-only, however, there was no enthusiasm for the project. Slant Six's project ended up meeting the same fate as Free Radical's.
In 2011, Spark Unlimited was developing an "unannounced" game, and, if asked if it was Battlefront III or not, responded along the lines of: "We cannot comment at this time. Please wait for announcement by LucasArts." The game that Spark Unlimited has been developing was revealed to be Lost Planet 3.
Later, alpha footage of Battlefront III was leaked. The footage showed some of the new features that were going to be placed into the game, like ground to space combat and the use of planet side ion cannons. The main characters in the game appeared to be X1 and X2 from Star Wars Battlefront: Elite Squadron.
A Facebook page dedicated to promoting Battlefront III, called "Who Else Wants Star Wars Battlefront III," ran a steady campaign to show and gain support for a potential project.
On June 10th, 2013, at E3 2013, DICE was confirmed to be creating the new Battlefront, with the game being slated for release on November 17, 2015.
Battlefront IVEdit
While Free Radical had put more than two years of work into Battlefront III, the art team had moved on to desiging assets for a fourth Battlefront game, even while Free Radical was struggling to get III to work.[1] Some stuff that would have been in IV included a Jedi version of Darth Maul and a dark side version of Luke Skywalker.[2]
The Battlefront series as of 2018 has in total sold 33 million copies worldwide, making it the second most successful star wars video game series in the history of the franchise.
Battlefront OnlineEdit
Notes and references
Edit
External links
Edit
Community content is available under
CC-BY-SA
unless otherwise noted.