Star Wars Episode I Journal: Anakin Skywalker is a novel from the point of view of Anakin Skywalker surrounding the events of Star Wars: Episode I The Phantom Menace.
Publisher's summary
Edit
I am a nine-year-old slave on the planet of Tatooine. I am owned by a creature named Watto. There's no way to escape. Then one day a Jedi appears. He says I am to be a Jedi, too. But first I must prove myself.
First I must survive.
My name is Anakin Skywalker. This is my story.
Plot summary
Edit
Behind the scenes
Edit
In Todd Strasser's 1999 Scholastic book, Star Wars Episode I Journal: Anakin Skywalker, there are several name-spelling and plot detail errors per the Phantom Menace storyline. For example, the surname of Teemto Pagalies is misspelled 'Pugales'. Also, other details, such as the way the needed starship parts were secured, also differ: rather than the hyperdrive being won by Qui-Gon Jinn in his bet with Watto, which is considered canon, the book says Jinn purchased the needed parts with the winning credits from the Podrace competition; and whereas the official storyline reveals the existence of two separate characters that are both Rodian children—Wald (a loyal friend younger in age than Anakin) and another Rodian youth (an older, contentious boy with whom Anakin fights after the race over a cheating accusation)—Strasser's book melds both individuals into Wald's character, an inaccurate representation that both individuals are one and the same.
Appearances
Edit
Characters
Creatures
Droid models
Events
Locations
Organizations and titles
Sentient species
Vehicles and vessels
Weapons and technology
Miscellanea
Notes and references
Edit
External links
Edit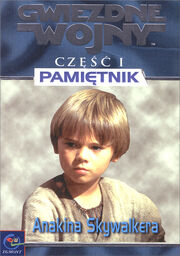 Community content is available under
CC-BY-SA
unless otherwise noted.