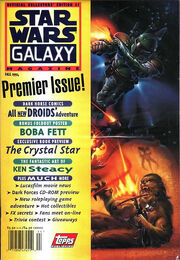 "What you'll find in this magazine […] is all the news and information throughout the entire Star Wars Galaxy. The articles, interviews and regular columns will take a fresh new look at the memorable people, places and things of the trilogy. They also will keep you informed about the many new Star Wars products, being produced by dozens of companies worldwide, including books, comics, art, trading cards, video and computer games, roleplaying games, toys and collectibles. And our readers will be among the first to get information about Lucasfilm's new projects, such as the re-release of the original Star Wars and the completely new movie."
―Star Wars Galaxy Magazine editor Bob Woods
Star Wars Galaxy Magazine, abbreviated SWGM, was a periodical published quarterly by Topps. It ran for thirteen issues, from October 1994 to November 1997, at which point it was canceled and replaced by Star Wars Galaxy Collector.
Subscriber copies of Star Wars Galaxy Magazine, dubbed Deluxe Collectors' Editions, came polybagged with exclusive Star Wars collectibles, such as Topps trading cards. The Deluxe Collectors' Editions were offered only to subscribers and comic stores, and were not available on newsstands. Each Star Wars Galaxy Magazine issue included a special fold-out poster, self-contained within the newsstand editions or loose within the the Deluxe Collectors' Editions' exclusive polybags.
Community content is available under
CC-BY-SA
unless otherwise noted.