Star Wars Galaxy Series 4 is a trading card set released by Topps in February 2009.
Return to the Galaxy
Darth Vader
Darth Sidious/Palpatine
Young Obi-Wan
Count Dooku
Adventure on Ilum
Duel Against Lumiya
Night of the Red Ghost
The Empire On Hoth
Heroes on the Move
Obi-Wan, the Warrior
Making a Cargo Dump
Becoming Boushh
Bounty Hunters Assembled
Yoda on Dagobah
A Padawan's Challenge
Preparing the New Slave Girl
Darth Vader vs. Ben Kenobi
Chewbacca Menaced by Darth Maul
Stormtrooper in the Field
Yoda in Action
Teaching the Younglings
Doomed Romance
Garage: Padmé and Anakin
Garage: Luke and Leia
Call to Vengeance
Conflict on Utapau
Abducting a Princess
An Unlikely Duo
Cantina Scene
Rancor and Rancor Keeper
Once Allies
A Well-Earned Prize
Two of a Kind?
The Last Sunrise
Episode I - The Call to Adventure
Episode II - The Road of Trials
Episode III - The Abyss
Episode IV - Illumination
Episode V - The Ultimate Prize
Episode VI - The Return
Special Edition Poster: Episode IV
Special Edition Poster: Episode V
Special Edition Poster: Episode VI
A New Epic Begins
Bring in the Clones
Dark Culmination
A Classic Clash
Illustrating the Order
Shattering Journey
A Master's Master
Her Name Is Mara Jade
Old Friends, New Art
Early Adventuring
Inside the "Insider"
Warriors of the Force
The Fury of Mace Windu
The Essential Leia
A More-than-Worthy Foe
Like Father, Like Son?
Sins of the Father
General Grievous
Men of Good Will
From Hero to Villain
Two Forces of Good
The Fury of Maul
The Fett Legacy
Senator and the Separatist
Another Battlefield
In the Trenches
Weapons of Warfare
Old Republic, New Twists
A Stark Challenge
Target: Black Sun
Adapting Episode One
The Fury of Aurra Sing
Adapting Episode Two
Naboo under Siege
Jedi vs. Bounty Hunters
Operation Purge
Vader the Enforcer
Classic Adventures
At War with Boba Fett
Palpatine's Galaxy
In the Clutches of Amanin
From Pilot to General
Boba Fett Unleashed
Romance in Deep Space
The Rogue Squadron
The Threat of Thrawn
The Empire Rises Again
Rebel Heroes Under Attack
Tales of Chewbacca
A Jedi No Longer
Conflict in All Eras
The Struggle Rages On
Astonishing Power
Kashyyyk Under Siege
The Force Repulse
Of Rancors and Banthas
Aboard the Death Star
Unleashing the Force
Survival of Kazdan Paratus
Leave No Witnesses
Ultimate Power
Checklist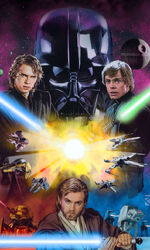 Community content is available under
CC-BY-SA
unless otherwise noted.