Star Wars Infinites: Return of the Jedi #4 is the fourth and final issue in the Star Wars Infinities: Return of the Jedi series of comics. It was published on March 31, 2004 by Dark Horse Comics.
It's crunch time for the entire Skywalker family, and Luke and Leia's friends and allies! Luke must decide whether to submit to the Emperor or watch his sister die. Vader must decide if he can bear to have the blood of both of his children on his hands. And the final hopes of the Rebel Alliance rest on the Millennium Falcon, its pilot Lando Calrissian, and his only gunner Han Solo--who is still blind from the effects of carbon freezing!
A surprising climax that is as exciting as the film on which it is based, but different from anything you have seen before!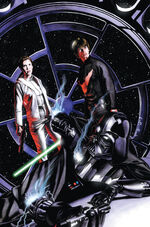 Community content is available under
CC-BY-SA
unless otherwise noted.