Star Wars Manga: The Phantom Menace 2 was the second issue in the Star Wars Manga: The Phantom Menace series of comics. It was released January 19, 2000.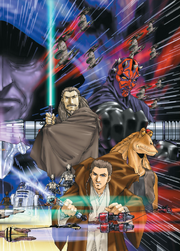 Podracing is the most exciting sport in the entire galaxy. Screaming along at 600 mph, dodging cliffs and rocks, risking your life for the thrill of speed…But something has been missing from the whole experience up until now—SPEEDLINES! Be here for the most exciting retelling of the movie of the century as Dark Horse presents Star Wars: Episode I The Phantom Menace—MANGA! The only Phantom Menace adaptation to give you all the speedlines you can handle!
Community content is available under
CC-BY-SA
unless otherwise noted.