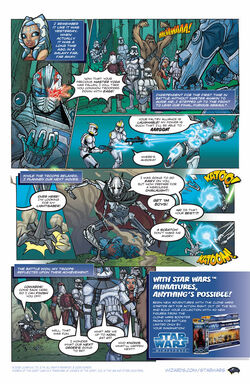 Star Wars Miniatures: The Clone Wars ad is an ad produced by Wizards of the Coast to advertise the Star Wars Miniatures set, The Clone Wars. The third in the series of ads, it is the first one not to mix characters from different eras. Instead it focuses on another feature of Star Wars Miniatures, where major characters (in this case Durge and Grievous) can be taken down by minor characters, like Ahsoka Tano, and even Clone Troopers. The ad was included in Star Wars Insider 105.
Plot
After killing Jedi Master Yoda, Durge prepares to deal with Ahsoka Tano and her troopers with extreme ease, but is shot down by a couple of clones instead. Meanwhile Ahsoka duels General Grievous and quickly defeats him, cutting off several of his limbs. After the battle the Clone Troopers reflect upon their achievement, wondering what the next order is going to be.
Appearances
Characters
Organisations and titles
Sentient species
Weapons and technology
Miscellanea
External Links
Community content is available under
CC-BY-SA
unless otherwise noted.