Boba Fett is the twelfth Star Wars Omnibus collection from Dark Horse Comics.
Publisher's summary
Edit
Boba Fett, the most feared, most respected, and most loved bounty hunter in the galaxy now has all of his comics stories collected into one massive volume!
In these stories, Boba Fett gets caught between the Rebellion and the Empire; seeks a mysterious relic from a wrecked Star Destroyer; settles a diplomatic dispute — with extreme prejudice; takes part in a bounty-hunter free-for-all; fights Darth Vader; and even goes up against a Boba Fett imposter! There's no job too deadly for the man in Mandalorian armor!
Back Cover Summary
Edit
THE MOST FEARED BOUNTY HUNTER IN THE GALAXY.
Collected here are nine stories of Boba Fett's high-risk and high-adventure missions. From settling diplomatic disputies (with extreme prejudice) to a bounty-hunter free-for-all, from a duel with Darth Vader to dealing with Boba Fett imposters, if the price is right, there is no job too perilous for this mysterious man in Mandalorian armor!
Collected issues
Edit
External links
Edit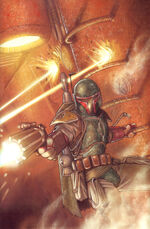 Community content is available under
CC-BY-SA
unless otherwise noted.