"We wanted to have a series where the lead doesn't have the Force, and he's just trying to make his way through the galaxy and trying to become this hero without any Force-wielders."
―Brandon Auman, executive producer
Star Wars Resistance is an animated television series that premiered on October 7, 2018, and concluded on January 26, 2020, having aired on Disney Channel and Disney XD. The series was created by Dave Filoni and executive produced by Athena Yvette Portillo, Justin Ridge, and Brandon Auman. It stars Christopher Sean, Suzie McGrath, Scott Lawrence, Myrna Velasco, Josh Brener, Donald Faison, Bobby Moynihan, and Jim Rash, with appearances from Oscar Isaac as Poe Dameron and Gwendoline Christie as Captain Phasma.
Plot summary
[
]
"We wanted to give a slice of life in a part of the galaxy that wasn't about the Jedi. How do people who are maybe not as connected with the Force, or at least they don't think they are, how did they respond to these threats? What do we do in the meantime when there isn't really a war going on?"
―Justin Ridge
The series is set between the events of Star Wars: Episode VI Return of the Jedi and Star Wars: Episode VII The Force Awakens, in a time when the Resistance is still learning about the growing threat of the First Order. It centers on the character of Kazuda Xiono, a young pilot in General Leia Organa's Resistance who is tasked with spying on the growing threat of the First Order.[1]
Slashfilm reported November 12, 2018 that a more specific timeline was revealed in episode 1.6 of Resistance Rewind. In that episode, executive producer Justin Ridge let slip that Star Wars Resistance takes place six months before the events of The Force Awakens, revealing: "Because this series takes place six months before The Force Awakens we have a lot of connective tissue to what we see in the movie. So eventually our events in the show will parallel what happens in the movie."[10]
Development
[
]
"So right now, Resistance is a bit different, in that I'm not on that day-to-day. I created and set it in motion, but I've given that to other people to raise up, people that I've worked with a long time, who I think deserve the opportunity to tell stories and I think it's exciting, and I give them my thoughts and notes – I was just doing that this morning, like George would give me. So that's fun."
―Dave Filoni on his involvement with the series
Star Wars Resistance was created by Dave Filoni, head of Lucasfilm Animation who led the creative team on Star Wars: The Clone Wars and Star Wars Rebels. The inspiration for the series was Filoni's interest in World War II aircraft and fighter pilots, with his grandfather's time as a pilot during the war being a particular influence on him. In the announcement of the series, Filoni noted that the series would capture the sense of excitement around high-speed racing, which Star Wars had depicted in many stories over the years.[1] Executive producer Justin Ridge elaborated: "It was a concept Dave came up with: he wanted to have a show that went more into 'How is the First Order gathering materials? What is the First Order doing before The Force Awakens?' It grew from that initial seed."[12] For the show's setting, Filoni was also inspired by the sitcom Cheers; executive producer Athena Yvette Portillo explained this to StarWars.com: "He said, 'I want a show that takes place in one set that you go to constantly. You get to know the patrons, you get to know the people, and you introduce new characters…and it's all about their way of life.'"[8]
Resistance begins six months before the Battle of Starkiller Base, and eventually crosses over with the events of Star Wars: Episode VII The Force Awakens.[13] When the series began development, the creative team was unsure of the details of Star Wars: Episode VIII The Last Jedi and Star Wars: Episode IX The Rise of Skywalker, so they had to be careful to avoid any possible continuity conflicts with those films.[14] The show was planned to last only two seasons, so as to bridge the gap between the two films.[15][16]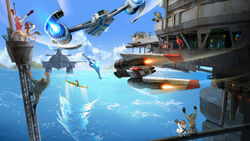 In September 2016, Disney Television president Ben Sherwood revealed that he had been working with Lucasfilm on a new animated series.[17] When the third season of Star Wars Rebels debuted, it was announced that Filoni had stepped down as Supervising Director, in lieu of helping to develop "future animation development."[18] Pablo Hidalgo revealed that Filoni and crew were working on the new series as of September 2017.[19] In February 2018, it was reported that Lucasfilm Ltd. filed a trademark for the name Star Wars Resistance[20][21] (rumors of such a series had stretched back to 2014).[22] The series was officially announced on April 26, 2018 for a debut in the fall of that year.[1] Despite creating the show, Filoni confirmed in an August 12 interview that he would not be working as directly in a day-to-day capacity on Resistance as he had on previous projects, given his work on the revival of The Clone Wars, but he would still provide notes and direction to the story team, a role Filoni compared to George Lucas' input on The Clone Wars.[11] The show's animations were produced by Polygon Pictures.[23] They are rendered in CG and based on the anime animation style,[24][1] with major inspirations being Robotech, Lupin the Third and the films of Hayao Miyazaki.[25] Many of the show's designs are based on unused original trilogy concept sketches from artists such as Joe Johnston, Ralph McQuarrie and Nilo Rodis-Jamero.[26]
Release
[
]
Star Wars Resistance premiered on October 7, 2018.[3] In the days leading up to the premiere, the show had a presence at the 2018 New York Comic Con; a life-sized model of the Fireball was present,[27] and Hasbro released a toy line based on the series.[28]
On August 4, 2019, it was announced that the second season would premiere on October 6, 2019 when the Season 2 trailer was released. It was also revealed to be the final season of the show.[2]
Critical reception
[
]
In 2019, the first season was nominated for an Emmy for "Outstanding Children's Programming,"[29] and won a Saturn for "Best Animated Television Series."[30] In 2020, the second season was also nominated for an Emmy for "Outstanding Children's Program."[31]
Home video
[
]
The first season was released on DVD on August 20, 2019.[32]
Both seasons are available on the Disney+ streaming service. The first season was available at launch on November 12, 2019,[33] whereas the second season became available on February 25, 2020.[34]
Credits
[
]
Seasons
[
]
Sources
[
]
Notes and references
[
]
↑ 1.00 1.01 1.02 1.03 1.04 1.05 1.06 1.07 1.08 1.09 1.10 1.11 1.12 1.13 1.14 1.15 1.16 1.17 1.18 1.19 1.20 1.21 1.22 1.23 1.24 1.25 1.26 1.27 1.28 1.29 1.30 1.31 1.32 1.33 1.34 1.35 1.36 Star Wars Resistance, Anime-Inspired Series, Set for Fall Debut on StarWars.com (backup link)
↑ 4.0 4.1 Press Releases | Disney Press Channel on Walt Disney Television Press (archived from the original on December 20, 2019)
↑ "Resistance Revisited" – Star Wars Insider 190 establishes that Star Wars Resistance Season One is set thirty years after the Battle of Endor, which in turn corresponds to 34 ABY, according to Star Wars: Galactic Atlas.
↑ The Star Wars Book dates the Battle of Batuu, which is featured in Star Wars: Galaxy's Edge, to 34 years after Star Wars: Episode IV A New Hope, which Star Wars: Galactic Atlas places in 0 BBY. Therefore Star Wars: Galaxy's Edge must take place in 34 ABY. Star Wars: The Rise of Skywalker: The Visual Dictionary dates the events of "Station to Station" before Star Wars: Galaxy's Edge. Therefore, "Station to Station" and any preceding episodes of Star Wars Resistance Season Two take place in 34 ABY.
↑ The Star Wars Book places the events of "The Escape" shortly before Star Wars: Episode IX The Rise of Skywalker, which it also places one year after Star Wars: Episode VII The Force Awakens. Because Star Wars: Galactic Atlas dates Star Wars: Episode VII The Force Awakens to 34 ABY, Star Wars: Episode IX The Rise of Skywalker must take place in 35 ABY, and "The Escape" takes place in 35 ABY.
↑ 8.0 8.1 The Minds Behind Star Wars Resistance on What's Ahead in the Final Season on StarWars.com (backup link)
↑ Luisser, Germain: How Star Wars Resistance Is Using Its New Time Period to Its Advantage (October 5, 2018) on Gizmodo (archived from the original on October 29, 2019)
↑ Star Wars Resistance Rewind #1.6 | Whispers of the First Order on the official Star Wars YouTube channel (backup link)
↑ 11.0 11.1 Huver, Scott: Star Wars Rebels Creator Dave Filoni Reveals How Season 4 Almost Ended and His Clone Wars Revival Plans (August 12, 2018) on IGN (archived from the original on May 24, 2020)
↑ Huver, Scott: How Star Wars Resistance Is Intended to Set Up The Force Awakens (October 5, 2018) on IGN (archived from the original on March 13, 2020)
↑ Young, Bryan: Star Wars Resistance harbors crazy deep cuts and will cross over with The Force Awakens (October 2, 2018) on Syfy (archived from the original on December 27, 2019)
↑ Hall, Charlie: How the Star Wars Resistance cartoon threads the needle of Disney's movie trilogy (October 3, 2018) on Polygon (archived from the original on March 5, 2020)
↑ Cavanaugh, Patrick: Star Wars Resistance Producers Discuss Connecting to the Bigger Galaxy and Upcoming Adventures (September 30, 2019) on ComicBook.com (archived from the original on July 29, 2020)
↑ Guthrie, Marisa: Disney/ABC TV's Ben Sherwood on a 'Star Wars' Series, "Mistakes" in Michael Strahan's 'Live' Exit and Bob Iger's Future (September 14, 2016) on The Hollywood Reporter (archived from the original on May 15, 2020)
↑ Young, Bryan: 'Star Wars Rebels:' Filoni No Longer Supervising Director (September 23, 2016) on Big Shiny Robot (archived from the original on July 3, 2017)
↑ Harrington, Neil: Details surface on a new Star Wars animated series (September 25, 2017) on Dork Side of the Force (archived from the original on April 26, 2018)
↑ New Lucasfilm Filings for "Star Wars Resistance" (February 21, 2018) on Yakface (archived from the original on February 23, 2018)
↑ Cavanaugh, Patrick: Does a Lucasfilm Trademark Hint at the New Star Wars Animated Series? (February 21, 2018) on ComicBook.com (archived from the original on March 7, 2018)
↑ Lussier, Germain: Rumor: 'Star Wars Rebels' Follow-Up Animated Series to Be Set During Current Star Wars Cinematic Era (November 25, 2014) on Slashfilm (archived from the original on January 5, 2020)
↑ Star Wars: Resistance on Polygon Pictures, Inc. (archived from the original on October 26, 2019)
↑ Tracy Cannobbio (@Tcann13) on Twitter: "Hi! #StarWarsResistance is a CG animated show, with an anime inspired design. Hope that helps! We'll be sharing more news very soon. Have a great weekend too! :)" (backup link)
↑ Zahed, Ramin: The Force Is Alive (and Animated) in 'Star Wars Resistance' (September 28, 2018) on Animation Magazine (archived from the original on July 19, 2019)
↑ 71st Emmy Awards Nominees and Winners on Emmy Awards (archived from the original on July 17, 2019)
↑ Milligan, Mercedes: Saturn Awards: 'Spider-Verse,' 'Star Wars Resistance' Win Animation Honors (September 15, 2019) on Animation Magazine (archived from the original on December 11, 2019)
↑ G., Matt: Disney+ in NZ – Your Questions Answered (November 16, 2019) on SWNZ, Star Wars New Zealand (archived from the original)
↑ Lawrence, Gregory: Here's What's New on Disney+ in February 2020 (January 23, 2020) on collider.com (archived from the original on January 25, 2020)
↑ 35.0 35.1 35.2 35.3 Star Wars Resistance – "Signal from Sector Six" credits
↑ 36.0 36.1 36.2 Star Wars Resistance – "The Platform Classic" credits
↑ 37.0 37.1 37.2 37.3 Star Wars Resistance – "The Relic Raiders" credits
↑ 39.0 39.1 Star Wars Resistance – "The Mutiny" credits
↑ 41.0 41.1 41.2 41.3 Star Wars Resistance – "The Missing Agent" credits
↑ Star Wars Resistance – "The Disappeared" credits
↑ 48.0 48.1 Star Wars Resistance – "No Place Safe" credits
↑ 49.0 49.1 49.2 Star Wars Resistance – "Fuel for the Fire" credits
↑ 51.0 51.1 51.2 Star Wars Resistance – "The New Trooper" credits
↑ Star Wars Resistance – "Kaz's Curse" credits
↑ 54.0 54.1 54.2 54.3 54.4 54.5 54.6 Breznican, Anthony: Watch the soaring new trailer for the Star Wars: Resistance animated series (August 17, 2018) on Entertainment Weekly (archived from the original on December 26, 2019)
↑ 55.0 55.1 55.2 Star Wars Resistance – "Station Theta Black" credits
↑ 57.0 57.1 57.2 57.3 Star Wars Resistance – "The Voxx Vortex 5000" credits
↑ " Star Wars Resistance – "The Engineer" credits
↑ 61.0 61.1 Star Wars Resistance – "The Doza Dilemma" credits
↑ 62.0 62.1 62.2 62.3 Star Wars Resistance – "Rendezvous Point"
↑ 63.0 63.1 Star Wars Resistance – "The First Order Occupation" credits
↑ 64.0 64.1 Star Wars Resistance – "From Beneath" credits
↑ 65.0 65.1 Star Wars Resistance – "Secrets and Holograms" credits
↑ Truitt, Brian: 'Star Wars': Ace pilots, not Jedi, take center stage in animated 'Resistance' series (December 16, 2019) on www.usatoday.com (archived from the original on July 29, 2020)
↑ 67.0 67.1 JOOKS AND AL on Star Wars Authentics: "Mary Elizabeth McGlynn and Jonathan Lipow as Jooks and Al in Star Wars Resistance." (archived from the original on July 29, 2020)
↑ Star Wars Resistance – "The New World" credits
↑ Young, Brian: Star Wars Resistance harbors crazy deep cuts and will cross over with The Force Awakens (October 2, 2018) on SyFy (archived from the original on December 27, 2019)
↑ 72.0 72.1 Star Wars Resistance – "No Escape: Part 2" credits
↑ Star Wars Resistance – "Rebuilding the Resistance" credits
↑ The Triple Dark on Walt Disney Television Press (archived from the original on October 12, 2019)
↑ Tracy Cannobbio (@Tcann13) on Twitter: "Hi. There are 22 episodes of #StarWarsResistance season 1. I just watched ep 21 and it's incredible/intense!" (backup link)
↑ LaSalata, Justin: New Star Wars Resistance Shorts Debut On Disney Channel YouTube (December 10, 2018) on jedinews.co.uk (archived from the original on July 29, 2020)
↑ Tracy Cannobbio (@Tcann13) on Twitter: "Hi! Yes - the #StarWarsResistance season finale airs on March 17th." (backup link)
↑ Tracy Cannobbio (@Tcann13) on Twitter: "Emmy-nominated #StarWarsResistance returns on October 6th! For those asking - the final season consists of 19 half-hour (technically 22 minutes without commercials) episodes. 😊" (backup link)
External links
[
]