Star Wars Tales is a series of comics that began on September 29, 1999 and ended on July 13, 2005 published by Dark Horse Comics. Each issue is an anthology of stories from various eras of the Star Wars timeline. Although the stories themselves are unrelated, many issues were themed around a single character, group or era. Each story varies in length, with six or so stories in each issue, adding up to a total of 64 pages. Two covers were produced for each issue, one illustrated, another a photo-cover.
Issue #1 to Issue #20 were edited by Peet Janes (Issues 1 and 2) and Dave Land (Issues 3-20) and were labeled Infinities, placing them outside the canon (though this is not to say that the events depicted are permanently outside of the official continuity, just that they should not be considered canon unless or until they are endorsed by a canon source).[1]
However, in-universe, the premise is that the stories of the Tales series are holo rentals from Peeja Mobet's Holo Emporium. Peeja Mobet introduced the first two issues (before editor Peet Janes left the series and Dave Land took over), talking about the stories presented. Even he admits not everything that is found in his shop is "historically accurate." In his words (taken from Issue 1):
"Some folks take liberties with their characters, others ignore potentially significant events, and still others speculate about what might have happened if something didn't occur when and where it should have. Or vice-versa for that matter. And then of course there's them hoo-ha stories, which make none of the pretense about tying in so long as you're doubled over and crackin' up!"
From Issue 2: "Now, the stories that I carry in this shop have been told from as many points of view as there are thinking beings on this planet. That makes for some interesting perspectives, even on the same stories that we've heard over and over again. Everybody's got his or her own personal spin on events, and ideas of the outcomes too, that may rankle some folks: 'Hey, I was there! He didn't do that!' they shout over their half-drained lomin ales. Then somebody else pipes in with 'What do you know? You weren't even hatched when that happened!' and then the place devolves into a classic brawl.
I have a little more respect for the differing viewpoints. For one, every different viewpoint is another story I can rent! For another, despite the fact that our perceptions are based on the same incoming information, everybody has his or her own interpretations of things, no matter what lobe they're using or how glitterstimmed their ganglia may be. That's what makes this the most colorful galaxy in the universe, eh?
The most important thing is: is it a good story? Does it have all the parts, in a semblance of order, and make sense as a whole? Did you laugh at the end, or did your hearts jump and make you wonder about the final outcome, the fate of some endearing (or reviled!) character? I hope so; otherwise I'm not doing my job and you'd better tell me!"
Jeremy Barlow became the next editor, and edited Issue #21 to Issue #24. All the tales from these issues are considered to be canon, unless labeled otherwise.
Tales also produced a 16-page Free Comic Book Day Edition, released in May 2002.
Many Tales stories and events from the first twenty issues have been referenced in other Star Wars publications. This elevates the referenced aspects of the story into the canon, but does not necessarily mean that the entire story should be considered within the official continuity. For a list of all Tales stories that have had elements incorporated into continuity, see the corresponding section below.
The 24 issues of Tales have been collected in six volumes of trade paperbacks, collecting four full issues each.
Notable contributors
| Author | Tales contribution(s) | Other notable works |
| --- | --- | --- |
| Sergio Aragonés | Junkheap Hero, Spare Parts | MAD Magazine, Groo the Wanderer |
| Jeremy Barlow | Rather Darkness Visible | Empire, Clone Wars Adventures |
| Haden Blackman | Revenants, Single Cell, Into the Great Unknown | Republic, Clone Wars Adventures |
| Peter David | Skippy the Jedi Droid | Various Star Trek comics and novels |
| Jan Duursema | Deal With a Demon, Single Cell, Ghost | Republic, Legacy |
| Ian Edginton | Lando's Commandos: On Eagles' Wings, A Hot Time in the Cold Town Tonite!, Honor Bound | 2000 AD, Scarlet Traces |
| Cam Kennedy | Tales 18 cover | Dark Empire |
| Ron Marz | Extinction, Resurrection | Darth Maul, Empire |
| Steve Niles | Planet of the Dead | 30 Days of Night |
| John Ostrander | Deal With a Demon, Bad Business | Republic, Legacy |
| Kilian Plunkett | Sand Blasted, First Impressions | Shadows of the Empire, The Clone Wars |
| Randy Stradley | Jedi Chef | Crimson Empire, Jedi Council: Acts of War |
| Ben Templesmith | Dark Journey | 30 Days of Night |
| Ryder Windham | Thank the Maker | Republic, Missions |
| Timothy Zahn | Mara Jade: A Night on the Town | Thrawn Trilogy, Hand of Thrawn Duology |
Issues
| | | |
| --- | --- | --- |
| Collected (TPB) issue | Released issue | Future issue |
Issue
Title
Publication date
Trade paperback
TPB pub date
1
Tales 1
September 20, 1999
Tales Volume 1
February 20, 2002
2
Tales 2
January 5, 2000
3
Tales 3
March 29, 2000
4
Tales 4
June 29, 2000
5
Tales 5
September 27, 2000
Tales Volume 2
May 1, 2002
6
Tales 6
December 20, 2000
7
Tales 7
March 7, 2001
8
Tales 8
June 13, 2001
9
Tales 9
October 10, 2001
Tales Volume 3
February 26, 2003
10
Tales 10
December 12, 2001
11
Tales 11
March 20, 2002
12
Tales 12
June 5, 2002
13
Tales 13
September 25, 2002
Tales Volume 4
January 29, 2004
14
Tales 14
December 11, 2002
15
Tales 15
March 12, 2003
16
Tales 16
June 25, 2003
17
Tales 17
October 1, 2003
Tales Volume 5
February 23, 2005
18
Tales 18
December 24, 2003
19
Tales 19
May 14, 2004
20
Tales 20
June 30, 2004
21
Tales 21
October 20, 2004
Tales Volume 6
January 25, 2006
22
Tales 22
February 23, 2005
23
Tales 23
May 11, 2005
24
Tales 24
July 13, 2005
List of Star Wars Tales by Issue
Issues considered infinities
(Note: Some stories in these issues, such as "Lady Luck" in issue #3 by Rich Handley and Darko Macan, have been referenced in other resources, rendering them canonical.)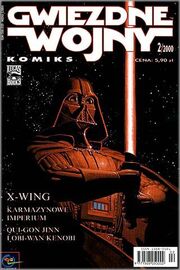 Canonical issues
Tales stories with elements of continuity
This is a list of all stories in Star Wars Tales with elements that occur in continuity. By default, all Tales stories are Infinities, and are popularly described as being "non-canon with elements of continuity", referring to the fact that if an outside source C-canon or higher references an element in a Tales story, that element is canonized. It is important to note that this does not make the entire story canon, and in some cases the non-canon parts of the story contain details that are irreconcilable with the rest of Star Wars canon. These are noted below. All stories are sorted by Trade Paperback Volume number, then alphabetically. The source in which the canon reference occurs is listed below the entry, with the appropriate section of the source following it.
Stories entirely within canon
The following are Tales stories that have either been reprinted without the Infinities logo, rendering them entirely canon, or stories printed after Tales 20, which no longer carry the Infinities logo unless an individual story calls for it. No source is listed for the stories of Volume VI, as they are already in canon.
Volume I
Volume II
Volume III
Volume VI
Stories with elements of continuity
The following are Tales stories that have had a reference to them published in a canon source. The scope of the reference varies; some, such as Extinction, have almost their entire story referenced, while others may have no more than a planet or person's name reprinted.
Volume I
Life, Death, and the Living Force
Mara Jade: A Night on the Town
Volume II
A Hot Time in the Cold Town Tonite!
Fortune, Fate, and the Natural History of the Sarlacc[3]
Lando's Commandos: On Eagles' Wings
Yaddle's Tale: The One Below [4]
The Secret Tales of Luke's Hand
Volume III
Volume IV
Volume V
The Value of Proper Intelligence to Any Successful Military Campaign is Not to Be Underestimated
Notes and references