She-Hulk Trailer Dropped - The Loop
Play Sound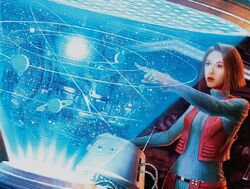 "There are so many! Do they all have a system of planets?"
"Most of them."
"Has anyone been to them all?"
"Not likely."
"I want to be the first one to see them all."
―Anakin Skywalker and Jedi Master Qui-Gon Jinn, looking at the stars
A star system, also known as a planetary system or simply a system, was a group of bodies orbiting one or more stars. Star systems usually consisted of one or more planets, and the debris remaining from the formation of the primary planets and central star, such as comets and asteroids.
There were 7,100,000,000 stars in the known galaxy, with approximately 3,200,000,000 habitable star systems. Only about a billion of these systems had life. Only 69,000,000 of those systems met population requirements for Imperial representation. All star systems were given coordinates that were used by navicomputers to permit space travel.[2] Flying from the center of a star system to its further limits at sublight speeds took from 12 to 72 hours, depending on the size of said system and the potential obstacles along the way.[3]
The galactic standard approach to naming star systems was to base the name on the central star or planet.[4] However, some systems were unnamed and had only a numerical designation.[5]
Appearances
[
]
Technically, star systems appear in almost every Star Wars work. This list only includes explicit mentions of star systems in text or dialogue.
Sources
[
]
"Blaze of Glory" – Star Wars Adventure Journal 8 (Brixie Ergo game information)
"Combat Moon" – Star Wars Adventure Journal 9 (SIT. REP. Ishanna System game information)
"The Draw" – Star Wars Adventure Journal 15 (Vernet Roleplaying Game Statistics)
Star Wars Encyclopedia (Various entries)
"Quinlan Vos: Jedi Without a Past" on Wizards.com (original article link, content now obsolete; backup link)
"Ilum: A Frozen World Hides a Jedi's Secret" on Wizards.com (original article link, content now obsolete; backup link)
"Shaggy Slaves: The Gentle Talz" on Wizards.com (original article link, content now obsolete; backup link)
"Rescued Aliens: Swamp Slug and Stone Mite" on Wizards.com (original article link, content now obsolete; backup link)
"Mood Swings" on Wizards.com (original article link, content now obsolete; backup link)
"Arms & Equipment Guide Extras!" on Wizards.com (original article link, content now obsolete; backup link)
"Raxus Prime" on Wizards.com (original article link, content now obsolete; backup link)
"Komari Vosa" on Wizards.com (original article link, content now obsolete; backup link)
"Mountain Nerf" on Wizards.com (original article link, content now obsolete; backup link)
"Ultimate Alien Anthology Web Enhancement" on Wizards.com (original article link, content now obsolete; backup link)
Star Wars Trading Card Game – The Empire Strikes Back (TCG) (Card: Lambda-Class Shuttle) (backup link not verified!)
"Reidi Artom's Expansion Manifesto" on Wizards.com (original article link, content now obsolete; backup link)
"We Don't Need That Scum" on Wizards.com (original article link, content now obsolete; backup link)
The Complete Star Wars Encyclopedia (Various entries)
Xim Week: The Despotica (Part III: Xim at Vondor) on Hyperspace (article) (content removed from StarWars.com; backup link)
"Message to Spacers 8" on Wizards.com (original article link, content now obsolete; backup link)
"Message to Spacers 9" on Wizards.com (original article link, content now obsolete; backup link)
The Clone Wars Episode Guide: Wookiee Hunt on StarWars.com (content now obsolete; backup link)
 Star Wars: The Card Game – Edge of Darkness (Card: Trandoshan Terror)
 Star Wars: The Card Game – Edge of Darkness (Card: Mission Commander) (Picture only)
Star Wars: Force Collection (Card: Dr. Evazan)
Star Wars: Force Collection (Card: Dooku (★★★★★))
Viva Space Vegas! The History of the Marvelous Wheel, Part 1 on StarWars.com (article) (backup link)
Star Wars: The Essential Guide to Warfare Author's Cut — The Celestials on StarWars.com (article) (backup link)
Viva Space Vegas! The History of the Marvelous Wheel, Part 2 on StarWars.com (article) (backup link)
Slugthrowers: An Overview of Popular Music and Musicians in a Galaxy Far, Far Away, Part 1 on StarWars.com (article) (backup link)
Rebel Alliance in the Encyclopedia (content now obsolete; backup link)
Separatist Alliance in the Encyclopedia (content now obsolete; backup link)
Notes and references
[
]
External links
[
]