Jurassic World: Dominion Dominates Fandom Wikis - The Loop
Play Sound
"I've outrun Imperial starships, not the local bulk cruisers, mind you. I'm talking about the big Corellian ships now."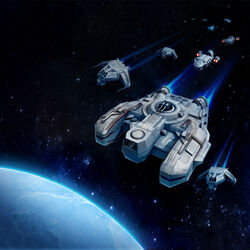 A starship, often referred to as simply a ship, was a manned vehicle used for traveling in realspace or hyperspace. Dating back thousands of years, the earliest starships transported spacers to new worlds through cryogenic freezing processes.[2] Upon the invention of the hyperdrive, those that were equipped could travel faster than light by entering hyperspace, drastically reducing the journey times between two solar systems.
Due to the complex nature of ships, a variety of power sources were required to maintain and operate essential functions on board. The most common power sources were chemical, fission, or fusion reactors, which consumed a variety of fuels based on local resources, and dated back to the Republic's earliest days. Many large ships opted for fusion systems that contained hypermatter-annihilation cores, which could generate vast amounts of power. Despite all the benefits, most power systems required fuel hazardous to organic beings, often circulating in ship systems as corrosive liquids or combustible and poisonous gases.[3] At least some starships possessed safety protocols built into the computer system that prevented the pilot from taking dangerous and reckless actions, though these could be disabled.[4]
Individual starships were registered with the Bureau of Ships and Services (BoSS), an organization founded millennia before the Clone Wars responsible for maintaining ship registrations, transponders and pilots' licenses.[5]
Types of starships included the shuttle, transport, freighter, yacht, starfighter,[6] bomber,[7] scout ship,[8] gunship,[9] assault ship,[10] warship,[1] and space station.[11]
Appearances
[
]
Non-canon appearances
[
]
Sources
[
]
'*

"The Gungan General" Episode Guide – The Clone Wars on StarWars.com (backup link)
(Set: 75106 Imperial Assault Carrier)
Star Wars: Rebels (Pack: Zeb Maquette) (backup link)
Star Wars: Destiny – Awakenings (Card: Admiral Ackbar) (Picture only)
Star Wars: Destiny – Awakenings (Card: All In) (Picture only)
Star Wars: Destiny – Awakenings (Card: Backup Muscle) (Picture only)
Star Wars: Destiny – Awakenings (Card: Bala-Tik) (Picture only)
Star Wars Helmet Collection 1 (Databank A-Z: Ask Aak–Stass Allie) (as spacecraft)
Star Wars Helmet Collection 2 (Databank A-Z: Alzoc III–Antilles; Helmets: Boba Fett–Notorious Bounty Hunter; Highlights of the Saga: The Capture of Han Solo)
Star Wars Helmet Collection 6 (Databank A-Z: Jar Jar Binks–B'omarr Order; Helmets: TIE Fighter Pilot; Weapons & Uniforms: The Imperial Fleet)
Star Wars Helmet Collection 8 (Databank A-Z: Bric–C-3PO; Highlights of the Saga: Kidnap of the Chancellor)
Star Wars Helmet Collection 9 (Databank A-Z: C-21–Chandrila; Weapons & Uniforms: Imperial Droids; Highlights of the Saga: Ground Assault on Hoth)
Star Wars Helmet Collection 11 (Databank A-Z: Rush Clovis–Coruscant; Helmets: Tusken Raider; Weapons & Uniforms: Inhabitants of Tatooine)
Star Wars Helmet Collection 13 (Databank A-Z: Poe Dameron–Delta 7-B; Helmets: Naboo Pilot; Highlights of the Saga: The Battle for Naboo)
Star Wars Helmet Collection 16 (Databank A-Z: E-11 Blaster–Cornelius Evazan; Helmets: 501st Legion Stormtroopers)
Star Wars Helmet Collection 17 (Databank A-Z: Ewoks–Finn (FN-2187); Highlights of the Saga: The Boonta Eve Classic)
Star Wars Helmet Collection 18 (Databank A-Z: First Order–Fyrnocks; Highlights of the Saga: Assault on Jakku)
Star Wars Helmet Collection 20 (Databank A-Z: Saw Gerrera–Commander Gree; Helmets: Rebel Trooper; Weapons & Uniforms: Leaders of the Rebel Alliance; Highlights of the Saga: The Capture of the Tantive IV)
Star Wars Helmet Collection 22 (Databank A-Z: Gungans–Rako Hardeen; Highlights of the Saga: The Battle of Geonosis)
Star Wars Helmet Collection 23 (Databank A-Z: Hassk Triplets–Holograms; Helmets: Rebel Commando; Weapons & Uniforms: Princess Leia Organa)
Star Wars Helmet Collection 24 (Databank A-Z: The HoloNet–General Hux; Weapons & Uniforms: Terror of the IG-100s)
Star Wars Helmet Collection 25 (Databank A-Z: Hydroid Medusas–Imperial Academies; Weapons & Uniforms: The Utapauns)
Star Wars Helmet Collection 26 (Databank A-Z: Imperial Future Council–Inquisitorius; Helmets: Y-wing Pilot; Weapons & Uniforms: Yavin Base; Highlights of the Saga: Fall of the Malevolence)
Star Wars: Build Your Own R2-D2 1 (Building the Galaxy: Designing R2-D2, Part 1; Droid Directory: R2-series Astromech Droids, Part 1)
Star Wars: Build Your Own R2-D2 2 (Building the Galaxy: Designing R2-D2, Part 2; Droid Directory: 3PO-series Protocol Droids, Part 1)
Star Wars: Build Your Own R2-D2 4 (Building the Galaxy: Filming R2-D2, Part 1; Droid Directory: 3PO-series Protocol Droids, Part 2) (Picture only)
Star Wars: Build Your Own R2-D2 5 (Building the Galaxy: Filming R2-D2, Part 2; Droid Directory: 2-1B-series Medical Droids, Part 1) (Picture only)
Star Wars: Build Your Own R2-D2 6 (Building the Galaxy: Filming R2-D2, Part 3; Droid Directory|Droid Directory: EGL Power Droids)
Star Wars: Build Your Own R2-D2 7 (Building the Galaxy: The Star Wars Stunt Team; Droid Directory: LOM-series Protocol Droids) (Picture only)
Star Wars: Build Your Own R2-D2 8 (Building the Galaxy: The Weapon of a Jedi) (Picture only)
Star Wars Helmet Collection 27 (Databank A-Z: InterGalactic Banking Clan–Jakku; Weapons & Uniforms: The Wookiees)
Star Wars Helmet Collection 28 (Databank A-Z: Queen Jamillia–Jedi Temples; Helmets: Coruscant Emergency Crew; Weapons & Uniforms: Droid Firefighters; Highlights of the Saga: Crash Landing on Coruscant)
Star Wars Helmet Collection 29 (Databank A-Z: Jelucan–Lord Junn; Weapons & Uniforms: Imperial Fleet)
Star Wars Helmet Collection 30 (Databank A-Z: Tee Watt Kaa–Kamino; Highlights of the Saga: The Betrayal of Captain Argyus)
Star Wars Helmet Collection 33 (Databank A-Z: Admiral Kilian–Kowakian; Helmets: Commander Neyo; Weapons & Uniforms: The Republic Fleet; Highlights of the Saga: The Unlikely Heroes)
Star Wars Helmet Collection 34 (Databank A-Z: Davish Krail–Kuat Drive Yards; Helmets: Death Star Trooper; Weapons & Uniforms: Citizens of Alderaan; Highlights of the Saga: Alderaan Survives!)
Star Wars Helmet Collection 38 (Databank A-Z: Baze Malbus–Darth Maul; Weapons & Uniforms: Toydarians; Highlights of the Saga: Ambush on Rugosa)
Star Wars Helmet Collection 43 (Databank A-Z: Leia Organa; Weapons & Uniforms: Inhabitants of Jakku; Highlights of the Saga: Breakout)
Star Wars Helmet Collection 46 (Databank A-Z: Providence-class–Raxus; Helmets: Resistance Trooper; Highlights of the Saga: The Hunt for Luke Skywalker)
Star Wars Helmet Collection 47 (Databank A-Z: Max Rebo–Sabacc; Helmets: Ezra Bridger; Weapons & Uniforms: The Lothal Rebels; Highlights of the Saga: Leaving Lothal)
Star Wars Helmet Collection 48 (Databank A-Z: Sabe–The Separatist Council; Helmets: First Order TIE Pilot; Weapons & Uniforms: First Order Fleet Personnel; Highlights of the Saga: Fire on Jakku)
Star Wars Helmet Collection 50 (Databank A-Z: Luke Skywalker–Han Solo; Helmets: Jess Pava; Weapons & Uniforms: D'Qar Resistance Base Personnel; Highlights of the Saga: The Search for Lor San Tekka)
Star Wars Helmet Collection 51 (Databank A-Z: Soulless One–Super Battle Droids; Helmets: The Grand Inquisitor; Highlights of the Saga: Duel on Stygeon Prime)
Star Wars Helmet Collection 52 (Databank A-Z: Hera Syndulla–Ahsoka Tano; Weapons & Uniforms: The Kanjiklub; Highlights of the Saga: Reclaiming the Falcon)
Star Wars: Legion – Core Set (Card: Saber Throw) (Reissued in Upgrade Card Pack) (Picture only)
Star Wars Lightsabers: A Guide to Weapons of the Force (Picture only)
Star Wars: X-Wing Second Edition – Fang Fighter Expansion Pack (Card: Daredevil) (Reissued in Galactic Empire Conversion Kit, Rebel Alliance Conversion Kit, Scum and Villainy Conversion Kit, First Order Conversion Kit, Resistance Conversion Kit, Servants of Strife Squadron Pack, Naboo Royal N-1 Starfighter Expansion Pack, RZ-1 A-Wing Expansion Pack, Heralds of Hope Squadron Pack)
Star Wars: X-Wing Second Edition – Fang Fighter Expansion Pack (Card: Zealous Recruit) (Reissued in Scum and Villainy Conversion Kit)
Star Wars: X-Wing Second Edition – Galactic Empire Conversion Kit (Card: Ablative Plating) (Reissued in Rebel Alliance Conversion Kit, Scum and Villainy Conversion Kit, First Order Conversion Kit, Resistance Conversion Kit, Hound's Tooth Expansion Pack, TIE/rb Heavy Expansion Pack)
Star Wars: X-Wing Second Edition – Galactic Empire Conversion Kit (Card: Debris Gambit) (Reissued in Rebel Alliance Conversion Kit, Scum and Villainy Conversion Kit, First Order Conversion Kit, Resistance Conversion Kit)
Star Wars: X-Wing Second Edition – Galactic Empire Conversion Kit (Card: Juke) (Reissued in Rebel Alliance Conversion Kit, Scum and Villainy Conversion Kit, TIE/ln Fighter Expansion Pack, First Order Conversion Kit, Guardians of the Republic Squadron Pack, Servants of Strife Squadron Pack, TIE/sf Fighter Expansion Pack, Nantex-class Starfighter Expansion Pack, RZ-1 A-Wing Expansion Pack)
Star Wars: X-Wing Second Edition – Galactic Empire Conversion Kit (Card: Tactical Scrambler) (Reissued in Lando's Millennium Falcon Expansion Pack, Rebel Alliance Conversion Kit, Scum and Villainy Conversion Kit, First Order Conversion Kit, VT-49 Decimator Expansion Pack, Ghost Expansion Pack)
Star Wars: X-Wing Second Edition – Lando's Millennium Falcon Expansion Pack (Card: Rigged Cargo Chute) (Reissued in Rebel Alliance Conversion Kit, Scum and Villainy Conversion Kit, Resistance Conversion Kit, Millennium Falcon Expansion Pack, Never Tell Me the Odds Obstacles Pack, Xi-class Light Shuttle Expansion Pack)
Star Wars: X-Wing Second Edition – Rebel Alliance Conversion Kit (Card: Cloaking Device) (Reissued in Scum and Villainy Conversion Kit)
Star Wars: X-Wing Second Edition – Rebel Alliance Conversion Kit (Card: R4 Astromech) (Reissued in Scum and Villainy Conversion Kit, T-65 X-Wing Expansion Pack, Resistance Conversion Kit, Guardians of the Republic Squadron Pack, Heralds of Hope Squadron Pack)
Star Wars: X-Wing Second Edition – Core Set (Card: Afterburners) (Reissued in Fang Fighter Expansion Pack, Guardians of the Republic Squadron Pack, Servants of Strife Squadron Pack, A/SF-01 B-Wing Expansion Pack, Resistance Transport Expansion Pack, TIE/sf Fighter Expansion Pack, Inquisitors' TIE Expansion Pack)
Star Wars: X-Wing Second Edition – Core Set (Card: Elusive) (Reissued in Galactic Empire Conversion Kit, Rebel Alliance Conversion Kit, Scum and Villainy Conversion Kit, First Order Conversion Kit, Mining Guild TIE Expansion Pack, Resistance Conversion Kit)
Star Wars: X-Wing Second Edition – Core Set (Card: Hull Upgrade) (Reissued in Galactic Empire Conversion Kit, Rebel Alliance Conversion Kit, Scum and Villainy Conversion Kit, First Order Conversion Kit, Mining Guild TIE Expansion Pack, Resistance Conversion Kit)
Star Wars: X-Wing Second Edition – Core Set (Card: Obsidian Squadron Pilot) (Reissued in Galactic Empire Conversion Kit, TIE/ln Fighter Expansion Pack)
Star Wars: X-Wing Second Edition – Core Set (Card: Shield Upgrade) (Reissued in Galactic Empire Conversion Kit, Rebel Alliance Conversion Kit, Scum and Villainy Conversion Kit, First Order Conversion Kit, Resistance Conversion Kit)
Star Wars: X-Wing Second Edition – First Order Conversion Kit (Card: Primed Thrusters) (Reissued in Resistance Conversion Kit, RZ-2 A-Wing Expansion Pack, TIE/vn Silencer Expansion Pack, Hotshots and Aces Reinforcements Pack, Heralds of Hope Squadron Pack)
Star Wars: X-Wing Second Edition – RZ-2 A-Wing Expansion Pack (Card: Green Squadron Expert) (Reissued in Heralds of Hope Squadron Pack)
Star Wars: Build Your Own X-Wing 1 (Creating a Starship Fleet: Ralph McQuarrie – The Man Who Drew Star Wars; Starfighter Aces: Luke Skywalker – Savior of the Rebel Alliance; Rocket Science: Fighter Design; Build the X-Wing: Cockpit Canopy, Cannon, and Astromech Droid (R2-D2))
Star Wars: Build Your Own X-Wing 11 (Creating a Starship Fleet: The Ice Hangar – Filming the Rebel Base; Starfighter Aces: Jango Fett – Legendary Bounty Hunter; Build the X-Wing: Upper starboard engine)
Star Wars Helmet Collection 53 (Databank A-Z: Tantive IV–Tatooine; Weapons & Uniforms: The Adventures of Nien Nunb)
Star Wars Helmet Collection 54 (Databank A-Z: Tauntaun–TIE Craft; Highlights of the Saga: Flight from Naboo)
Star Wars Helmet Collection 57 (Databank A-Z: Trident Assault Ship–Turbolasers; Helmets: Wedge Antilles; Weapons & Uniforms: Chopper Base–Atollon; Highlights of the Saga: Leaving Skystrike)
Star Wars Helmet Collection 58 (Databank A-Z: Tusken Raiders–Captain Typho; Weapons & Uniforms: 2-1Bs in the Galaxy)
Star Wars Helmet Collection 59 (Helmets: Sidon Ithano; Highlights of the Saga: Help from an Old Friend)
Star Wars Helmet Collection 60 (Databank A-Z: U'Il–Luminara Unduli; Weapons & Uniforms: The 41st Elite Corps)
Star Wars Helmet Collection 61 (Databank A-Z: Unknown Regions–Utai; Highlights of the Saga: Escaping Cloud City)
Star Wars Helmet Collection 67 (Databank A-Z: Vibroblades–Cikatro Vizago; Helmets: B-wing Pilot; Weapons & Uniforms: Blade Squadron; Highlights of the Saga: Birth of the Blade Wing)
Star Wars Helmet Collection 68 (Databank A-Z: Pre Vizsla–Quinlan Vos; Helmets: First Order Fleet Engineer; Weapons & Uniforms: The Finalizer)
Star Wars Helmet Collection 69 (Databank A-Z: Vulptex–Wampas; Highlights of the Saga: The Rebirth of Caleb Dume)
Star Wars Helmet Collection 70 (Helmets: Commander Wolffe; Weapons & Uniforms: Grand Admiral Thrawn)
Star Wars Helmet Collection 71 (Databank A-Z: Zam Wesell–Wexley; Helmets: General Merrick; Weapons & Uniforms: Blue Squadron)
Star Wars Helmet Collection 76 (Databank A-Z: Xev Xrexus–Yavin 4; Helmets: Commander Ponds; Weapons & Uniforms: Aurra Sing; Highlights of the Saga: The End of Endurance)
Star Wars: X-Wing Second Edition – Resistance Transport Expansion Pack (Card: Angled Deflectors) (Reissued in Hotshots and Aces Reinforcements Pack)
Star Wars: X-Wing Second Edition – BTL-B Y-Wing Expansion Pack (Card: Precognitize Reflexes) (Reissued in Hotshots and Aces Reinforcements Pack)
Star Wars: X-Wing Second Edition – Nantex-class Starfighter Expansion Pack (Card: Stalgasin Hive Guard)
Every Type of Ship in Rebels | Star Wars By the Numbers on the official Star Wars Kids YouTube channel (backup link)
Star Wars: X-Wing Second Edition – Huge Ship Conversion Kit (Card: Carlist Rieekan) (Reissued in Tantive IV Expansion Pack)
Star Wars: X-Wing Second Edition – Huge Ship Conversion Kit (Card: Jan Dodonna) (Reissued in Tantive IV Expansion Pack)
Star Wars: X-Wing Second Edition – Huge Ship Conversion Kit (Card: Raymus Antilles) (Reissued in Tantive IV Expansion Pack)
Star Wars: X-Wing Second Edition – Huge Ship Conversion Kit (Card: Stalwart Captain) (Reissued in Tantive IV Expansion Pack, C-ROC Cruiser Expansion Pack)
Star Wars: X-Wing Second Edition – Huge Ship Conversion Kit (Card: Strategic Commander) (Reissued in Tantive IV Expansion Pack, C-ROC Cruiser Expansion Pack)
Star Wars Helmet Collection 79 (Weapons & Uniforms: Rebel Leaders at Yavin 4; Highlights of the Saga: The Battle of Scarif)
Star Wars: Card Trader (Card: Overall Award - Episode 4 - Star Wars: The Clone Wars - Season 7 Episode Series)
Star Wars: Card Trader (Card: Overall Award - Episode 6 - Star Wars: The Clone Wars - Season 7 Episode Series)
Star Wars: Card Trader (Card: Overall Award - Episode 7 - Star Wars: The Clone Wars - Season 7 Episode Series)
Every Ship in the Star Wars Sequel Trilogy | Star Wars By the Numbers on the official Star Wars Kids YouTube channel (backup link)
Star Wars: X-Wing Second Edition – LAAT/i Gunship Expansion Pack (Card: Deadeye Shot) (Reissued in Xi-class Light Shuttle Expansion Pack, Heralds of Hope Squadron Pack, TIE/rb Heavy Expansion Pack)
Star Wars: X-Wing Second Edition – Xi-class Light Shuttle Expansion Pack (Card: Sensor Buoy Suite) (Picture only)
Season 1 Recap | The Mandalorian | Disney+ on the official Star Wars YouTube channel (backup link)
"Chapter 8: Redemption" Episode Guide on StarWars.com (backup link) (Picture only)
The Mandalorian: Allies & Enemies (Picture only)
Star Wars Bust Collection 1 (Star Wars Universe: Darth Vader; Behind the Cameras: How the Death Star Was Created)
Star Wars Bust Collection 2 (Star Wars Universe: Stormtroopers; Behind the Cameras: Evolution of the Stormtroopers)
Jedi Knight Vernestra Rwoh: Characters of Star Wars the High Republic on the official Star Wars YouTube channel (backup link)
Avar Kriss | Characters of Star Wars: The High Republic on the official Star Wars YouTube channel (backup link)
The Nihil: Characters of Star Wars the High Republic on the official Star Wars YouTube channel (backup link)
Star Wars - The Official Magazine 101 (Database: Before the dark times…) (Picture only)
10 Helpful Droids | Star Wars: List It! on the official Star Wars Kids YouTube channel (backup link)
Star Wars: The Secrets of the Sith (Picture only)
Star Wars Inside Intel: Mandalorian Armor on StarWars.com (article) (backup link) (Picture only)
Faithful Friends | Star Wars: List It! on the official Star Wars Kids YouTube channel (backup link)
Star Wars Inside Intel: The Inquisitorius on StarWars.com (article) (backup link) (Picture only)
2-1B Droid in the Databank (backup link)
4-LOM in the Databank (backup link) (Picture only)
5-L in the Databank (backup link) (Picture only)
501st Legion in the Databank (backup link) (Picture only)
AA-9 Coruscant freighter in the Databank (backup link)
Admiral Kilian in the Databank (backup link)
Admiral Statura in the Databank (backup link)
Admiral Trench in the Databank (backup link)
Alderaan in the Databank (backup link)
Alderaan Cruiser in the Databank (backup link)
Alora in the Databank (backup link)
Amban sniper rifle in the Databank (backup link) (Picture only)
Anakin Skywalker in the Databank (backup link)
ARC Trooper Fives in the Databank (backup link)
Archeon Nebula in the Databank (backup link)
Asajj Ventress in the Databank (backup link)
Asteroid Field in the Databank (backup link)
Astromech Droid in the Databank (backup link)
Aurra Sing in the Databank (backup link)
Azmorigan in the Databank (backup link)
Balnab in the Databank (backup link)
Barriss Offee in the Databank (backup link)
Battle Droid in the Databank (backup link)
Beilert Valance in the Databank (backup link)
Bestoon Legacy in the Databank (backup link)
Bitey in the Databank (backup link)
Brom Titus in the Databank (backup link)
Bespin in the Databank (backup link)
Blue Ace in the Databank (backup link)
Bracca in the Databank (backup link)
Capacitor in the Databank (backup link)
Christophsis in the Databank (backup link)
Cloud City in the Databank (backup link)
Commander D'Acy in the Databank (backup link)
Commander Pyre in the Databank (backup link)
Dalkor Dagger in the Databank (backup link)
DD-BD in the Databank (backup link)
Eila in the Databank (backup link)
Fauja in the Databank (backup link)
Freya Fenris in the Databank (backup link)
Galaxy's Glory in the Databank (backup link)
Gobi Glie's Starship in the Databank (backup link)
grapple line in the Databank (backup link) (Picture only)
Gravity lock in the Databank (backup link)
Green Ace in the Databank (backup link)
Guavian Death Gang ships in the Databank (backup link)
H-type Nubian yacht in the Databank (backup link)
Hammerhead Corvette in the Databank (backup link)
Hondo Ohnaka in the Databank (backup link)
Hound's Tooth in the Databank (backup link)
Hype Fazon in the Databank (backup link)
Ion restraining bolt in the Databank (backup link)
Luxury 3000 Space Yacht in the Databank (backup link)
Marauder in the Databank (backup link)
Merchant One in the Databank (backup link)
Millennium Falcon in the Databank (backup link)
Mon Calamari star cruiser in the Databank (backup link)
Naboo Royal Starship in the Databank (backup link)
Neeku Vozo in the Databank (backup link)
New Republic prison ship in the Databank (backup link)
Omega's Room in the Databank (backup link)
Ordo Moon Dragon in the Databank (backup link)
Peli Motto in the Databank (backup link)
Phoenix in the Databank (backup link)
Prauf in the Databank (backup link)
Proton Torpedo in the Databank (backup link)
Qin in the Databank (backup link)
R23-X9 in the Databank (backup link)
R2-D2 in the Databank (backup link)
R4-G77 in the Databank (backup link)
ravinak in the Databank (backup link) (Picture only)
Razor Crest in the Databank (backup link)
Red Ace in the Databank (backup link)
Republic Attack Cruiser in the Databank (backup link)
Republic Tugboat in the Databank (backup link)