Jurassic World: Dominion Dominates Fandom Wikis - The Loop
Play Sound
"A starship is a weapon, but it's the crew that makes it deadly."
―An old spacer's line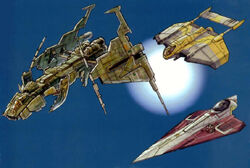 A starship, also known as a starcruiser, spaceship, spacecraft, or simply just craft or ship, was a vessel designed for interstellar travel, specifically between star systems. Starships were distinguished by the inclusion of a hyperdrive, a piece of equipment that made hyperspace travel possible.
Propulsion
[
]
Interstellar flight became possible with the invention of the dual-drive system. Starships used sublight drives to leave a planet's gravity well and the hyperdrive to travel between stars faster than light speed.
Plotting a course to a star system was a highly complex operation. Calculations to travel at light speed were left up to a navigation computer or astromech droid.
A common sublight drive was the ion engine, which had a high power-to-weight ratio, and was used in Imperial TIE fighters and Star Destroyers.
Ships employed a repulsorlift drive during takeoffs from and landings on a planet. Repulsorlift drives were also used to assist in flight within gravity wells.
Armament
[
]
Certain vessels were armed with laser cannons, turbolaser emplacements, or missile launchers. Some were equipped with deflector shields, countering the effects of laser weaponry, thus protecting the ship from attack and asteroid impacts. Larger ships also acted as carriers, transporting dozens or hundreds of fighters for combat operations.
Crew
[
]
A small, single-person fighter, such as the X-wing starfighter, could be flown by one pilot, with the help of an astromech droid. Larger vessels, like the Super Star Destroyers, were crewed by thousands of personnel, who were responsible for ongoing maintenance and operations. Larger ships also had a bridge, the command center.
Starship types
[
]
Appearances
[
]
Copero Short Story Blog on The Old Republic

'

s official website (article) (backup link) (Mentioned only)
The Clone Wars: Neighbors (In flashback(s))
The Clone Wars: The Ballad of Cham Syndulla (In flashback(s))
The Last of the Jedi: Against the Empire (Appears in simulator)
"The Business Merger" – Shadows of the Empire Sourcebook (Mentioned only)
Star Wars Episode IV: A New Hope novel (First appearance)
"Swoop Gangs" – Star Wars Adventure Journal 6 (Mentioned only)
"Finder's Fee" – Star Wars Adventure Journal 6 (Mentioned only)
"A Bazaar Encounter" – Imperial Entanglements (Mentioned only)
Death in the Slave Pits of Lorrd on Hyperspace (article) (content removed from StarWars.com; backup link)
"We Are Made of Suffering" – Shadows of the Empire Sourcebook (Mentioned only)
"The Ganjuko Graveyard" – Shadows of the Empire Planets Guide (Mentioned only)
"Hand-Off" – Shadows of the Empire Sourcebook (Mentioned only)
"Hasty Exit" – Shadows of the Empire Sourcebook (Mentioned only)
"New Assignments" – Shadows of the Empire Planets Guide (Mentioned only)
"Day of the Sepulchral Night" – Star Wars Adventure Journal 13 (Mentioned only)
"Conflict of Interest" – Star Wars Adventure Journal 13 (Mentioned only)
"Starter's Tale" – Star Wars Adventure Journal 4 (In flashback(s))
"Betrayal by Knight" – Star Wars Adventure Journal 12 (Mentioned only)
Non-canon appearances
[
]
Sources
[
]
Star Wars Blueprints (First identified as spaceship)
"Recon & Report: The Journey to Coruscant" – The Best of the Star Wars Adventure Journal, Issues 1-4
1996 Topps Star Wars: Shadows of the Empire (Card: Artoo and Threepio Helm the Falcon) (backup link)
1996 Topps Star Wars: Shadows of the Empire (Card: Fett Fends Off Fellow Bounty Hunters) (backup link)
1996 Topps Star Wars: Shadows of the Empire (Card: Another Narrow Escape for Boba Fett) (backup link)
1996 Topps Star Wars: Shadows of the Empire (Card: At Last, Fett Delivers Han to Jabba) (backup link)
"Vilmarh Grahrk: A Devil of a Smuggler" on Wizards.com (original article link, content now obsolete; backup link)
"Ilum: A Frozen World Hides a Jedi's Secret" on Wizards.com (original article link, content now obsolete; backup link) (Picture only)
"Shaggy Slaves: The Gentle Talz" on Wizards.com (original article link, content now obsolete; backup link) (Indirect mention only)
"Rescued Aliens: Swamp Slug and Stone Mite" on Wizards.com (original article link, content now obsolete; backup link)
Star Wars Trading Card Game – Attack of the Clones (TCG) (Card: Republic Assault Ship) (backup link not verified!)
"Kyle Katarn, Jedi Outcast" on Wizards.com (original article link, content now obsolete; backup link)
"Arms & Equipment Guide Extras!" on Wizards.com (original article link, content now obsolete; backup link)
"Raxus Prime" on Wizards.com (original article link, content now obsolete; backup link)
"Komari Vosa" on Wizards.com (original article link, content now obsolete; backup link)
"Anakin's Living Ship" on Wizards.com (original article link, content now obsolete; backup link)
"Mountain Nerf" on Wizards.com (original article link, content now obsolete; backup link)
"Lorian Nod" on Wizards.com (original article link, content now obsolete; backup link)
"Darth Malak" on Wizards.com (original article link, content now obsolete; backup link)
"Boba Fett (NJO Era)" on Wizards.com (original article link, content now obsolete; backup link)
"Voss Parck" on Wizards.com (original article link, content now obsolete; backup link)
"We Don't Need That Scum" on Wizards.com (original article link, content now obsolete; backup link)
"Soldiers of Fortune" on Wizards.com (original article link, content now obsolete; backup link)
"Heroes of Revenge of the Sith" on Wizards.com (original article link, content now obsolete; backup link)
"Saga Edition Web Enhancement: Devaronians" on Wizards.com (original article link, content now obsolete; backup link)
"Power Beyond Belief" on Wizards.com (original article link, content now obsolete; backup link)
"Planet Hoppers: Cathar" on Wizards.com (original article link, content now obsolete; backup link)
"Planet Hoppers: Skako" on Wizards.com (original article link, content now obsolete; backup link)
Xim Week: The Despotica (Part IV: Evocar) on Hyperspace (article) (content removed from StarWars.com; backup link)
"Fringe Stat Pack" on Wizards.com (original article link, content now obsolete; backup link)
"Message to Spacers 7" on Wizards.com (original article link, content now obsolete; backup link)
"Message to Spacers 8" on Wizards.com (original article link, content now obsolete; backup link)
"Message to Spacers 9" on Wizards.com (original article link, content now obsolete; backup link)
"Message to Spacers 10" on Wizards.com (original article link, content now obsolete; backup link)
X-70B Phantom on The Old Republic Holonet (content now obsolete; backup link) <!—October 29, 2010 —>
Jewl'a Nightbringer on The Old Republic Holonet (content now obsolete; backup link) <!—7th January 2011—>
 Aarrba the Hutt in the Databank (content now obsolete; backup link)
Star Wars: Force Collection (Card: BoShek)
Star Wars: Force Collection (Card: Cariso Smadis)
Star Wars: Force Collection (Card: Captain Antilles)
Star Wars: Force Collection (Card: Han Solo (★★))
Star Wars: Force Collection (Card: Han Solo (★★★★))
Astromech droids in the Encyclopedia (content now obsolete; backup link)
Hound's Tooth in the Encyclopedia (content now obsolete; backup link)
Luxury 3000 space yacht in the Encyclopedia (content now obsolete; backup link)
Millennium Falcon in the Encyclopedia (content now obsolete; backup link)
Mos Eisley Cantina in the Encyclopedia (content now obsolete; backup link)
Naboo Royal Starship in the Encyclopedia (content now obsolete; backup link)
Rebel Alliance in the Encyclopedia (content now obsolete; backup link)
Separatist supply ship in the Encyclopedia (content now obsolete; backup link)
Sith Infiltrator in the Encyclopedia (content now obsolete; backup link)
Trade Federation landing ship in the Encyclopedia (content now obsolete; backup link)
Trident drill assault craft in the Encyclopedia (content now obsolete; backup link)
Turtle Tanker in the Encyclopedia (content now obsolete; backup link)
Zygerrian slave ship in the Encyclopedia (content now obsolete; backup link)
External links
[
]