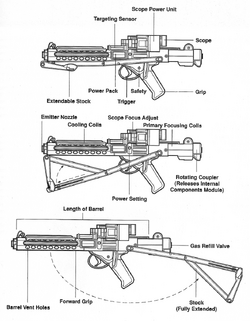 A stock was a part of a pistol or rifle. Some stocks were retractable, which allowed the user to change the shape of a pistol-like weapon to a rifle-like weapon and vice-versa. When the stock was folded, it reduced the length and shape of the weapon, allowing the user to treat it as a one-handed pistol. When the stock was extended, the user could treat the weapon more like a rifle, which allowed the wielder to fire at a greater range. However, the extended stock required that the weapon be used with two hands to be used properly. Some blaster carbines, such as the E-5 carbine used by B1 battle droids, had a retractable stock.[1] The most common weapon used by the stormtroopers of the Galactic Empire was a blaster rifle that had a collapsible stock which allowed for three different firing positions.[2]
↑  blasters in the Encyclopedia (content now obsolete; backup link)
Community content is available under
CC-BY-SA
unless otherwise noted.