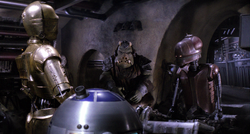 Supervisor droids, also known as overseer droids, were a type of third class droid[1] designed to oversee droid pools.[2] The EV-series supervisor droid[3] was a model of supervisor droid manufactured by MerenData.[4] Doctor Gubacher and his team designed enhanced overseer droids to supervise the labor force which helped construct the Death Star.[5]
Community content is available under
CC-BY-SA
unless otherwise noted.