"Long ago in forgotten times, when the Sith and Jedi fought for control of the galaxy, weapons there were, of unimaginable power."
―Yoda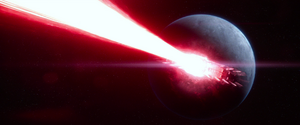 Superweapon (also spelled super-weapon)[1] and megaweapon[2] were terms used to describe a weapon of extremely devastating power, possibly enough to destroy a planet.[3]
Superweapons were used in ancient wars between the Jedi and the Sith. These weapons were powered by Kyber crystals.[4] One such weapon existed on the Sith planet Malachor, the site of an ancient battle.[5] The Sith Lord Momin constructed a weapon with the ability to destroy an entire city. He used this weapon to destroy a city before he and his acolytes were defeated by the Jedi.[6]
Clone Wars
Edit
The Subjugator-class heavy cruiser Malevolence used by the Confederacy of Independent Systems during the Clone Wars was considered to be a superweapon,[7] as was the electro-proton bomb developed by Sionver Boll.
Age of the Empire
Edit
The first[3] and second Death Star built by the Galactic Empire were superweapons,[8] employing a powerful superlaser weapon that was powered by massive kyber crystals.[9] Conan Antonio Motti loved technology that created devastating superweapons.[10] The Arc Pulse Generator, invented by former Imperial Sabine Wren was also classified as a superweapon.[11] The Empire was believed to have created many superweapons. The Siege Breaker, an alleged type of capital ship that utilized a kyber crystal superweapon. The Mass Shadow Generator, which was rumored to exist in realspace and hyperspace. The Torpedo Sphere, a siege platform and space station. The Omega Frost, an interstellar freeze ray, and the Electro-Proton Bomb/Defoliator, that was based off the Electro-proton bomb from the Clone Wars.[12]
Rise of the First Order
Edit
Approximately thirty years after the destruction of the second Death Star, the primary base of the First Order—Starkiller Base—harbored a superweapon built into the planet's crust that was capable of destroying entire star systems, as demonstrated during the Hosnian Cataclysm. The weapon was powered by drawing on the energy of a star, which eventually led to the planet's collapse during an attack by the Resistance on Starkiller's thermal oscillator.[13][14]
Behind the scenes
Edit
Earlier versions of the 2015 film Star Wars: Episode VII The Force Awakens had the Resistance developing a superweapon known as the War-Hammer. In those versions, the War-Hammer would've been several times the size of a Star Destroyer and had the form of a massive ship with a huge front that could penetrate any shield and was able to deploy ships through it.[15]
Appearances
Edit
Darth Maul, Part II (Appears in flashback(s))
Star Wars: Galactic Defense (Mentioned only)
5-Minute Star Wars Villain Stories (Appears in hologram)
Star Wars: Episode II Attack of the Clones (Appears in hologram)
Star Wars: The Clone Wars – "The Big Bang" (Mentioned only)
Darth Vader: Dark Lord of the Sith 5: The Chosen One, Part V (Indirect mention only)
Darth Vader: Dark Lord of the Sith 25: Fortress Vader, Part VII (Vision to Darth Vader)
Thrawn, Part IV (Cover only)
Thrawn, Part VI (Appears through imagination)
Star Wars Rebels – "Ghosts of Geonosis" (Appears in drawing)
Star Wars Rebels – "In the Name of the Rebellion" (Mentioned only)
Star Wars: Rogue One Graphic Novel Adaptation (Mentioned only)
Rogue One Adaptation 4 (Indirect mention only)
Star Wars: Episode IV A New Hope (First appearance)
Escape from Darth Vader (Appears in hologram and final-page illustration only)
"Stories in the Sand"—From a Certain Point of View (Appears in hologram)
"Duty Roster"—From a Certain Point of View (Mentioned only)
"Contingency Plan"—From a Certain Point of View (Indirect mention only)
"The Angle"—From a Certain Point of View (Appears in hologram)
"By Whatever Sun"—From a Certain Point of View (Mentioned only)
Princess Leia, Part I (Mentioned only)
Princess Leia, Part II (Indirect mention only)
Chewie and the Courageous Kid (Mentioned only)
Heir to the Jedi (Mentioned only)
Star Wars Annual 4 (Mentioned only; in the opening crawl)
Star Wars 2: Skywalker Strikes, Part II (Indirect mention only)
Star Wars 3: Skywalker Strikes, Part III (Indirect mention only)
Darth Vader 1: Vader (Appears in flashback(s))
Star Wars 4: Skywalker Strikes, Part IV (Indirect mention only)
Darth Vader 2: Vader, Part II (Indirect mention only)
Darth Vader 6: Vader, Part VI (Appears in flashback(s))
Darth Vader 7: Shadows and Secrets, Part I (Indirect mention only)
Darth Vader 8: Shadows and Secrets, Part II (Appears in hologram)
Doctor Aphra 3: Aphra, Part III (Mentioned only)
Doctor Aphra 22: The Catastrophe Con, Part III (Picture only) (Appears in hologram)
"Shu-Torun Lives"—Star Wars 50: Hope Dies, Part I (Appears in flashback(s))
Moving Target: A Princess Leia Adventure (Appears in hologram)
Aftermath (Appears in flashback(s))
Star Wars: Uprising (Appears in hologram)
Aftermath: Empire's End (Appears in flashback(s))
The Legends of Luke Skywalker (Mentioned only)
"All Creatures Great and Small"—Tales from a Galaxy Far, Far Away: Aliens: Volume I (Indirect mention only)
Poe Dameron 9: The Gathering Storm, Part II (Appears in flashback(s))
Poe Dameron Annual 2 (Mentioned only)
Star Wars Resistance – "No Escape: Part 1" (Appears in hologram)
Star Wars Resistance – "No Escape: Part 2" (Appears in hologram)
 ""—Star Wars Adventures Ashcan (Appears in flashback(s))
"Hear Nothing, See Nothing, Say Nothing"—Canto Bight (Wreckage only)
Star Wars: The Last Jedi: Expanded Edition (Mentioned only)
Star Wars: The Last Jedi: A Junior Novel (Mentioned only)
Poe Dameron 27: The Awakening, Part II (Appears in flashback(s))
Poe Dameron 28: The Awakening, Part III (Appears in flashback(s))
Poe Dameron 29: The Awakening, Part IV (Mentioned only)
Poe Dameron 30: The Awakening, Part V(Indirect mention only)
Non-canon appearances
Edit
Notes and references
Edit
↑  Queen Breha Organa in the Databank (backup link)
↑  Galactic Empire in the Databank (backup link)
↑ 3.0 3.1  Death Star in the Databank (backup link)
↑  Clone Commander Wolffe Biography Gallery on StarWars.com; image #1 (of 19)
↑  Death Star II in the Databank (backup link)
↑  Admiral Motti in the Databank (backup link)
↑  Captain Hark in the Databank (backup link)
↑  Starkiller Base in the Databank (backup link)