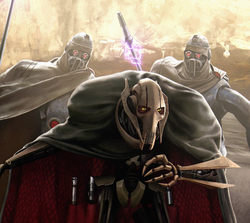 Supreme Commander was a high rank borne by military and paramilitary officers in the service of most of the major galactic powers of the Imperial and post-Imperial eras. Most Supreme Commanders were the senior-most admiral in a navy.
As most major states and powers of these eras used at least one version of this rank, full information is divided among several pages:
---
This is a disambiguation page—a navigational aid that lists other pages that might otherwise share the same title. If an article link referred you here, you might want to go back and fix it to point directly to the intended page.
---