"Relax Artoo! Sureggies never fall! They're the safest, surest way to move between levels on this crazy planet!"
―Han Solo
Sureggi were a species of amphibians used as mounts on Kashyyyk.
Roaming the jungles and marshlands of Kashyyyk, the sureggi were one of the most stable and sure-footed creatures native to the planet. With upward of 30 legs, sureggi could grow to 20 meters long.[1]
Physically, they had a broad, shovel-like snout and a high-ranged dorsal region. Their skin was dry and durable compared to other With their strong hides, they were able to carry cargo that would've been too awkward for other pack animals. Sureggies also had thick tentacle-like sensory organs in their noses, "whiskers" that were able to detect grubs for food and also determine safe routes while carrying passengers or cargo.[1]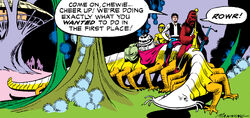 The sureggies were also able swimmers, could breathe underwater and were unable to drown. While they couldn't defend themselves from all aquatic predators, they could still maneuver through water to avoid danger during stream or river crossings.[1]
Appearances
Edit
Notes and references
Edit
Community content is available under
CC-BY-SA
unless otherwise noted.