m

Line 1:
Line 1:
 

{{Eras}}

 

{{Eras}}

 

[[File:Dragonsnake Bog.jpg|thumb|right|250px|[[Dragon snake bog]], a swamp on [[Dagobah]]]]

 

[[File:Dragonsnake Bog.jpg|thumb|right|250px|[[Dragon snake bog]], a swamp on [[Dagobah]]]]

−

'''Swamps''' were areas of land which often included thick vegetation and large bodies of [[water]]. [[Planet]]s with areas of swamp land included [[Rodia]],<ref name="HttJ">''[[Heir to the Jedi]]''</ref> [[Naboo]],<ref name="TPM"> [[Star Wars: Episode I The Phantom Menace|''Star Wars'': Episode I ''The Phantom Menace'']]</ref> [[Dagobah]],<ref name="ESB">[[Star Wars: Episode V The Empire Strikes Back|''Star Wars'': Episode V ''The Empire Strikes Back'']]</ref> [[Nal Hutta]],<ref name="HfZ">{{TCW|Hunt for Ziro}}</ref>, and [[Patitite Pattuna/Canon|Patitite Pattuna]].<ref name="SWE Patitites">{{SWE|groups|patitites|Patitites}}</ref>

+

'''Swamps''' were areas of land which often included thick vegetation and large bodies of [[water]]. [[Planet]]s with areas of swamp land included [[Rodia]],<ref name="HttJ">''[[Heir to the Jedi]]''</ref> [[Naboo]],<ref name="TPM"> [[Star Wars: Episode I The Phantom Menace|''Star Wars'': Episode I ''The Phantom Menace'']]</ref> [[Dagobah]],<ref name="ESB">[[Star Wars: Episode V The Empire Strikes Back|''Star Wars'': Episode V ''The Empire Strikes Back'']]</ref> [[Nal Hutta]],<ref name="HfZ">{{TCW|Hunt for Ziro}}</ref> and [[Patitite Pattuna/Canon|Patitite Pattuna]].<ref name="SWE Patitites">{{SWE|groups|patitites|Patitites}}</ref>

 
 
 

{{Stub}}

 

{{Stub}}
---
Revision as of 18:23, 1 April 2016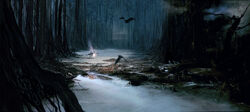 Swamps were areas of land which often included thick vegetation and large bodies of water. Planets with areas of swamp land included Rodia,[1] Naboo,[2] Dagobah,[3] Nal Hutta,[4] and Patitite Pattuna.[5]
Appearances
Sources
Notes and references
↑  Patitites in the Encyclopedia (content now obsolete; backup link)
Community content is available under
CC-BY-SA
unless otherwise noted.