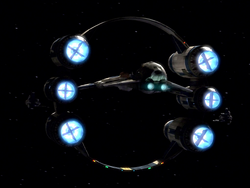 The Syliure-45 hyperdrive module was a hyperdrive docking ring that was produced by TransGalMeg Industries, Incorporated towards the end of the Clone Wars. It was designed to offer hyperspace travel to star fighters that were too small to allow for an onboard hyperdrive, and was the successor to the Syliure-31 long-range hyperdrive module.
With the introduction of the new Eta-2 Actis-class interceptor, The Syliure-45 was developed as an improvement over its predecessor, which was designed for the previous Delta-7 Aethersprite-class light interceptor. The two designs differed due to the addition of four additional accelerator pods. Three pods were located on each side of the ring, which was split in half by the socket which connected the fighter to the ring. Syliure-type hyperspace rings were designed to be adapted to fit a number of Jedi and Republic star fighters. Although the new six-engine variant was primarily designed to work in conjunction with the Eta-2 Actis-class light interceptors, it was also used infrequently by the Alpha-3 Nimbus-class V-wing starfighter.
Appearances
Edit
Community content is available under
CC-BY-SA
unless otherwise noted.