Boba Fett Returns - The Loop
Play Sound
"Are the speeders ready?"
"Not yet. We're having some trouble adapting them to the cold."
―Han Solo and the Deck officer
The T-47 airspeeder, also known as the T-47 light airspeeder, was a craft manufactured by Incom Corporation. They were modified by the Rebel Alliance into snowspeeders.
Characteristics
[
]
"No, no, not the T-47! I can fly anything, but that doesn't mean I want to. Piloting the T-47 is like steering a block of wood."
The T-47 airspeeder, also known as the T-47 light airspeeder,[10] was a model of low-altitude vehicle manufactured by Incom Corporation.[1] When the Alliance to Restore the Republic was stationed on the icy planet of Hoth, a contingent of T-47 airspeeders were modified to become ground attack, low-altitude fighters called snowspeeders. Hoth's extreme cold temperatures were too severe for these craft; the power generators would lock up since they ran hot, requiring a large bank of heat radiator fins for essential cooling. Rebel technicians modified the T-47 airspeeder by insulating each radiator fin with side panels to decrease the heat exchange in order to better suit the new environment.
History
[
]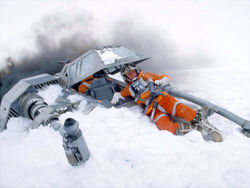 A small, wedge-shaped vehicle, the Alliance snowspeeder was a two-person craft, with a pilot and a rear-facing tailgunner with a speed of 1,100 kph. It had two forward-facing heavy laser cannons and a harpoon cannon placed ahead of the tailgunner. During the Battle of Hoth, these snowspeeders used tow cables to disable All Terrain Armored Transport (AT-AT) walkers by firing the tow cable and chasing it out around the walker's legs, stopping its locomotion and immobilizing the walker.[2]
Sometime after the commencement of the Galactic Civil War, the Partisans had access to T-47s during their insurgency on Jedha.[8]
Behind the scenes
[
]
The T-47s first appeared in the Star Wars saga film Star Wars: Episode V The Empire Strikes Back.
Appearances
[
]
Non-canon appearances
[
]
Sources
[
]
Notes and references
[
]
↑ 2.0 2.1 2.2 2.3 2.4 2.5 2.6 2.7 2.8 2.9 Snowspeeder in the Encyclopedia (content now obsolete; backup link)
External links
[
]