Jurassic World: Dominion Dominates Fandom Wikis - The Loop
Play Sound
The T-65B X-wing starfighter was a modified version of the standard X-wing starfighter produced by Incom Corporation. They were faster, more updated fighters compared to their predecessors.
Characteristics
[
]
The T-65B was considered an excellent all-round starfighter requiring very little adjustment for most mission profiles. The craft supported many advanced technologies including modest shields, heavy weaponry, and a hyperdrive unit. In spite of this, the X-wing was still very easy to fly.[7] The controls were designed to mimic civilian ships already on the market. This made the switch for new pilots much easier.[8] Flown by one pilot, the T-65B carried four KX9 laser cannons and two proton torpedo launchers. The engines were four Incom 4L4 fusial thrust engines.[7] A craft with this sturdy a design and ease of use was essential to the survival of Rebel Alliance pilots.[7] The starfighter had a transparisteel canopy, titanium armor, and a Chempat shield generator. The craft was also equipped with sensors in the nose cone.[9] The X-wing was still slower than and not as heavily armed as the Imperial TIE Defender.[6]
Each T-65B was equipped with an astromech droid. The droid was used in place of a navicomputer for calculating hyperspace jumps. In addition to its primary function, the droid could also be used for inflight repairs, enhancing the durability of an already rugged design.[7] The X-wing carried four S-foils which deployed into an "X"-shape, giving the craft its name. The laser cannons were mounted on the tips of the wings. The proton torpedo launchers could be replaced by ion cannons.[9]
History
[
]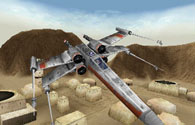 The T-65B was the primary T-65 X-wing starfighter of the Alliance Fleet.[10][11][12] Its development began in secret when the Incom Corporation first started sympathizing with the Rebellion's cause.[13] It was present early in the rebellion and later became a symbol for Alliance tactics. "Hit fast and hard, and take advantage of all opportunities presented to you." The Alliance later developed the T-65C-A2, but these ships were rare. Most Rebel X-wing pilots flew the B model.[11][12] The Rebels liberated Incom storehouses to acquire the starfighters, then shared the plans with other shipbuilders. As a result of the low numbers, the Alliance limited the craft's use. 70% of sorties were on reconnaissance missions, although the X-wings earned its reputation on strikes against Imperial projects.[14] Luke Skywalker flew the T-65B at the Battle of Yavin.[15] Rogue Squadron flew the T-65B in their strikes against the Empire.[9]
Turncoat technician Ral Shawgrim attempted to deliver a near-complete set of plans for the starfighter to Sienar Fleet Systems some time after the Battle of Hoth. However, despite his escape, the plans were retrieved.[16]
At least some members of Rogue Squadron were piloting the starfighter during the campaign against Lord Shadowspawn. Rogue Squadron's T-65B fighters were used to deploy flechette torpedoes at the Battle of the Corellian Queen.[6]
Appearances
[
]
Sources
[
]
Notes and references
[
]