House of the Dragon Trailer - The Loop
Play Sound
"T0-B1" is an animated short film and episode of the web television series Star Wars: Visions. Produced by Science SARU, the short premiered on Disney+ on September 22, 2021.[3]
Plot summary
[
]
The droid apprentice
[
]
The episode opens with a bearded human man named Professor Mitaka speaking to a droid named T0-B1 in a brightly-lit laboratory. The droid emerges from a stasis chamber and asks Mitaka if he made him bigger again. Mitaka sends T0-B1 to fetch another droid named C03, which he complies. He looks around the house for C03. Following a search, he finds the astromech droid C03 drawing doodles on the walls of various locations and objects including an AT-AT walker. He tells C03 that they can play lightsabers afterwards.
Later, Mitaka addresses T0-B1 and the other droids. He warns Mitaka that he has repeatedly told him not to go into the basement. T0-B1 apologizes. Mitaka tells his droids, whom he calls his children, to get to work. T0-B1 leads the way. The droids help Professor Mitaka with his laboratory work. T0-B1 and C03 also work on calculations for Mitaka. T0-B1 asks Mitaka how long he has to work on the calculations, saying he is bored. Mitaka says that he has to work until there are clouds in the sky and there is green on the land. He tells T0-B1 of his plans to terraform their planet into a beautiful place.
When T0-B1 says that he longs to see the rest of the galaxy, Mitaka tells him that he is safe here because things are peaceful. T0-B1 interjects that the galaxy is "terrifying and full of danger." Mitaka says that T0-B1 now knows. T0-B1 responds because he has said it a million times and adds that the Jedi are needed in the galaxy to make it safe. While working on the calculations, T0-B1 images himself as a lightsaber wielding Jedi Knight fighting Imperial walkers and Star Destroyers.
Later, Mitaka tells him to snap out of his daydream. T0-B1 longs to be a Jedi Knight, traveling the galaxy and defeating evil. Mitaka explains that T0-B1 needs to accept reality. When it comes to the future, there is the distant but also the immediate. He explains that the reality is that being a Jedi is not as glamorous as T0-B1 imagines it to be. T0-B1 confides that he senses that something is calling out for him. He says that he keeps having dreams of being a great Jedi.
Search for the kyber crystal
[
]
Mitaka counsels T0-B1 to find himself a kyber crystal. Another droids plays a hologram of a kyber crystal. Mitaka tells him that there is one such crystal on the planet and that the crystal is the core of the lightsaber, the weapon of a Jedi Knight. He explains that the Jedi tradition is for Padawans, the young apprentices of the Jedi, to search for the crystals first. If he really wants to become a Jedi, Mitaka needs to find a crystal of his own.
The following morning, T0-B1 sets out into the desert with C03 on a speeder bike to find a crystal of his own. He looks under rocks and digs holes but can't find one. T0-B1 continues his search through the Jedi. While riding his bike, T0-B1 reflects on the difficulty of his quest. After returning home, Professor Mitaka counsels him to clear his mind and use the Force, explaining that it is the source of the Jedi's power. When T0-B asks where he can find the Force, Mitaka explains that the Force is present everywhere in all things.
Tragedy
[
]
The following day, T0-B1 resumes his hunt but doesn't know how to use the Force. C03 speaks in Binary. T0-B1 replies that he has already searched everywhere on the planet. T0-B1 then recalls Mitaka's warning not to go into the basement. That night, the droids venture into the basement. C03 says he has a bad feeling about it but T0-B1 responds that this is the only place he has not searched yet. T0-B1 takes a peek and discovers a skyhopper. The two climb into the ship and T0-B1 issues a call to all Jedi.
T0-B1's transmission is picked up by an Imperial Star Destroyer. A stormtrooper informs an Inquisitor that they have picked up a signal. The Inquisitor believes that it is a Jedi. Back on the planet, Mitaka discovers T0-B1 inside the skyhopper and tells him to get out. Mitaka uses the Force to force open the door and tells T0-B1 to come here. He uses the Force to levitate a box. T0-B1 realizes that Mitaka is a Jedi and asks why he didn't tell him. Mitaka replies in order to protect him.
As a TIE Advanced v1 approaches the planet, Mitaka senses through the Force that the Galactic Empire is here. He tells T0-B1 to stay hidden and not to come out for any reason. Mitaka uses the Force to levitate T0-B1, giving him an experience of the Force. T0-B1 pleads with the Professor not to deactivate him. He passes T0-B1 two lightsaber hilts and seals him behind a wall. Mitaka tasks C03 with keeping watch over T0-B1. And Mitaka's said his last words to T0-B1 before sealing the wall "I am one with the Force. The Force is with me."
Continuing Mitaka's dream
[
]
Later, T0-B1 discovers that the Professor's home has been wrecked and that the other droids apart from C03 have been destroyed. T0-B1 wonders where the Professor is only to discover that he has been killed and buried beneath a mound of rocks. After seeing Professor Mitaka's remaining plants, T0-B1 resolves to continue his mentor's terraforming research and fulfill the Professor's dreams. Working together, T0-B1 and C03 repair the other droids and rebuild his laboratory. They work tirelessly over a long period of time.
Through their efforts, T0-B1 and the droids are able to generate clouds and flora, which cover the planet. The clouds bring rain and T0-B1 realizes that the Professor's dream has come true. Through the Force, the late Mitaka tells T0-B1 to use the Force. He assembles a lightsaber with various components including a kyber crystal, which he discovers inside his body. The other droids cheer him as he celebrates his victory. His triumph is interrupted by the arrival of a TIE Advanced fighter.
Fighting the Inquisitor
[
]
As the Inquisitor approaches, T0-B1 asks the other droids who the newcomer is. He realizes it is the same Jedi killer that killed Professor Mitaka. The Inquisitor realizes that there is another Jedi on the planet and asks where did he come from. He asks if Mitaka hid him away. T0-B1 draws his lightsaber in self-defense and fights the Inquisitor, who says that he cannot allow him to become a threat.
During the fight, the Inquisitor uses the Force to raise earth, causing T0-B1 to fall and land. T0-B1 enters the spiritual plane and encounters Professor Mitaka, who tells him not to be afraid. He reassures his young Padawan T0-B1 that he is well prepared for this fight and thanks him for bringing life back to the planet. Mitaka is proud that T0-B1 has grown up and knights him as a Jedi Knight by the will of the Force. He wishes that the Force be with him.
Returning to the physical realm, T0-B1 continues his fight with the Inquisitor. The two parry with their blades. The Inquisitor hurls T0-B1 against several pipes. T0-B1 tells the other droids to open a valve while he leads the Inquisitor on a chase. The Inquisitor destroys several machines with his lightsaber. T0-B1 turns the controls for a pump, which causes an explosion. The Inquisitor survives the blast and drags T0-B1 with the Force, slicing off his left arm. The Inquisitor is surprised that a droid is a Jedi.
T0-B1 replies that his name is "Toby" before attacking the Inquisitor. The other droids attack the Inquisitor but he cuts some of them down. T0-B1 summons C03 before making a final attack on the Inquisitor. Following a duel, he slices off one of the Inquisitor's arm, killing him. The droids celebrate T0-B1's victory.
The Jedi path
[
]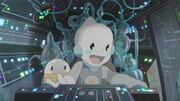 Following the battle, T0-B1 and C03 depart the now green planet in Mitaka's skyhopper. T0-B1 hopes to use the Professor's research to help other planets in line with the Jedi calling of helping others. The episode ends with them flying into space.
Credits
[
]
By type
Cast
Crew
Inspired by Star Wars created by – George Lucas
Directed by –

Abel Gongora

Written by –

Yuichiro Kido

Produced by – Science SARU
Executive Producer –

Eunyoung Choi

Producer –

Kohei Sakita

Executive Producers – James Waugh, Josh Rimes, Jacqui Lopez
Co-Executive Producer –

Justin Leach

Producer –

Kanako Shirasaki

Sound Director –

Eriko Kimura

English Voice Casting by – Lindsay Halper,

Stephanie Shieh

English Voice Casting Coordinator –

Caroline Keller

Score –

Keiichiro Shibuya

,

A-bee

Sound Design –

Matsuo Ohno

,

Yasuto Yura

,

Rubyorla

Character Designer –

Takafumi Hori

Storyboard Artist –

Abel Gongora

Animators –

Joao Do Lago

,

Juan Manuel Laguna

,

Mehdi Aouichaoui

,

Benjamin Faure

,

Taeko Otsuka

,

Shoko Takahata

,

Shun Sakata

,

Shota Kambayashi

,

Joan Chung

,

Asaka Yokoyama

,

Daniel Baron

,

Vann Oba

,

Abel Gongora

Second Key Animation –

Karin Noguchi

,

Taisei Uchida

,

Yusuke Matsui

,

Cobos Raineiro

,

Studio Lings

,

Yousuke Asano

,

Mari Umezawa

,

Dr Movie

,

Kim Hye Soo

,

Kim Kwan Woo

,

Hong Da Young

,

Park Eun Ju

,

Lee Hyun Mi

,

ST.blue

,

J.C. Staff

,

Haruka Tsubata

,

Arisa Konishi

,

Ryoka Tanaka

,

Kaito Kono

,

Asahi Production Co., Ltd.

,

Hironori Idu

In Between Inspection –

Shotaro Imai

In Between Animation –

Tatsunoko Production

(as Tatsunoko.Production),

Saya Chiba

,

Yuka Abe

,

Kyosuke Kato

,

Natsuki Hara

,

Hikaru Hayashi

,

Ai Tokumoto

,

One Order

,

Asahi Production Co., Ltd.

,

Dr Movie

Color Designer –

Satoshi Hashimoto

(

Madbox

)
Color Design Assistant, Color Setting & Finish Check –

Ayaka Nakamura

(

Madbox

)
Paint –

One Order

,

Asahi Production Co., Ltd.

,

Dr Movie

Dehogallery

Art Director, All Background Work by –

Yoshikazu Fukutome

Background Coordinator –

Takeshi Kobayashi

Background Manager –

Kaoru Inamura

CG –

Louis Ventre

Compositing Director –

Batiste Perron

Compositing –

Naz

,

Toshikazu Hisano

,

Sawori Ujihara

,

Shota Yoshida

,

Tsaimei Lin

,

Takahiro Hondai

,

Tasuku Takagi

,

Haruka Ito

Editor –

Kiyoshi Hirose

(editz)
Production Chief Manager –

Rachel Eunji Choi

Production Managers –

Julian Libin

,

Kaishi Watanabe

Development –

Yuichiro Kido

,

Yuka Nakamura

,

Montiel Santiago

,

Batiste Perron

,

R Makoto Matsumura

,

Shun Sakata

,

Shota Kambayashi

,

Joan Chung

Prop Designers –

Shoko Takahata

,

Eri Kinoshita

Post Production Sound Consultant, Skywalker Sound – Matthew Wood
Recording Mixer –

Sae Miyoshi

Recording –

Sayaka Ninomiya

Recording Assistant –

Mana Aida

Music Recorded & Mixed by –

Toshihiko Kasai

(studio Atlio)
Music Producer –

Atsushi Chizawa

(U/M/A/A Inc.)
Music Executive Producer –

Masakazu Hiroishi

(U/M/A/A Inc.)
Music Production Cooperation –

Dai Sato

,

Daichi Kagawa

Tohokushinsha Film Corp.

Sound Production Coordinator –

Yuji Tange

Creative Executives, Lucasfilms – Matt Martin,

Kelsey Sharpe

Script Adaptation – Matt Michnovetz
English Language Productions –

NYAV Post

Voice Director –

Michael Sinterniklaas

Production Coordinator –

Stephanie Sheh

NYAV Production –

Clark Cheng

,

Chelsey Cohen

Theme Music Composed by – David W. Collins
Main Title Designed by –

Herzog Design Company

Post Production –

Imagica Entertainment Media Services, Inc.

Online Editor –

Kasumi Shibata

Color Grader –

Takefumi Saito

,

Masato Sekiguchi

Digital Cinema Engineer –

Aya Shintani

Techical Coordinator –

Kyosuke Sakai

Studio Coordinator –

Yawara Hata

Associate Producers –

Yoshiko Makabe

,

Akane Itagaki

,

Nicholas Zabaly

Studio Management –

Kokoro Takishima

,

Hikaru Kato

,

Moe Horiuchi

,

Satsuki Watanabe

Vehicle Management –

Masamichi Takemura

Translator & Interpreter –

Patrick Spellman

System Management –

Hajime Imamura

Production Coordinators –

Caroline Keller

,

Katrina Minett

Additional Production Coordination by –

Irene Chung

Production Assistants –

Garrison Allen

,

Ronjae Jones

Post Production Supervisor –

Diane Caliva

Post Production Manager –

Irene Chung

Associate Post Production Manager –

Julie Kogura

Post Production Assistant –

Julia McIntosh

Imaging Supervisor –

Jeroen (J) Schulte

Online Mastering Operator –

Michael Parkinson

Additional Translations by –

Creative Sphere, Inc.

,

Peter Mj Kim

,

Adrian Lozano

President –

Kathleen Keennedy

EVP/General Manager –

Lynwen Brennan

,

CBE

VP, Finance –

Lori Aultman

VP, Post Production – Pippa Anderson
VP, AV Creative –

Anna Yeager

Deputy Chief Counsel –

Rhonda Hjort

Production Counsel –

Naureen Z. Hoque

Counsel –

Alexic Donoghoe

Senior Manager, Legal Affairs –

Christopher Holm

Clearances –

Angela Lupinetti

Localization –

Michael Kohn

SVP, Live Action Development & Production – Michelle Rejwan
EVP, Physical Production –

Momita Sengupta

VP, Publicity & Communications – Lynne Hale
VP, Franchise Marketing –

Megan Crumpacker

VP, Human Resources –

Blaire Chaput

Supervisor, Int'l Marketing –

Barbara Gamlen

Supervisor, Franchise Content & Strategy –

Steve Blank

Supervisor, Film & Franchise Publicity –

Chris Argyropoulos

Supervisor, Physical Production Technology –

Lori Gianino

Supervisor, Physical & Post Production –

Gary Thompson

Supervisor, Communications & Internal Events –

Alison Fisker

Supervisor, HR Business Partner –

Janetta Wood

Franchise Story Team – Pablo Hidalgo, Leland Chee, Emily Shkoukani,

Shiree Cole

,

Kate Izquierdo

Studio Team –

Shahana Alam

,

Kylie Clark

,

Erin Feller

,

Emily Foster

,

Kaari Gerber

, John Hannon,

Kristen Hidalgo

,

Laura Holliday

,

Jayson Kashiwabara

,

Nicole Lacoursiere

,

Gabrielle Levenson

,

Kristie Ling

,

Kerri Martin

,

Jason Schultz

,

Christian Streaty

,

Stacey Zimmerman

Rights and clearances by –

Barbour & Company

, Cassandra Barbour
Appearances
[
]
By type
Characters
Droid models
Events
Locations
Organizations and titles
Sentient species
Vehicles and vessels
Weapons and technology
Miscellanea
Bibliography
[
]
Notes and references
[
]
↑ STAR WARS: VISIONS | SPECIAL LOOK | DISNEY+ on the official Star Wars YouTube channel (backup link)
↑ "T0-B1" features the Galactic Empire, which formed in 19 BBY and fell in 5 ABY, placing the episode between these years.