What are the sources for damage during the NR conquest and the Thrawn crisis? Thanks! --McEwok 21:04, 6 March 2006 (UTC)
I think there was a mention in New Essential Chronology or something... Admiral J. Nebulax (talk) 23:07, 6 March 2006 (UTC)
The NEC says that the Grand Convocation Chamber was built in 17 ABY, after the "Senate Hall" was destroyed...Huh? Kuralyov 04:15, 20 April 2006 (UTC)
Probably more like "rebuilt", following the Yoda/Darth Sidious duel. Cutch 04:36, 20 April 2006 (UTC)

Oh, wait... ABY? Cutch 04:36, 20 April 2006 (UTC)
Grand Concourse or senators'offices?
Edit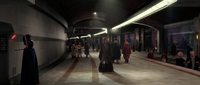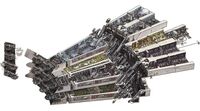 The answer might be obvious but I can't figure how they would fit together in a map of the Senate rotunda. I mean, if you look at Episode III, the back of the repulsorpods directly opens on the Grand Concourse: But if you look at the cutaway picture from "Inside the Worlds of Star Wars Episode I", the back of these same repulsorpods opens on a row of offices and appartments. How do those designs fit together?
LelalMekha 08:41, 25 May 2009 (UTC)
Couldn't they be on opposite sides of the rotunda? DarthEinstein 20:41, 30 May 2009 (UTC)
I don't think so, it would mean only half of the senators have an office. Plus, if you wtach at the AOTC picture, you can clearly see windows with direct view on the outside of the building. As seen as the senate building is circular, there seems to be absolutely no room for a long row of apartments, on neither side. LelalMekha 19:54, 4 June 2009 (UTC)
Community content is available under
CC-BY-SA
unless otherwise noted.