Isn't there an image of her by Tom Hodges in the Mandolorians article in Insider 86? I thought that that was where EE got their idea for the armor's coloration.Tocneppil 19:02, 21 December 2007 (UTC)
Do you mean the picture of the Mandalorian wedding? I think that picture is what Isabet was based on, but I don't think it's been confirmed (or denied, for that matter) that the two are one and the same. Sith Alchemy 101 10:43, 22 December 2007 (UTC)

Hmm . . . . Should we make mention of it in the Bts section then?Tocneppil 01:00, 23 December 2007 (UTC)

I don't see why not. I believe some of his other pics that influenced some of the other characters in this set are mentioned in their respective behind-the-scenes sections. — Sadriel Fett (

Mando'a

) (

Bounties

) 17:42, 23 December 2007 (UTC)

I was wondering if it would be a good idea to change the picture in the article to one with her helmet off. Perhaps this one: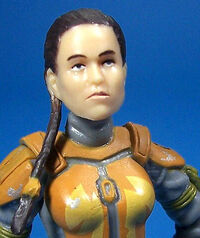 Moon Demon 07:24, January 13, 2010 (UTC)
Community content is available under
CC-BY-SA
unless otherwise noted.