Some fans have identified the multiple symbols on the flags. Should they be listed? PyroGothNerd (talk) 00:34, February 2, 2016 (UTC)
Is that Kix behind Ithano in some kind of Stormtrooper armor? —Unsigned comment by DarkJedi66 (talk • contribs).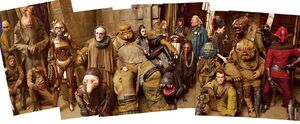 Since this was never made official, we can't assume anything. Also, don't forget to sign your comment DarkJedi. Banana32 (talk) 16:23, December 10, 2017 (UTC)
That isn't Kix, it's Mi'no Teest per LEGO TFA. Although I'm not sure that the image on Mi'no's page right now is the correct character. Ayrehead02 (talk) 22:13, December 10, 2017 (UTC)
Community content is available under
CC-BY-SA
unless otherwise noted.