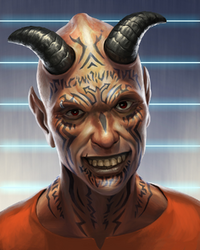 Tattoos were markings that covered parts of certain sentient lifeforms' bodies. Male Dathomirians, the Nightbrothers, such as the Sith Lord Darth Maul, had natural striping that they embellished with tattoos. Female Dathomirians, the Nightsisters, had more subtle tattoos that were in contrast to their pale skin.[1] Likewise, the Jedi hunter known as the Grand Inquisitor had red tattoos on his face.[2] Naley Frifa, an outlaw tech on Vandor, was also a tattoo artist who was proficient in inking electro-tattoos, a type of tattoo which could carry data, as well as more mundane tattoos like gang symbols. Frifa herself had numerous tattoos, including a stylized depiction of a hyperspace simu-tunnel on her neck and upper torso, and one on her left arm of the word "Hiro."[3] The human Chelli Lona Aphra had electro-tattoos.[4]
Community content is available under
CC-BY-SA
unless otherwise noted.