"I was telling them the tale of when you faced the giant terentatek on Kashyyyk. What a terrible beast it was."
―An illusory Dooku, to Yoda
Terentateks were a species of hulking bipeds found on the arboreal planet of Kashyyyk that craved the blood of Force-sensitives.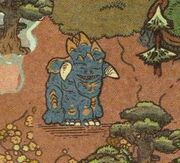 Terentatek were large, brutish creatures covered in spines. Although similar to rancors, they were typically smaller than them.[2] Their heads, crowned by a number of long spikes, featured two small eyes, a large mouth filled with sharp fangs flanked by two tusks, and a downward pointed chin. Their upper limbs ended in three clawed digits.[5] The color of their rough-looking skin ranged from mottled-brown[3] to blue with yellow patches.[4]
Terentateks hunted individuals sensitive to the Force to feed on their blood. Using their highly poisonous tusks and claws in combat, they were known for their viciousness.[2] According to Count Dooku, however, they were not very intelligent.[6]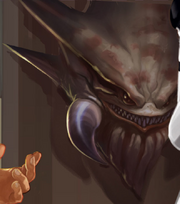 Terentateks came from the forest floors of Kashyyyk,[5] a planet of the Mytaranor sector, in the galaxy's Mid Rim.[7] Some individuals believed that they derived from rancors transformed by the dark side of the Force, or that they were the result of some experiment by the Sith.[2]
On one occasion, Jedi Master Yoda and his apprentice Dooku faced a terentatek. Years later, while Yoda was trying to pass through the Valley of Extinction without emotion and attachment, an illusory Dooku mentioned their encounter with the terentatek.[1] At the time of the Galactic Civil War, the former Imperial senator and big game hunter Johhar Kessen owned a terentatek's head mounted as a trophy.[3]
Community content is available under
CC-BY-SA
unless otherwise noted.