The Dark Lord Trilogy is a paperback volume collecting three Star Wars Legends novels—Labyrinth of Evil, Star Wars: Episode III Revenge of the Sith, and Dark Lord: The Rise of Darth Vader—that tell the story of the final days of the Galactic Republic and the transformation of Anakin Skywalker into the Dark Lord of the Sith Darth Vader. It was published by Del Rey on August 26, 2008.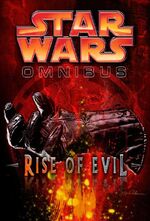 Though they weren't originally released as a trilogy, the novels Labyrinth of Evil, Revenge of the Sith, and Dark Lord form a natural story arc that follows Anakin Skywalker's last days as hero of the galaxy and transformation into Darth Vader, Dark Lord of the Sith. Now the movie adaption by Matt Stover and the two flanking tie-in novels by James Luceno are being combined into a trade paperback format that collects all the action, intrigue and drama of the three books into one.[2]
The book was originally going to be titled Omnibus: Rise of Evil with cover art commissioned by well-known artist Steven D. Anderson. The original cover was intended to only show Vader's glove, as a change from the commonly used headshot. The design was approved by the art director, but eventually overruled for a close-up of Vader's helmet.[3]
Community content is available under
CC-BY-SA
unless otherwise noted.