House of the Dragon Trailer - The Loop
Play Sound
"The Elder" is an animated short film and episode of the web television series Star Wars: Visions. Produced by Trigger, Inc., the short premiered on Disney+ on September 22, 2021.[3]
Plot summary
[
]
On patrol
[
]
Jedi Master Tajin Crosser and his Padawan Dan G'vash patrol the Outer Rim Territories in their starship as part of their duties and training. Dan bemoans the lack of action from traveling the Outer Rim, suspecting his master of purposefully choosing so given his master's reputation of being well-traveled in the galaxy. Tajin comments that Dan is too eager, and that "the seeds of misfortune, when in peaceful soil, can be easy to overlook" regarding his choice of patrol. He is interrupted by sensing a disturbance in the force. Dan suggests it may be the presence of Sith, but Tajin counters it is improbable since it has been hundreds of years since the Sith were destroyed.
The pair decide to investigate the only habitable planet nearby: Habo. Tajin has previously been to Habo. Dan quips about Tajin's knowledge of the Outer Rim and says it is a privilege to be his Padawan. The two jump into hyperspace and head to Habo.
Investigation
[
]
After landing on Habo, Dan comments about the planet's beautiful forest and landscape. Tajin recommends that Dan try a local dish called Oon-Doon, which he describes as delicious. Tajin and Dan approach a native village. Tajin warns that the locals are quite shy and advises Dan to wait. While Dan gains the trust of the village children, Tajin is able to find out from the villagers that an elder man from an unknown village has landed nearby with his starship, and has taken to the mountains. The two share their suspicions on what awaits them, and decide to split up to wait at the elder man's starship and to search for him in the mountains. Dan is guided by the village children on his investigation to the mountains, and Tajin is led to the starship by the villagers.
Upon arriving at the starship, Tajin remarks to Dan via transmitter that he does not recognize the starship, but says it resembles ones used by the Sith in hologram recordings. In the meanwhile, Dan traverses rough mountain terrain that he concludes would be difficult for an old man to manage. He then discovers the carcass of a Vamga, which Tajin had previously warned were dangerous creatures if provoked. Dan sends the village children home as he investigates the carcass, noticing a clean lightsaber strike across its neck as the cause of death. After Tajin warns Dan that the elder man they seek may be dangerous, Dan turns around surprised by the presence of a cloaked figure behind him.
The Old Man
[
]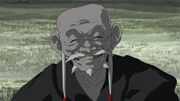 The cloaked figure reveals himself as an old man, identifying Dan as a Jedi. Dan questions the old man if he is a Sith, to which the old man simply recounts how the Sith had lost their way due to infighting, which resulted in their own extinction. As Dan questions the old man's identity again, he is rebuffed by the old man, suggesting that they communicate with their blades instead of with words. The old man then brandishes two katana-shaped red lightsabers, and charges at Dan. As Dan defends himself with his own lightsaber, the old man is disappointed at the lack of challenge Dan brings, revealing he was hoping to attract the attention of Dan's master instead and could do so by slaying Dan. He then delivers a grievous wound to Dan by slashing him across the abdomen.
The old man sits patiently amidst the rain as he waits for Tajin to find his location. Upon arrival, the old man is pleased to feel that Tajin has a greater presence of the Force. Tajin and the old man both brandish their lightsabers and duel, with the old man remarking in glee that he's fighting someone so strong, and wishes he had found someone like Tajin long ago during the peak of his talent. Tajin gains the upper hand when he is able to disarm one of the old man's lightsabers and cut it in half.
Enraged, the old man uses his free hand to resort to Force lightning to even his odds. As Tajin defends against the Force lightning and the old man is about to slash with his remaining lightsaber from above, a still-conscious Dan uses the Force to throw his ignited lightsaber at the old man. Having no choice but to defend with his own lightsaber, the old man leaves himself open for Tajin to break from the Force lightning and impale the old man through the heart. Tajin then runs to the injured Dan, and the old man detonates his starship as his last act before his body crumbles to ashes.
Leaving Habo
[
]
After Dan is healed from his wound, the Padawan and master recount the details of the aftermath. They lament that the old man's starship had been destroyed, as they have nothing further to use in their investigation. Dan congratulates Tajin on his victory, but Tajin solemnly credits that time had been the major factor for defeating the old man, and fears the outcome may have been different if they faced the old man in his prime. He also concludes that time will only make himself weaker as well, but adds that it will make the young Dan stronger as he grows.
He counsels Dan not to forget his training and his kindness. Tajin allows Dan to say farewell to the children, who were worried about his injuries. As Dan says farewell to the village children, Tajin takes another hard look at the old man's remains.
Credits
[
]
By type
Cast
Japanese Voice Cast
Yuichi Nakamura

as Dan G'vash

Takaya Hashi

as Tajin Crosser

Kenichi Ogata

as Old Man

Maria Abo

as Child #1

Reina Aoyama

as Child #2

Anna Nagase

as Child #3
English Voice Cast
Jordan Fisher

as Dan G'vash
David Harbour as Tajin Crosser
James Hong as Old Man
Maria Abo as Child #1
Reina Aoyama as Child #2
Anna Nagase as Child #3
Crew
Inspired by Star Wars created by – George Lucas
Directed and Written by –

Masahiko Otsuka

Animation Production – Trigger, Inc. (as Trigger)
Executive Producers –

Masahiko Otsuka

,

Yoshiki Usa

Co-Executive Producers –

Naoko Tsutsumi

,

Kazuya Masumoto

Producers –

Hiromi Wakabayashi

,

Will Feng

Executive Producers – James Waugh, Josh Rimes, Jacqui Lopez
Co-Executive Producer –

Justin Leach

Producer –

Kanako Shirasaki

Character Designer – Kamome Shirahama
Music by –

Michiru Oshima

English Voice Casting by – Lindsay Halper,

Stephanie Sheh

English Voice Casting Coordinator –

Caroline Keller

Assistant Director –

Akira Furukawa

Art Director –

Masanobu Nomura

(Bihou)
Color Design –

Yukiko Kakita

(T2studio)
Compositing Director –

Nozomi Shitara

(T2studio)
Editor –

Kentaro Tsubone

(Real-T)
Production Manager –

Naoto Setoguchi

Production Assistant –

Yoshitaka Togo

Animation Character Designer –

Shigeo Akahori

Concept Artists –

Yumi Yaoshida

,

Shigeto Koyama

,

Hiromi Wakabayashi

Storyboard Artists –

Masahiko Otsuka

,

Shigeo Akahori

Background Design –

Toshiki Amata

(Bihou),

Kaoru Aoki

(Bihou)
Animation Supervisor –

Shigeo Akahori

Key Animators –

Chigusa Kiyota

,

Tetsuya Sakurai

,

Tetsuya Hasegawa

,

Tomoki Yamane

,

Yasushi Tokuda

,

Mikoto Fukuzawa

,

Sho Oi

,

Emi Tamura

,

Syunpei Gunyasu

,

Shimon Dohi

,

Takuya Saitou

,

Shigeo Akahori

,

Takafumi Chida

,

Yuka Asano

,

Yoshifumi Hagano

,

Hiroki Arai

,

Tomoyuki Munehiro

,

Akira Oguro

,

Rino Kodama

,

Naoki Takeda

,

Kazuki Chiba

,

Chiharu Kataoka

In Between Supervisors –

Chiharu Kataoka

,

Mikoto Fukuzawa

,

Yoshie Endou

In Between Animators – Trigger, Inc. (as Trigger),

Sae Otani

,

Yoko Iwasaki

,

Karin Tu

,

Nana Doi

,

Rina Iwasaki

,

Ami Sugimoto

,

Ryouto Suzuki

,

Ayami Hashimaru

,

Tomoya Yamaguchi

,

Miku Yamaji

,

Mikoto Fukuzawa

,

Xenron

Finishing –

T2studio

,

Kumi Nanjou

,

Akiko Shimmizu

,

Fumie Kawamata

,

Yoshimi Shibata

,

Yuina Iizuka

,

Maki Ikeda

,

Nagisa Maejima

,

Xenron

Weathering –

Aoi Abe

Backgrounds –

Bihou

,

Michie Suzuki

,

Yuki Yokoyama

,

Lin Jia

,

S. Supattra

,

P. Maysaya

,

K. Weera

,

W. Nuttavut

,

S. Amonrat

,

P. Teerath

,

B. Nantasak

,

W. Nutchanon

,

T. Tanyanuch

,

M. Shutimapon

,

Y. Chompoonoot

,

K. Natranan

,

C. Nuttapong

,

Ha Dung

,

Vo Huong

,

Vo Sam

Compositing –

T2studio

,

Taiki Okutani

,

Sora Tamagawa

,

Nozomi Shitara

Hungary Orchestra

/

Budapest Symphony Orchestra

Orchestra Conductor –

Peter Illenyi

Music Recorded by –

Tamas Kurina

Orchestra Manager –

Peter Kovacs

Recording Engineer Assistant –

Gergo Laposi

Music Recorded at –

Tom-Tom Studio Budapest

Japan Musicians –

Dozan Fujiwara

,

Mitoshi Watanabe

,

Ikuo Kakehashi

France
Music Mixed by –

Denis Caribaux

Mixing Engineer Assistant / –

Baptiste Murguiondon

, et

Pierre-Charles Biguet

Music Mixed at –

Studio Guillaume Tell

Sound Production –

Half HP Studio

Voice Recording Director by –

Hiroki Urakari

Voice Recording Coordinator –

Sei Ohno

Recording Studios –

SSS. Studio

Voice Recording Engineer –

Tetsuya Satake

Assistant Recording Engineer –

Ryo Hattori

Post Production –

Imagica Entertainment Media Services, Inc

Online Editor –

Kasumi Shibata

Digital Cinema Engineer –

Aya Shintani

Color Graders –

Masato Sekiguchi

,

Takefumi Saito

Technical Coordinator –

Kyosuke Sakai

Studio Coordinators –

Akira Ogawa

,

Yawara Hata

Post Production Sound Services provided by – Skywalker Sound a Lucasfilm Ltd. Company, Marin County, California
Supervising Sound Editors – Matthew Wood, David W. Collins
Sound Designer – David W. Collins
Sound Editor – David W. Collins
Re-Recording Mixer –

Stephen Urata

Foley Artist –

Ronni Brown

Foley Mixer –

Jason Butler

Creative Executives, Lucasfilm – Matt Martin,

Kelsey Sharpe

Script Adaptation – James Waugh
English Language Productions –

NYAV Post

Voice Director –

Michael Sinterniklaas

Production Coordinator –

Stephanie Sheh

NYAV Production –

Clark Cheng

,

Chelsey Cohen

Theme Music Composed by – David W. Collins
Main Title Designed by –

Herzog Design Company

Production Coordinators –

Caroline Keller

,

Katrina Minett

Additional Production Coordination by –

Irene Chung

Production Assistants –

Garrison Allen

,

Ronjae Jones

Post Production Supervisor –

Diane Caliva

Post Production Manager –

Irene Chung

Associate Post Production Manager –

Julie Kogura

Imaging Supervisor –

Jeroen (J) Schulte

Online Mastering Operator –

Michael Parkinson

Sound Mix Session Translator –

Soichiro Migita

Additional Translations by –

Creative Sphere, Inc.

,

Peter Mj Kim

,

Adrian Lozano

President –

Kathleen Keennedy

EVP/General Manager –

Lynwen Brennan

,

CBE

VP, Finance –

Lori Aultman

VP, Post Production – Pippa Anderson
VP, AV Creative –

Anna Yeager

Deputy Chief Counsel –

Rhonda Hjort

Production Counsel –

Naureen Z. Hoque

Counsel –

Alexic Donoghoe

Senior Manager, Legal Affairs –

Christopher Holm

Clearances –

Angela Lupinetti

Localization –

Michael Kohn

SVP, Live Action Development & Production – Michelle Rejwan
EVP, Physical Production –

Momita Sengupta

VP, Publicity & Communications – Lynne Hale
VP, Franchise Marketing –

Megan Crumpacker

VP, Human Resources –

Blaire Chaput

Supervisor, Int'l Marketing –

Barbara Gamlen

Supervisor, Franchise Content & Strategy –

Steve Blank

Supervisor, Film & Franchise Publicity –

Chris Argyropoulos

Supervisor, Physical Production Technology –

Lori Gianino

Supervisor, Physical & Post Production –

Gary Thompson

Supervisor, Communications & Internal Events –

Alison Fisker

Supervisor, HR Business Partner –

Janetta Wood

Franchise Story Team – Pablo Hidalgo, Leland Chee, Emily Shkoukani,

Shiree Cole

,

Kate Izquierdo

Studio Team –

Shahana Alam

,

Kylie Clark

,

Erin Feller

,

Emily Foster

,

Kaari Gerber

, John Hannon,

Kristen Hidalgo

,

Laura Holliday

,

Jayson Kashiwabara

,

Nicole Lacoursiere

,

Gabrielle Levenson

,

Kristie Ling

,

Kerri Martin

,

Jason Schultz

,

Christian Streaty

,

Stacey Zimmerman

Rights and clearances by –

Barbour & Company

, Cassandra Barbour
Appearances
[
]
By type
Characters
Creatures
Events
Locations
Organizations and titles
Sentient species
Vehicles and vessels
Starship

Tajin and Dan's starship

(First appearance)

The Elder's starship

(First appearance)
Weapons and technology
Miscellanea
Bibliography
[
]
Notes and references
[
]
↑ STAR WARS: VISIONS | SPECIAL LOOK | DISNEY+ on the official Star Wars YouTube channel (backup link)
↑ Daniel Robson: Star Wars Anime Visions Will Include What Became of the Jedi, a Rock Opera, and More. IGN. IGN. Archived from the original on September 22, 2021. establishes that the events of "The Elder" occur before Star Wars: Episode I The Phantom Menace, which are dated to 32 BBY by Star Wars: Galactic Atlas. It also takes place hundreds of years after the Sith disappeared. As The Star Wars Book places the disappearance of the Sith a thousand years earlier, they disappeared in 1032 BBY, so "The Elder" takes place in 832 BBY at the earliest and 32 BBY at the latest.