Spider-Man: No Way Home Trailer Dropped - The Loop
Play Sound
The Empire Strikes Back was the sixth expansion card pack made for the Star Wars Trading Card Game produced by Wizards of the Coast, and based on Star Wars: Episode V The Empire Strikes Back. The game was introduced on November 17, 2003. The expansion symbol was that of the Empire.
Expansion contains 210 cards including 72 rare, 69 uncommon and 69 common cards. The Empire Strikes Back was the second expansion pack after Attack of the Clones which was sold in starting sets (60 cards, playmat, rulebook and dices)
New abilities
[
]
Armor makes it more difficult to damage a unit as it can only be hit with 5 or higher attack roll.
Enhance if you pay additional force points a battle or mission card is more powerful.
Card types
[
]
Battle: 38
Character: 58
Ground: 28
Location: 27
Mission: 27
Space: 32
Card list
[
]
Admiral Firmus Piett (B)
AT-AT Assault group
Avenger (A)
Blizzard One (A)
C-3PO (E)
Captain Lorth Needa (A)
Carbon Freezing Chamber
Chewbacca (E)
Chewbacca (G)
Dak Ralter (A)
Dangerous Gamble
Dark Cave
Darth Vader (H)
Darth Vader (I)
Decoy Tactics
Desperate Times
Emperor's Bidding
Emperor's Prize
Failed for the Last Time
Future Sight
FX-7 Medical Droid (A)
General Carlist Rieekan (A)
Go for the Legs
Han Solo (G)
Jedi Test
Jedi's Failure
Kiss From Your Sister
Lando Calrissian (A)
Lando Calrissian (D)
Lieutenant Wes Janson (A)
Luke Skywalker (J)
Luke Skywalker (K)
Luke's Snowspeeder (A)
Luke's Wrath
Luke's X-wing (C)
Major Bren Derlin (A)
Mara Jade (A)
Millennium Falcon (F)
Millennium Falcon (G)
Obi-Wan's Spirit (A)
Occupation
Parting of Heroes
Planetary Ion cannon
Quest for Truth
R2-D2 (G)
R2-D2's Heroism
Rally the Defenders
Sacrifice
Search for the Rebels
Stormtrooper Swarm
Streets of Cloud City
Toryn Farr (A)
Vader's Imperial Shuttle (A)
Wampa Cave
Wedge Antilles (B)
Wedge's Snowspeeder (A)
Yoda (F)
Yoda (G)
Yoda (H)
Yoda's Training
Zev Senesca (A)
3,720 to 1
Admiral Firmus Piett (A)
Admiral Kendal Ozzel (A)
Outmaneuver Them
All Terrain Troop Transport
Asteroid Field
Blizzard Force AT-ST
Battle the Wampa
Cloud City Penthouse
Cloud City Prison
Bespin Twin-Pod Cloud Car
Bright Hope (A)
C-3PO (F)
Change in Destiny
Chewbacca (F)
Darth Vader (G)
Darth Vader (K)
Emergency Repairs
Executor Bridge
Executor Hangar
Quicker, Easier, More Seductive
General Maximilian Veers
Han Enchained
Han Solo (F)
Hoth Icefields
Imperial Misdirection
Jungles of Dagobah
Lambda-Class Shuttle
Lando Calrissian (C)
Leia's Warning
Luke Skywalker (I)
Medical Center
Millennium Falcon (D)
Painful Reckoning
Princess Leia (H)
Probot
R2-D2 (F)
Rebel Hoth Army
Rebel Trenches
Rebel Troop Cart
Redemption (A)
See You in Hell
Self Destruct
Snowspeeder Squad
Snowtrooper Elite Squad
Stormtrooper Sentry
Surprise Reinforcements
TIE Bomber Squad
Torture Room
Vader's Call
Vicious Attack
Wampa
725 to 1
All Terrain Armored Transport
All Terrain Scout Transport
Alter the Deal
Armor Plating
Blizzard Force AT-AT
Precise Attack
Belly of the Beast
Cloud City Battleground
Cloud City Dining Hall
Cloud City Landing Platform
Bespin System
Blizzard
Close the Shield Door
Darth Vader (J)
Vader's Vengeance
Dagobah System
Explore the Swamps
Float Away
Han Solo (E)
Han's Attack
Han's Promise
Hanging Around
Hope of Another
Hoth Battle Plains
Hoth System
Jedi Master's Meditation
Jedi Trap
Lando Calrissian (B)
Lando's Repairs
Leap into the Chasm
Luke Skywalker (H)
Meditation Chamber
Princes Leia (F)
Probe the Galaxy
Rebel Command Center
Rebel Escape Squad
Rebel Hangar
Rebel Trench Defenders
Snowspeeder Rogue Two
Snowstorm
Snowtrooper Heavy Weapons Team
Snowtrooper Squad
Snowtrooper Guard
Imperial II Star Destroyer
Strange Lodgings
Swamps of Dagobah
Tauntaun Mount
TIE bomber EX-1-2
TIE bomber EX-1-8
TIE Fighter OS-72-8
TIE Pursuit Squad
Trust Her Instincts
Visions of the Future
Well-Earned Meal
X-wing Rogue Seven
Card samples
[
]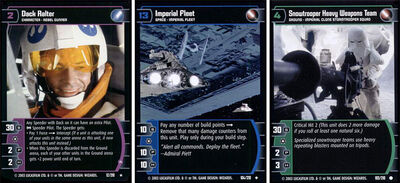 External links
[
]
Notes and references
[
]