Jurassic World: Dominion Dominates Fandom Wikis - The Loop
Play Sound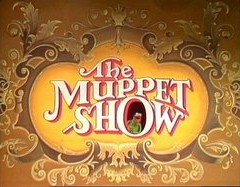 "Excuse me Master Luke, but what is this strange world we've come to?"
"Beats me, Threepio. Seems like we've landed on some sort of comedy-variety-show planet."
―C-3PO and Luke Skywalker
The Muppet Show was a TV series which aired in syndication from 1976 to 1981. With a cast of puppets, called Muppets, each show featured a special guest star. The Muppets were designed by The Jim Henson Company, and have been owned by The Walt Disney Company since 2004.
Mark Hamill, Anthony Daniels, and Peter Mayhew guest-starred as their respective characters on the show's February 23, 1980[1] episode, which was four months before the original theatrical release of The Empire Strikes Back. Although the other two men play only their respective Star Wars roles, Hamill plays Luke Skywalker, as well as himself—known as "Luke's cousin."
Star Wars episode

[

]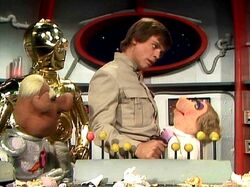 Luke Skywalker (Mark Hamill), C-3PO (Anthony Daniels), and R2-D2 (remote controlled) have crash-landed on Earth and into the Muppet Show sets. After meeting Luke's "cousin" Mark Hamill (playing himself), they reveal that they are searching for Chewbacca (Peter Mayhew), who has been "captured by a bunch of weird turkeys" according to a hyperspace telegram he had sent to the two droids. They hijack the cast of the skit Pigs in Space to "borrow" the ship (the Swine Trek) for the search. Suddenly infatuated with Luke, Miss Piggy (Frank Oz) costumes herself as Princess Leia.
After accidentally crashing on the planet Koozebane, the team confronts "Dearth Nadir," who is the Muppet Gonzo dressed in a Darth Vader costume. (A previous episode had "Nadir" invade the Swine Trek with a team of chickens as his "stormtroopers.") He has a device called the Krypto-Anagon Transmitter, which neutralizes any blaster, rendering Luke's useless along with Artoo, who grows very weak from the device's power and temporarily shuts down.
Chewbacca was being held hostage on the planet, and managed to escape and attack Nadir, but the villain calls upon Angus McGonagle the Argyle Gargoyle, who sends Chewbacca reeling with his Gershwin gargling. Luke and his "cousin" again meet. Right before major action is about to begin, Kermit the Frog gives the cue for a musical number. The Star Wars characters happily join in, with C-3PO displaying his dancing skills with a soft-shoe (he had watched a few Fred Astaire films beforehand). Mark Hamill, who is shown as a completely different person than Luke in the show, dances along, while Luke becomes frustrated and walks away.
The episode is officially available on DVD as part of "The Best of The Muppet Show - Mark Hamill / Paul Simon / Raquel Welch" DVD. However, it has been widely bootlegged by fans, and is often included with bootlegs of The Star Wars Holiday Special. The episode is also officially available on Disney+.[2]
Related works
[
]
Daniels also guest starred as C-3PO in an episode of Sesame Street, another Muppet production, in which he and R2-D2 befriended Big Bird and R2 fell in love with a fire hydrant. Although R2-D2 appeared in The Muppet Show episode, it was the "three-legged" R2, operated by a radio control and not by Kenny Baker. However, Baker did later work with Jim Henson, playing a goblin in the film Labyrinth (with George Lucas as executive producer).
From 1985 until 1989, Marvel Comics produced a monthly Muppet Babies comic book under their Star Comics imprint. The series lasted for 26 issues. One issue contained a Star Wars fantasy, with baby Piggy once more as Leia, and baby Gonzo once more as Darth Vader. The Muppet Babies cartoon also included numerous episodes spoofing Star Wars, most notably Gonzo's Video Show.
Frank Oz, the puppeteer of Yoda, was a lead puppeteer and creative consultant on The Muppet Show, performing Miss Piggy, Fozzie Bear, Animal, Sam the Eagle, and several others. Another Muppet Show regular, Kathryn Mullen, served as Yoda's right hand in The Empire Strikes Back.
Legacy
[
]
"I was a Muppet fanatic ever since I saw them on The Ed Sullivan show, and still to this day, one of my career highlights was being on the Star Wars episode of The Muppets."
―Mark Hamill at the 2019 San Diego Comic-Con
A clip from the Star Wars episode of The Muppet Show was included as part of the 2004 MTV documentary When Star Wars Ruled the World.
During Anthony Daniels' event at Celebration IV, he showed some clips of his career as C-3PO—ranging from his The Muppet Show and Sesame Street episodes to a C-3POs cereal commercial and The Star Wars Holiday Special. Daniels gave insight into these appearances, and told some stories of his experiences working on them.
Koozebane was included in the appendix of The Essential Atlas.
Sources
[
]
"

Anthony Daniels: Nuts and Bolts

" – Star Wars Insider 46
"

Star Wars on The Muppet Show

" – Star Wars Insider 55
Bantha Tracks #7: Interview: Anthony Daniels on Hyperspace (content removed from StarWars.com; backup link)
Star Wars Muppets Coming Soon on StarWars.com (content now obsolete; backup link)
Notes and references
[
]
External links
[
]