Doctor Strange in The Multiverse o Madness - The Loop
Play Sound
The Sims 4 is a life simulation video game developed by Maxis and published by Electronic Arts. It is the fourth main title in The Sims franchise and revolves around players creating and controlling or manipulating "sims," characters designed with unique appearances and personalities. Various Star Wars tie-in content has been added to The Sims 4 via free content updates including special costumes and characters from the franchise. Additionally, an entire paid downloadable content pack, Journey to Batuu was released based on Star Wars: Galaxy's Edge.
Star Wars content

[

]
October 2014 update
[
]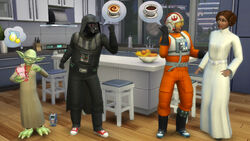 A content update on October 2014 added Star Wars costumes to The Sims 4 as part of a Halloween-themed update. The costumes could be enabled in "Create-a-Sim," where players design their characters.[2]
Female sims, aged teen and older, could wear a themed Leia Organa-themed costume consisting of a fake hairpiece and a full outfit, each designed to mimic Organa's classic appearance in Star Wars: Episode IV A New Hope. Male sims, teen and older, could wear a Rebellion flight suit, as well as a Darth Vader helmet and outfit. Children of any gender could wear a Yoda mask and outfit.[2]
A content patch in June 2016 made all teen and up costumes available for any genders.[3] In December 2019, exact replicas of the costumes in The Sims 4 were added to The Sims Mobile.[4]
May 2015 update
[
]
In celebration of May 4th, Maxis released additional costumes in 2015. Female sims, teen and older, could wear an Aayla Secura headpiece that also changed the entire body into her iconic blue skin color. Additionally, her full-body outfit was made available as well. Male Sims, teen and older, could wear headpieces and full outfits for Darth Maul and Boba Fett.[5]
Costumes made available in this content update were also converted for use by all genders in the aforementioned June 2016 update.[3] As with the 2014 update, all costumes from this update were added to The Sims Mobile in December 2019.[4]
December 2019 update
[
]
Another content update was released on December 12, 2019, adding a cosmetic statue of Grogu from The Mandalorian to the game. Players were then able to place the statue on any lot in the world.[6] This same content is also available in another title, The Sims Mobile.[4]
On August 27, 2020, The Sims 4 Star Wars: Journey to Batuu, a paid downloadable content pack for The Sims 4 was announced involving content from Star Wars: Galaxy's Edge. The expansion allows players to visit Black Spire Outpost on Batuu and is a replica of the layout of the park. The pack also features Star Wars-themed missions, droids, lightsabers, starships, and new non-player characters such as Rey, Kylo Ren, Hondo Ohnaka, and Vi Moradi. Journey to Batuu was released on September 8, 2020.[7]
Appearances
[
]
By type
Characters
Sentient species
Miscellanea
Notes and references
[
]
↑ 2.0 2.1 2.2 2.3 2.4 2.5 2.6 Get Spooky in The Sims 4 This Halloween on Electronic Arts' official website (backup link)
↑ 3.0 3.1 Associated Press, The: 'The Sims' Removes Gender Barriers in Video Game (2016-06-02). hollywoodreporter.com. The Hollywood Reporter. Archived from the original on July 13, 2020.
↑ 4.0 4.1 4.2 The Sims Mobile (@TheSimsMobile) on Twitter: "Celebrate May The Fourth in The Sims Mobile! Complete a fun quest to unlock seven exclusive Star Wars costumes for your Sims to wear! The free outfits include a Princess Leia, Yoda, Darth Maul and more!" (backup link)
↑ 5.0 5.1 5.2 5.3 5.4 5.5 5.6 Celebrate Star Wars™ Day with New Costumes in The Sims 4 on Electronic Arts' official website (backup link)
↑ 6.0 6.1 Lee, Julia: A strangely lifeless Baby Yoda is now in The Sims 4 (2019-12-12). polygon.com. Polygon. Archived from the original on January 1, 2020.
External links
[
]