"Insider takes a look at the Kenner action figures that didn't make it to your toy box."
―The Toys That Never Were
The Toys That Never Were is an article written by Chris Fawcett that appeared in Star Wars Insider 92. Including pictures of prototypes, it showcases ten figures/figure sets that were conceived by the Kenner toy company during the 1970s and 1980s but which never made it into production. The figures profiled are:
Rocket Fett
Edit
"Rocket Fett" is a famous unproduced figure of Boba Fett that was initially made available through a mail-in offer. Several months before its release, a child choked to death on a missile fired from a similar Battlestar Galactica toy, and Rocket Fett was ultimately shelved. Nine variants of the figure are known to exist.
An action figure of R1-G4 went unproduced, but Fawcett asserted that it was not publicly known why.
Wookiee family
Edit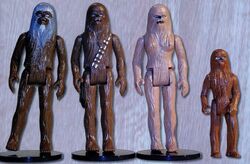 After the airing of The Star Wars Holiday Special in 1978, Kenner envisioned a toy line of Chewbacca's family. Prototypes were constructed of Chewbacca, Malla, Itchy, and Lumpy, but the idea was ultimately canned.
Vac-metallized figures
Edit
In the early 1980s, Vacuum-metallized figures of a TIE pilot and a member of the Emperor's Royal Guard were conceptualized and prototyped but not produced.
Accessory figures
Edit
A set of accessories available for the heroes similar to an existing "survival pack" went unproduced.
An action figure of Yarna d'al' Gargan was created for the original Power of the Force line, but was nixed when Lucasfilm Ltd. thought that the six-breasted character was inappropriate for children.
Luke Skywalker in robes
Edit
Very little is known about a figure of Luke Skywalker in plastic-sculpted robes that didn't make the cut.
Unproduced Power of the Force
Edit
Kenners' original Power of the Force toyline ended after one wave, resulting in a number of figures going unreleased.
2nd Series Ewoks
Edit
After a line of action figures based on the television show Ewoks, a second line was planned that was set to include Chief Chirpa, Paploo, Morag, Weechee, Chituhr, and Bondo. Many samples of these figures exist, but they were never mass-produced.
Unproduced droids
Edit
A toy line based on Star Wars Droids existed, but the second wave was cancelled.
Community content is available under
CC-BY-SA
unless otherwise noted.